A Hudson County judge green-lighted a lawsuit alleging Hoboken police officers sexually assaulted a woman and engaged in a conspiracy against her.
The hornet's nest of the Hoboken Police Department (HPD) is about to be stirred and the situation could be damning for Mayor Ravi Bhalla & Police Chief Ken Ferrante. Specifically, this report:
Restates a five-count lawsuit against the City of Hoboken alleging police sexually assaulted a woman and engaged in a conspiracy against her.
Summarizes Superior Court Judge Marybeth Rogers' decision to oppose Hoboken's motion to dismiss the complaint.
Presents new evidence from the case in the form of text messages between the plaintiff and a HPD officer.
Analyzes Open Public Records Act (OPRA) requests and potential implications for the Bhalla administration and Hudson County Prosecutor's Office (HCPO).
Angelica De La Torre vs. Hoboken Police
As first reported by Real Garden State on September 8, 2020, Angelica De La Torre filed a complaint in Hudson County Superior Court accusing HPD officers of 1) Assault and Battery, 2) Negligence, 3) Unlawful Discrimination, 4) Abuse of Process and Wrongful Enforcement of Law, and 5) Civil Conspiracy.
Specific details from the complaint include:
During an arrest on September 25, 2018, officers allegedly pulled De La Torre's shirt up – fully exposing her breasts – and grabbed/fondled her breasts on both sides. Additionally, the plaintiff claims officers slammed her against a car and threw her to the ground before stomping on her.
Sgt. William Collins is the only officer accused of assault whose name is identified. The lawsuit claims Collins took De La Torre's phone, smashed it, and then "physically and sexually assaulted" her with other officers.
One of the officers that processed De La Torre's arrest looked up the plaintiff through social media and tried to date her.
After communicating via Facebook messenger and text message, De La Torre met HPD P.O. Ricky Truppner at a "police bar" where other members of the department discussed her case. Truppner allegedly indicated that he would "help" De La Torre as he pushed for a romantic relationship.
De La Torre claims she met Truppner multiple times throughout the Fall of 2018 and communicated via phone & text through December 2018 – during which "Truppner engaged in inappropriate activities."
Chief Ferrante said De La Torre's original charges were for disorderly persons offenses related to a fight amongst friends outside of a Dunkin' Donuts. The complaint states that the charges were dismissed in July 2019.
Besides the City of Hoboken, Truppner, and Collins, other defendants named in the lawsuit are Sgt. Richard Torres, P.O. Anthony Fesken, P.O. Frank Lombardo Jr., and P.O. Harold Milne.
In the second amended complaint, it's stated that the defendants "entered into an agreement with each other for the purpose of committing unlawful acts, and the conspirators took overt acts in furtherance of the agreement, and plaintiff suffered personal and psychological injuries as a result."
Hoboken's motion to dismiss denied by Judge Marybeth Rogers
On December 31, 2020, the attorney representing Hoboken, Daniel Antonelli, filed a motion with Hudson County Superior Court Judge Marybeth Rogers to dismiss the case. The attorney's legal brief claimed:
The plaintiff failed to comply with the notice requirement of the Tort Claims Act (TCA) by failing to file "within 90 days of accrual of the claim."
The plaintiff failed to file a late notice within 1 year, but even if they had filed the complaint would be dismissed because there were "no extraordinary circumstances to warrant a late filing."
The plaintiff's allegations "do not invoke the benefit" of newly enacted law which "extends the statue of limitations and eliminates immunity otherwise provided by the TCA."
The plaintiff's complaint "is void of any allegations of "Sexual Penetration" or an enumerated "Prohibited Sexual Act" against Defendant Officers."
Rogers opposed the motion and wrote that De La Torre's allegations "smoothly qualify for relief under" amendments to the TCA enacted on December 1, 2019.
Although there are "no published opinions addressing the applicability" of the new statute, the judge wrote that the New Jersey Supreme Court recently noted that the "Legislature has expanded public entity liability, specifically in actions for damages as a result of a sexual assault."
Text messages from Hoboken P.O. Ricky Truppner
In response to Hoboken's attempt to dismiss the case, De La Torre's attorney, Richard J. Isolde, revealed text messages between his client and P.O. Truppner (which have since been removed from the system) to bolster the case. Those messages reveal that:
1) Truppner initiated contact via Facebook on September 29, 2018, approximately four days after the arrest, and De La Torre was a resident of Hoboken at the time.
2) Truppner told De La Torre he reached out because "she seemed harmless" during the arrest, she was "very pretty," and he "thought about it and wondered maybe you'd wanna grab lunch or dinner."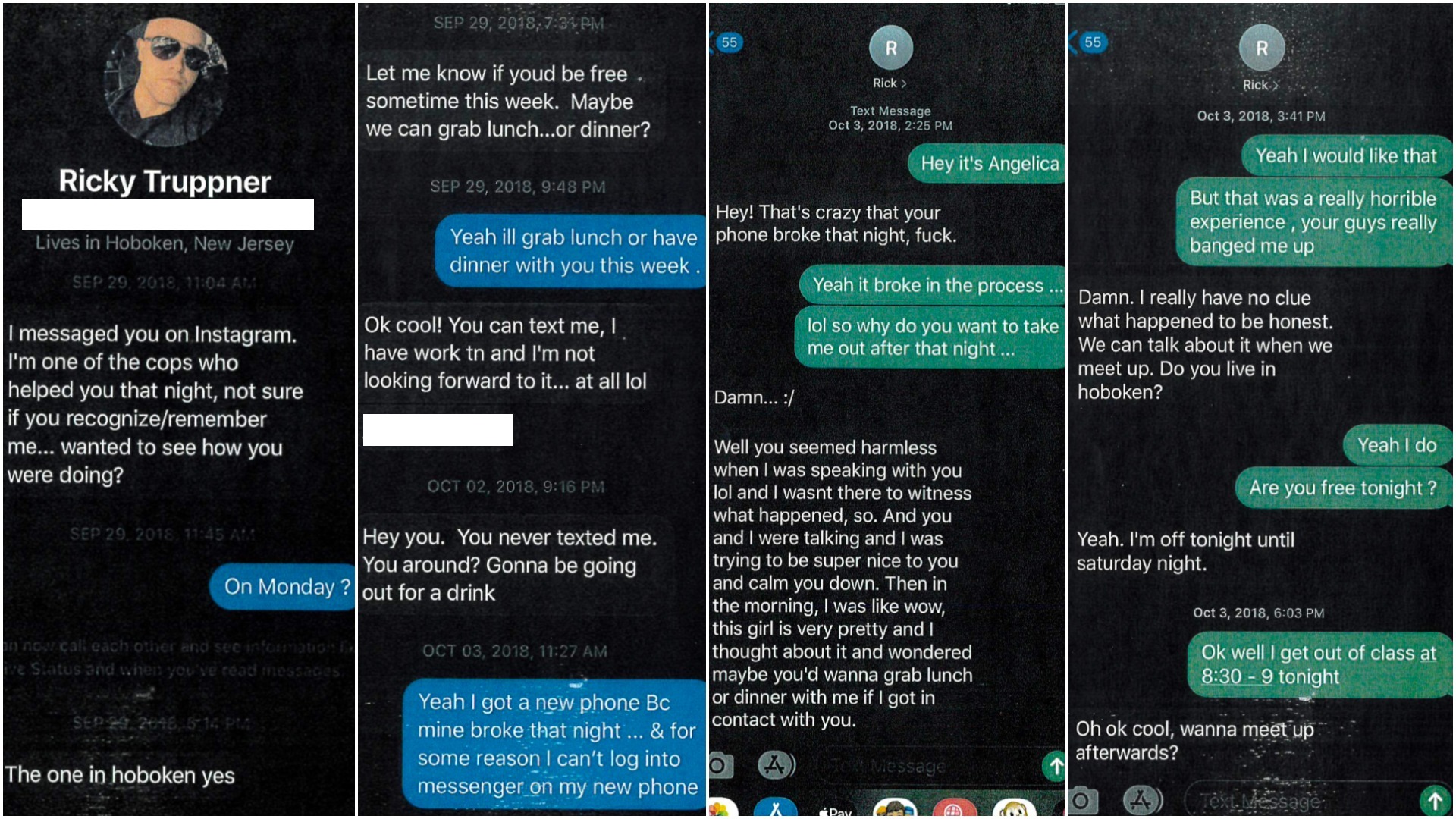 3) When De La Torre complained about the arrest by stating "your guys really banged me up," Truppner responded "I really have no clue what happened to be honest. We can talk about it when we meet up."
4) On the night of October 3, 2018, De La Torre met with Truppner at the Pourhouse in Hoboken. They also met for coffee during the day on October 4, 2018, and for drinks the night of October 5, 2018.
5) On the night of October 8, 2018, De La Torre and Truppner exchanged kisses prior to the officer beginning his shift.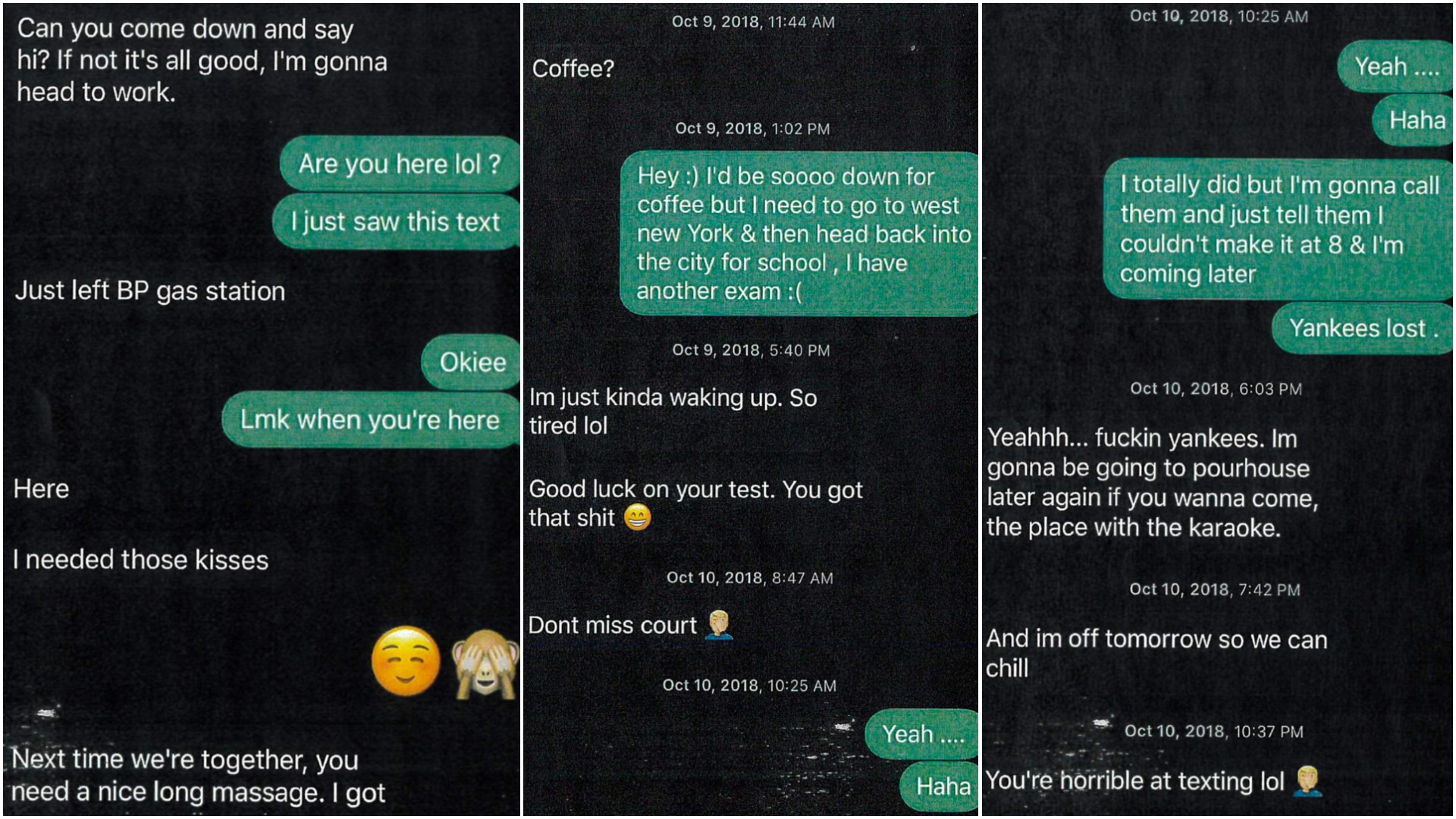 6) On the morning of October 10, 2018, Truppner reminds De La Torre "don't miss court." She responds "I totally did but I'm gonna call them and just tell them I couldn't make it at 8 & I'm coming later."
7) By the night of October 10, 2018, De La Torre begins a pattern of avoiding Truppner's advances.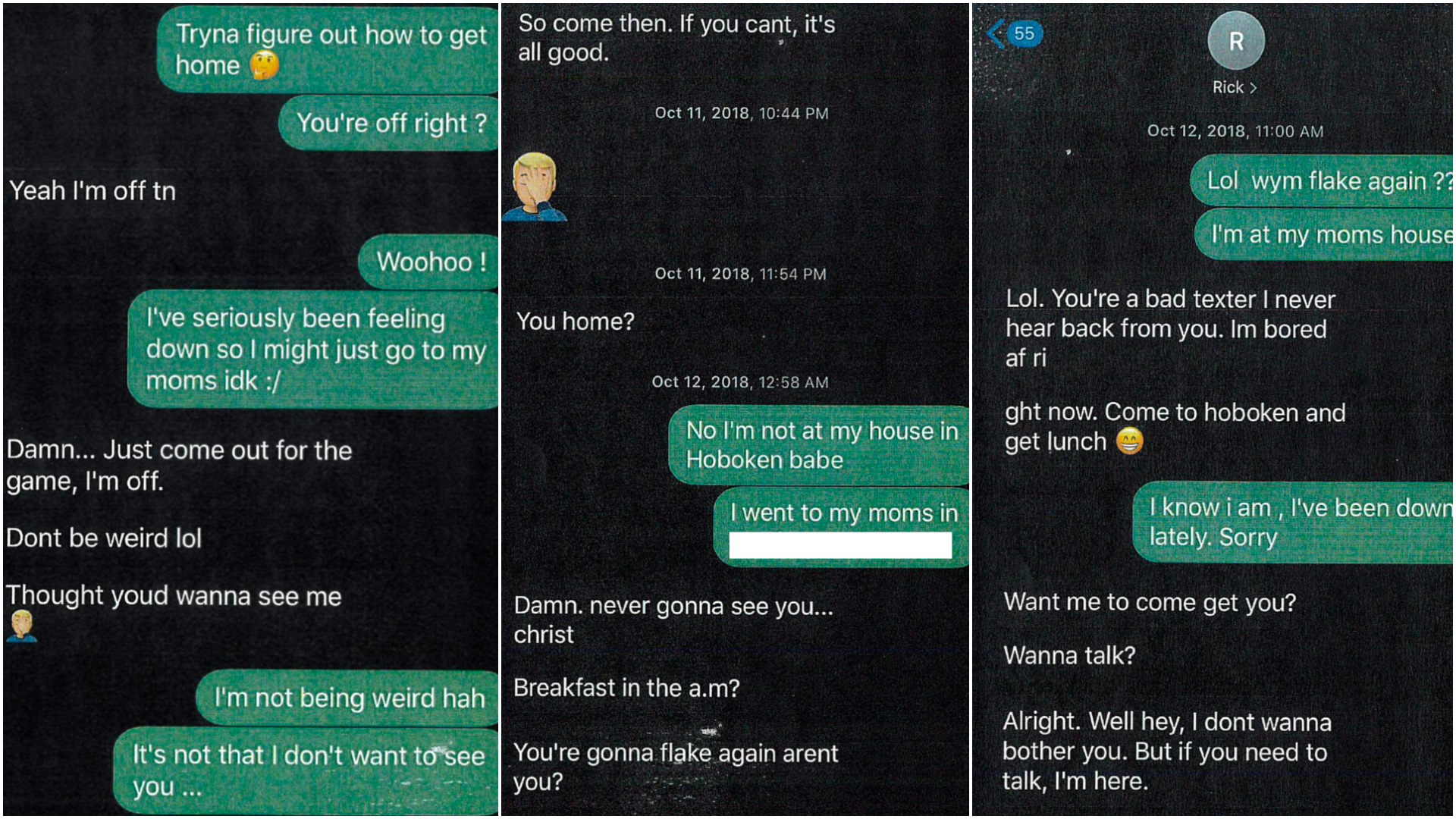 8) On October 16, 2018, De La Torre informs Truppner how traumatic the arrest was for her personally and professionally. Even though De La Torre expresses that she thinks Truppner is "great & awesome," she's bothered he "works for a dirty freaking precinct."
9) In a lengthy message (not published because of sensitive personal details), De La Torre states "this mf knows what he did to me Rick." At that moment Truppner requests they speak on the phone instead of text, adding "hope I'm not asking for too much." Nothing meaningful related to the case is mentioned after that point.
10) From October 16, 2018, until December 22, 2018, Truppner and De La Torre slowly distanced from each other. Though it might be coincidental, after multiple attempts to secure another date, the officer stopped communicating with De La Torre approximately 90 days after the arrest.
Bhalla admin's handling of tort notice and Open Public Records Act requests
In the original Real Garden State report covering the De La Torre lawsuit, it was noted that:
When reached by phone, Hoboken Police Chief Ken Ferrante told Real Garden State he was made aware of the situation around 4 PM [on September 4, 2020]. The chief said he's in the process of launching an Internal Affairs Unit (IAU) investigation, but noted that the complainant had never filed a report with HPD IAU and, to the best of Ferrante's knowledge, never filed a report with the Hudson County Prosecutor's Office (HCPO).

Nevertheless, a tort notice may have been sent to the City of Hoboken two years ago, according to Ferrante, but it's unclear how the city's law department handled it. Additionally, Ferrante said De La Torre's original charges were for disorderly persons offenses related to a fight amongst friends outside of a Dunkin' Donuts.
Notably, on July 28, 2020, Real Garden State filed an OPRA request with the City of Hoboken for:
All tort claim notices received by the City of Hoboken from 1-1-19 to present day.

NOTE: For the purpose of expediency, willing to limit this request to notices involving Chief Ken Ferrante, Hoboken Police, Hoboken Public Officials, and CEPA/LAD claims.
Responsive records provided by Hoboken to that OPRA request failed to include a notice filed on behalf of De La Torre – by her original lawyer, not Isolde – which was dated January 10, 2019 (falling within the requested timeline).
On September 15, 2020, a week after the original report, another OPRA request was filed specifically asking for the De La Torre tort notice. Below is an image of the document provided by Hoboken, which is incorrectly stamped "received" on January 14, 2018 (rather than 2019):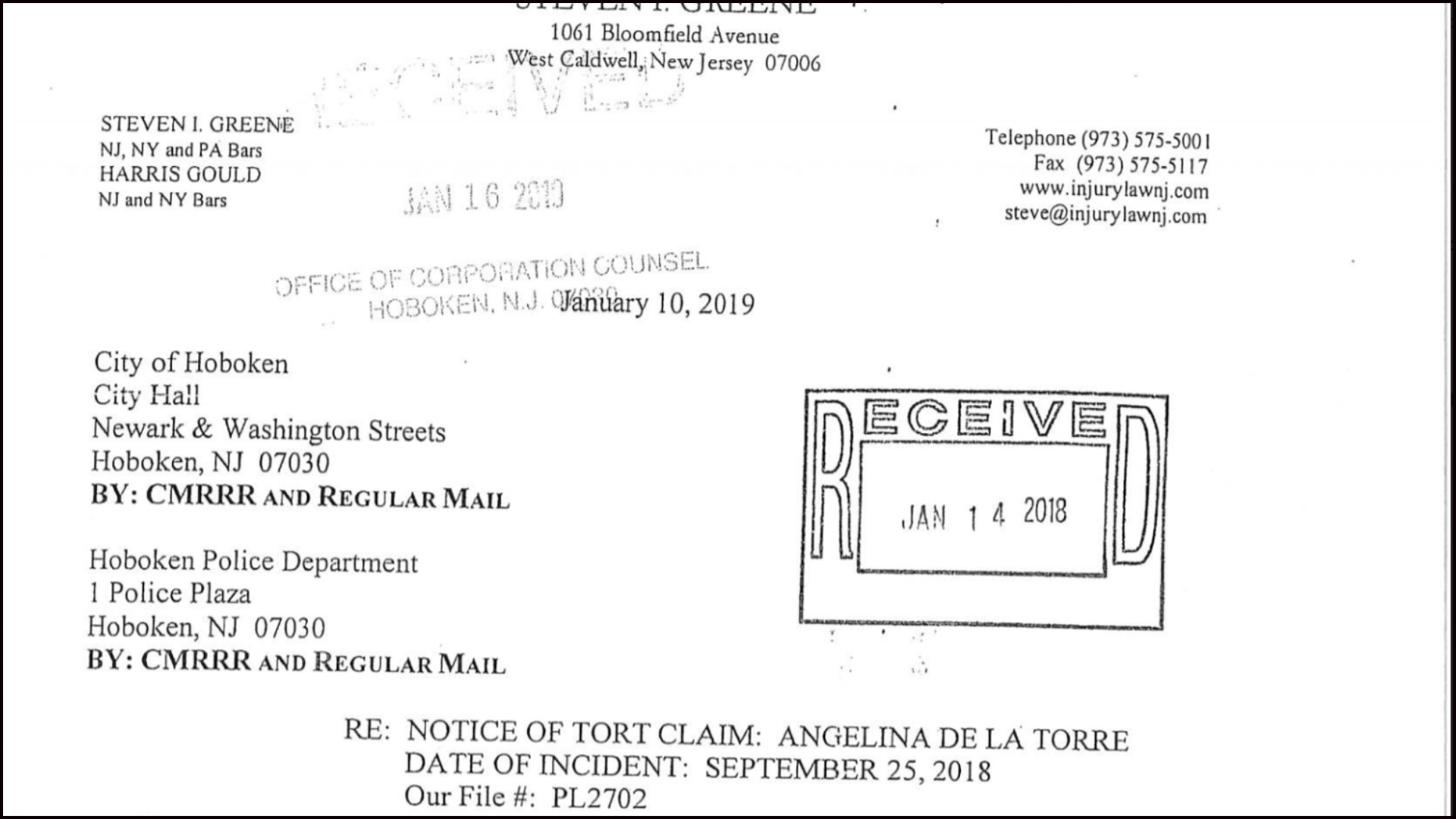 A spokesperson for the Bhalla administration declined to answer a Real Garden State email seeking an explanation for how the tort notice – which addressed the HPD and made allegations of sexual assault against officers – failed to spark an immediate Internal Affairs Unit (IAU) investigation at the time.
As well, the spokesperson declined to answer questions related to 1) who in Hoboken's law department read the notice after it was received; 2) how did they handle the notice; 3) who would have been responsible to notify Ferrante; and 4) can the Bhalla admin furnish other documents, received around the same time period, which were also incorrectly marked by the stamp.
Other questions which went unanswered include:
Did the Bhalla admin award the legal defense contract in this lawsuit?
Was the Hoboken municipal prosecutor aware of the tort notice/assault allegations at any time during De La Torre's criminal case?
Has Hoboken taken any action against Truppner regarding text messages revealed in the lawsuit? Will the Bhalla admin look to fire him for his apparent actions?
Hudson County Prosecutor's Office investigation
According to Ferrante, there's an ongoing investigation of Truppner and other Hoboken police officers named in the lawsuit which is currently being handled by the HCPO.
It'll be interesting to see whether or not Hudson County Prosecutor Esther Suarez believes a police officer obtaining a date through the course of their duties, especially the criminal processing of an arrestee, is considered a benefit under New Jersey's Official Misconduct law.
Interestingly enough, the HCPO is currently under investigation for an allegedly hostile work environment for women of color. Given that De La Torre is claiming racial discrimination in her lawsuit, it's worth wondering whether the HCPO is the best place to go for a woman of Asian and Hispanic ethnicity (likely Filipina).
Finally, in addition to the sexual assault allegations, it'll be interesting to see if the HCPO investigates the Bhalla admin's handling of the tort notice.