Outside counsel has been investigating a racist, hostile work environment at the Hudson County Prosecutor's Office under the leadership of Esther Suarez, according to various sources.
Serious concerns related to a hostile work environment have emerged at the Hudson County Prosecutor's Office (HCPO) after a "racist joke" rehashed tensions amongst assistant prosecutors.
Specifically, Real Garden State has obtained screenshots of comments posted online by multiple HCPO employees – including one recently written by AP William Specht which disparaged Mexicans. Sources say the offensive remark is symbolic of a toxic culture at the prosecutor's office that's being investigated by outside counsel.
Renewed internal strife at the HCPO comes at an inopportune time for Hudson County Prosecutor Esther Suarez. Simply put, Suarez doesn't need another cloud of controversy while campaigning to be the next U.S. Attorney for New Jersey.
AP William Specht's politics; HCPO record keeping issue
Sources say inflammatory commentary is nothing new for Specht. It's evident he enjoys the taste of "leftist tears" (hot or cold) and is a fervent supporter of former Pres. Donald Trump.
Regarding the most recent comment, it's alleged that when discussing a software vendor used by the HCPO, on or about March 12, 2021, Specht wrote in a private Slack channel that "Infoshare identifies as Mexican. It sleeps when the sun is hottest." Amid social upheaval stemming from police brutality, a Facebook post from last summer alluded to exonerating cops in officer-involved shootings – which stirred up controversy given the AP's influential position.
Sources say Specht serves as an assistant chief in the HCPO's pretrial division and decides which cases are downgraded, remanded, or sent to early disposition court. It's believed no action has been taken regarding any of his online comments, but there might be some fallout regarding the use of Slack (a third-party business communication service).
Real Garden State has learned that the use of Slack by HCPO assistant prosecutors potentially violates official protocols. It's believed sensitive cases have been discussed and confidential documents have been transferred via Slack, raising concerns about cybersecurity & record keeping.
External investigation of hostile work environment at Hudson County Prosecutor's Office under Esther Suarez
Whether or not Specht's comments are worth administrative action by Suarez, it's merely the tip of the iceberg.
Various sources with knowledge of the situation say the HCPO has hired outside counsel to investigate a hostile work environment under Suarez's leadership. Incidentally, the origin of that inquiry is supposedly tied to a Real Garden State story titled The optical illusion of diversity in Hudson County.
That piece highlighted comments made by Suarez during a panel discussion addressing racial disparities in law enforcement hosted by B.L.E.S.C. (Blacks in Law Enforcement Serving the Community). When a moderator directly asked how many black people were employed by the HCPO, Suarez responded "I don't count blacks separate from browns," claimed she's "not getting resumes" from black candidates, and essentially simplified the issue of diversity to white vs. non-white. VIDEO BELOW:
Strong exception was taken to the prosecutor's comment that she wasn't getting resumes of black candidates. As one source said at the time, the issue isn't a lack of black candidates – it's Suarez's leadership and values.
One example of that leadership was an email sent by Suarez, six days after George Floyd's death, which was seen as particularly tone-deaf and unprofessional. Specifically, the prosecutor stated:
These are hard and very troubled times we are living. I am thinking of us, all law enforcement and our community. I am praying for all of us and for peace. I miss our "normal" life. At times, those days seemed difficult. And yet it was nothing like this….
After that story publicized Suarez's comments and interoffice email (among other issues), the prosecutor sought to address the employment criticism by creating a diversity & inclusion committee focused on minority outreach – which was supposedly the straw that broke the camel's back.
Per sources, the basic story is that Suarez attempted to enlist women of color to lead the proposed committee; however, she faced opposition because of her laissez-faire track record in response to prior complaints.
Instead of the diversity & inclusion committee being seen as a progressive initiative, it was seen as a continuation of a racist, hostile work environment at the HCPO under Suarez's leadership. An outside counsel was brought in to investigate the prosecutor's office shortly thereafter.
Real Garden State has been informed the outside counsel is Gina Anton of the law firm Cleary Giacobbe Alfieri Jacobs, LLC. The attorney's LinkedIn bio states "by conducting objective workplace investigations, I am able to evaluate and analyze employee complaints of harassment, discrimination, hostile work environment, and retaliation, in order to identify and remediate unlawful practices."
Facebook posts of Kelly Taylor-Sisk and Debra Collins
As previously stated, Specht's comments are merely the tip of the iceberg for the HCPO. Case in point – the Facebook posts of Kelly Taylor-Sisk (agent) and Debra Collins (clerk).
If Facebook posts are any indicator, it's likely Taylor-Sisk harbors some level of white grievance politics (possibly a sprinkle of Qanon). At one point she dedicated her Facebook cover photo to Cannon Hinnant, a white 5-year-old murdered by a black 25-year-old neighbor.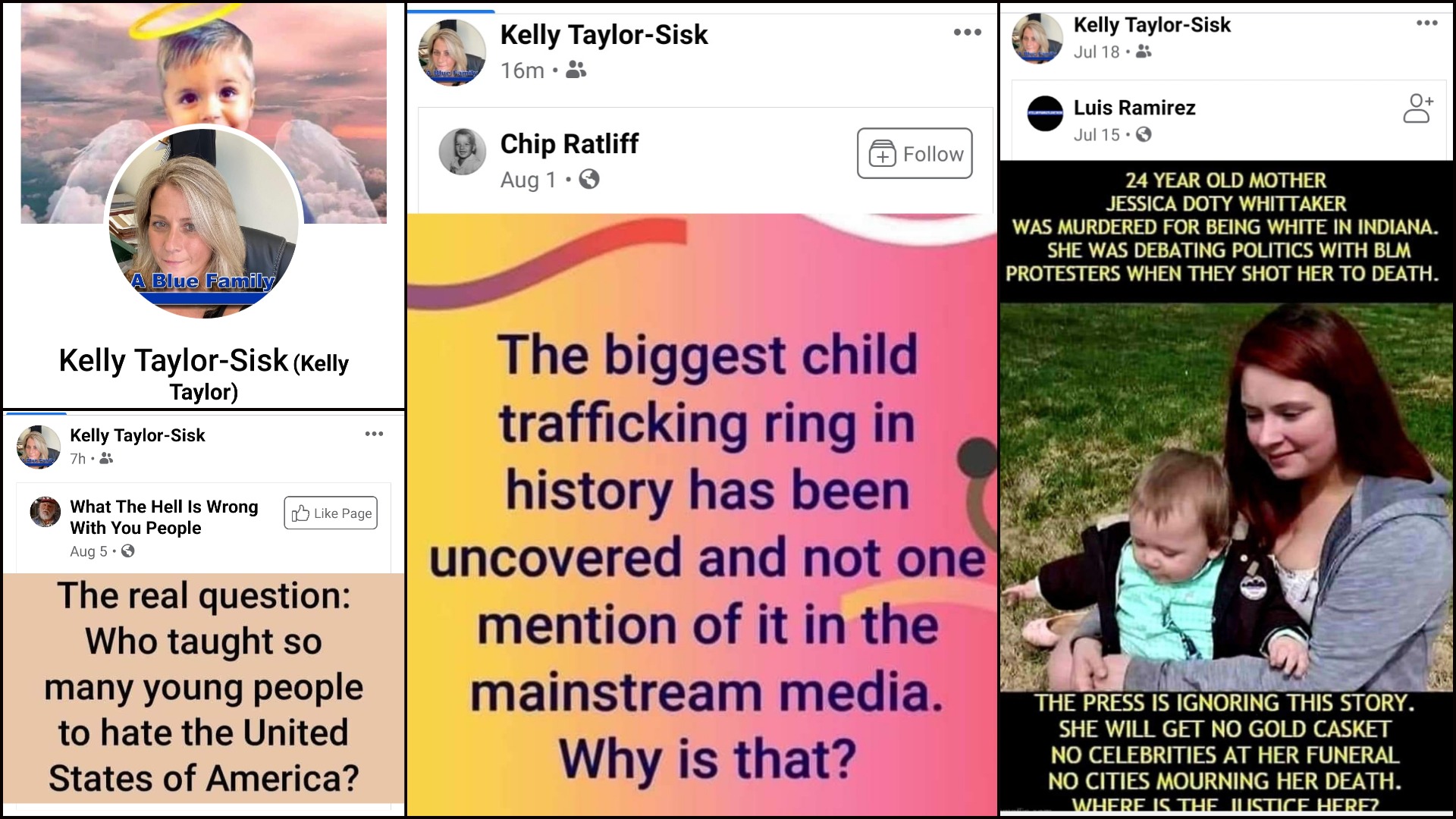 Notably, Hinnant's murder sparked right-wing uproar and demands for #JusticeForCannon – despite there being little-to-no doubt the killer would face the maximum punishment possible.
Taylor-Sisk sparked controversy within the Hudson County Courthouse when she shared an inflammatory post comparing the societal response to Hinnant vs. Floyd. The post elicited responses from a Latina AP linking to an article from Upworthy, which was liked by other APs, and a public defender who said the "cases are not similar at all and cannot be compared to each other."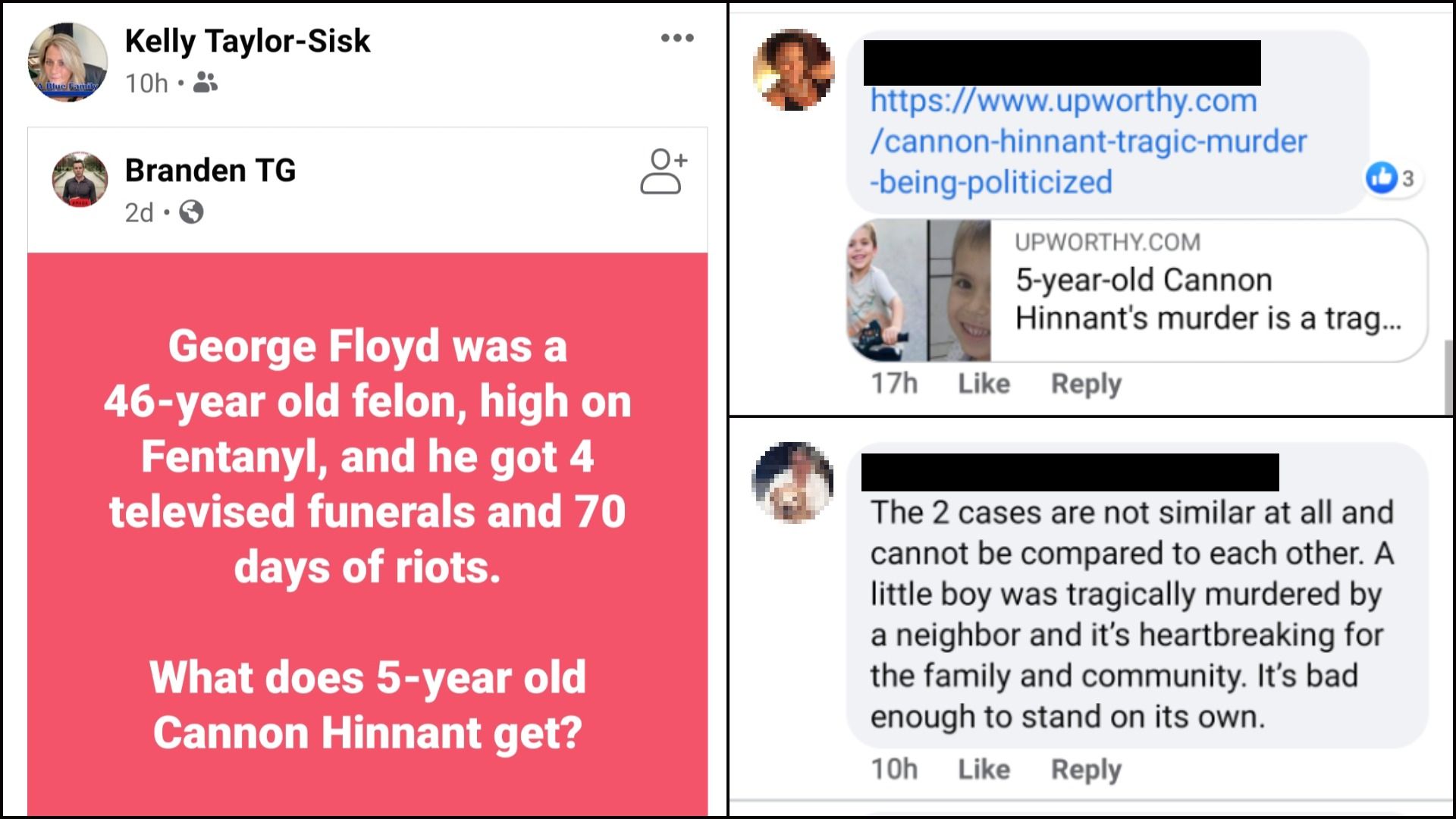 Compared to Specht and Taylor-Sisk, the content posted by Collins has been more outwardly offensive.
Collins has posted vile doppelgängers of female congressional Democrats and compared New York Congresswoman Alexandria Ocasio-Cortez to Mister Ed. She's shared memes labeling Colin Kaepernick "scum" and joked about Former First Lady Michelle Obama being transgender. Despite complaints, sources say Suarez has failed to act regarding the abhorrent social media posts.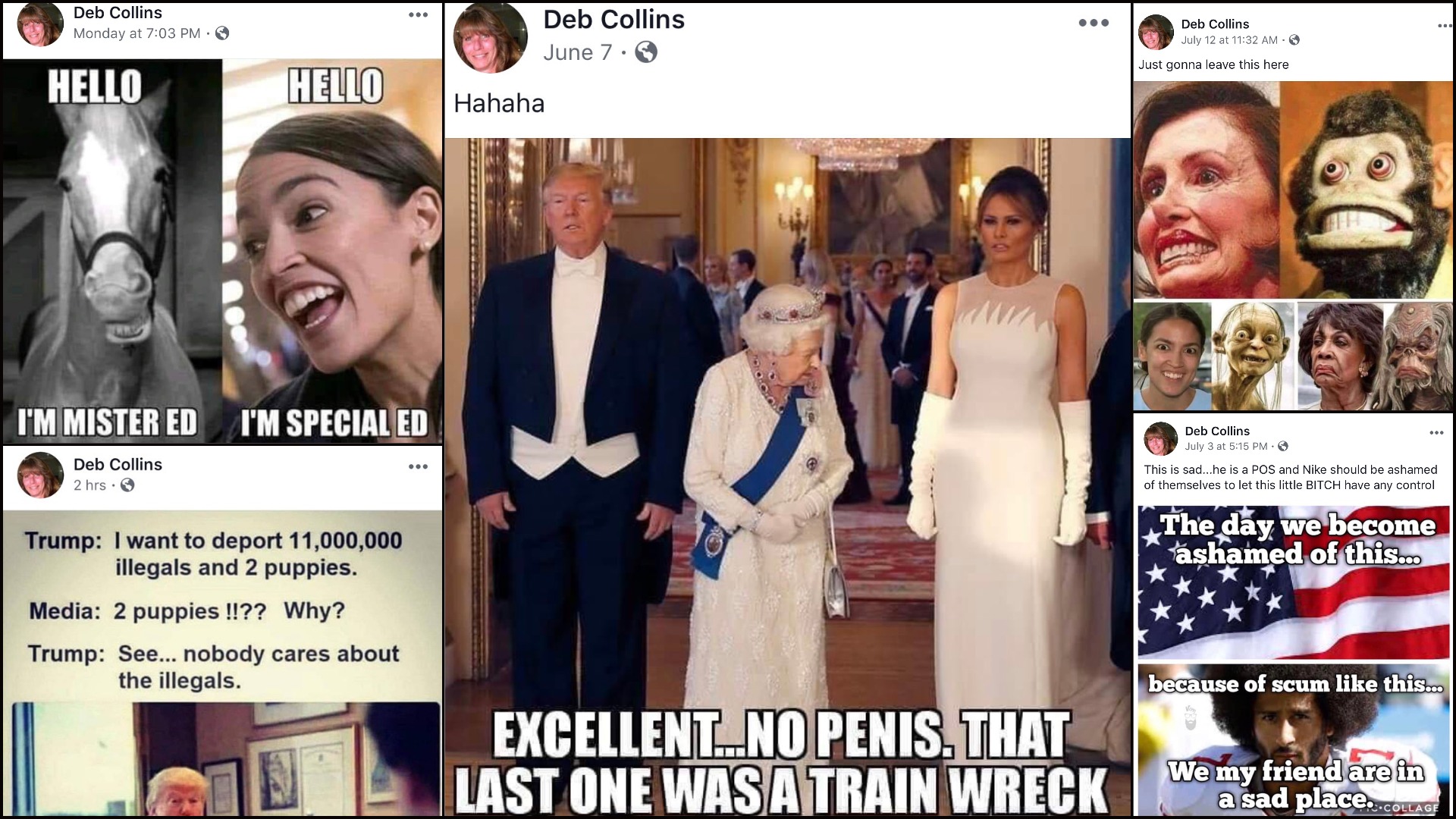 Beyond Facebook posts, it's rumored that Collins recently made "alarming statements" about Pres. Joseph Biden and Vice President Kamala Harris "in the presence of" or "directly to" a Latina AP. It's believed Suarez took minimal action regarding that situation.
Nevertheless, one complaint regarding racist imagery the HCPO failed to act on was against Det. Erik Infantes of the Jersey City Police Department (JCPD) – who is currently "on-loan" to the HCPO.
Internal Affairs Boss Peter Stoma's response to Det. Erik Infantes complaint
If Infantes' name sounds familiar to Real Garden State readers, it's because he's one of two JCPD cops linked to anti-LGBT tweets – including #PrayTheGayAway directed at Mayor Steven Fulop, then-Police Chief Mike Kelly, and bike lane activists. Luckily for those two, Suarez whitewashed the investigation by taking the position of "there's nothing there."
In the article about the homophobic tweets, it's mentioned that Infantes was operating at least one Twitter account, Alphaback201, affiliated with his printing and embroidery business. The business website, TheAlphaback.com, was taken down after a Real Garden State Instagram post alluding to the aforementioned report.
In short, Infantes has a history of social media trolling and promoting & producing t-shirts. On Facebook, he went by both Legendary Justice and Erik Legendary Justice – which he used to promote shirts which could be seen as racist.
One image had the Dallas Cowboys star inside a noose – with "Choking" written above the logo & noose and "perfected in Dallas" written below. Another shirt featured the "Jump out Boys" and "taking the streets back" with guns, skull, and blue line bandana.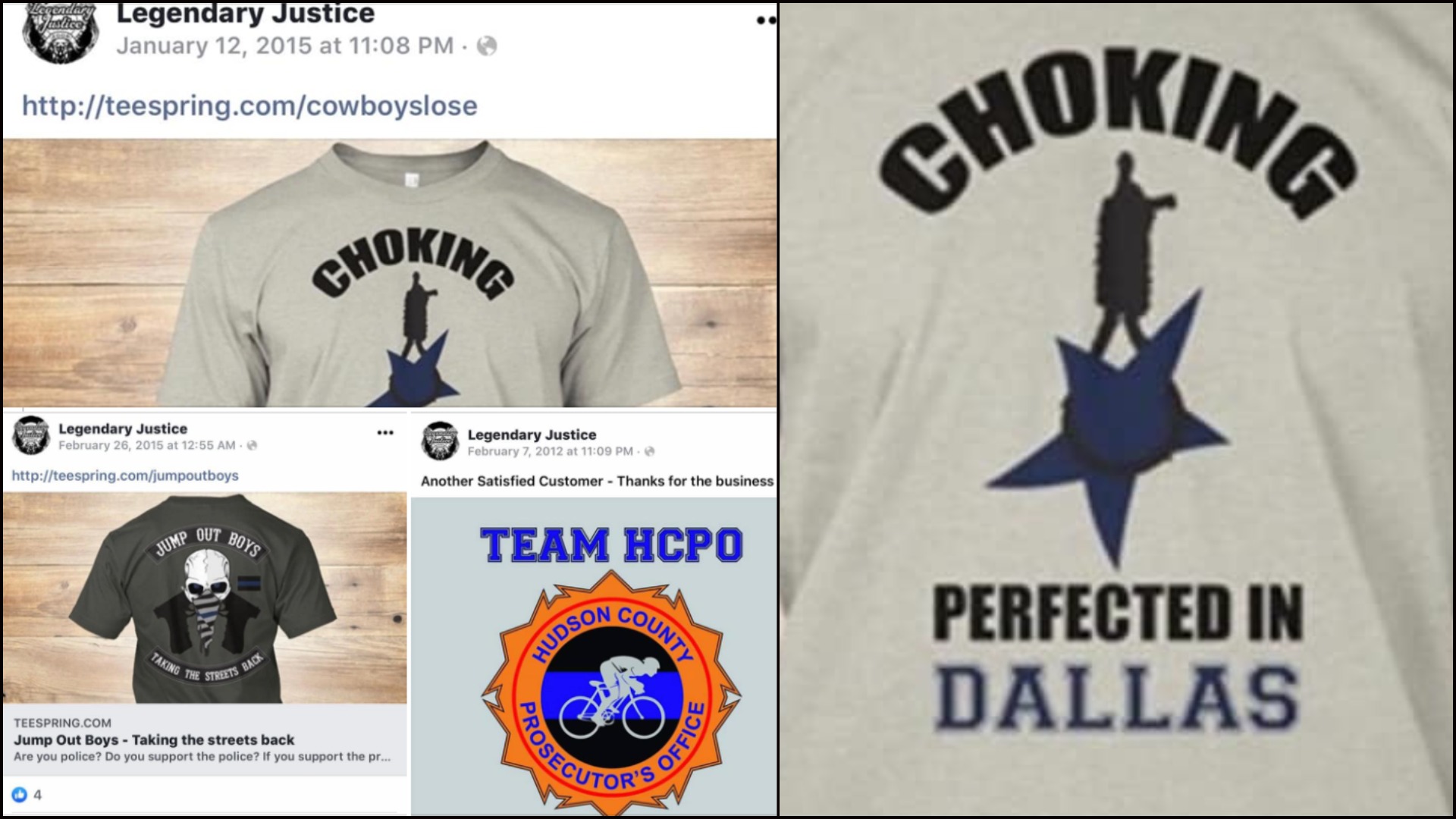 After the images were posted to social media, a local activist filed a complaint with the HCPO. In response, First Deputy Assistant Prosecutor Peter Stoma wrote that "the alleged offensive content of two t-shirts created and sold by Patrolman Infantes" was better for the JCPD Internal Affairs Unit (IAU) to investigate because Infantes was "on-loan" to the prosecutor's office Cold Case Unit (he's "tucked away," as the cops say).
Given that JCPD IAU has failed to properly investigate the anti-LGBT tweets, it's practically a guarantee they won't properly investigate the racist t-shirts.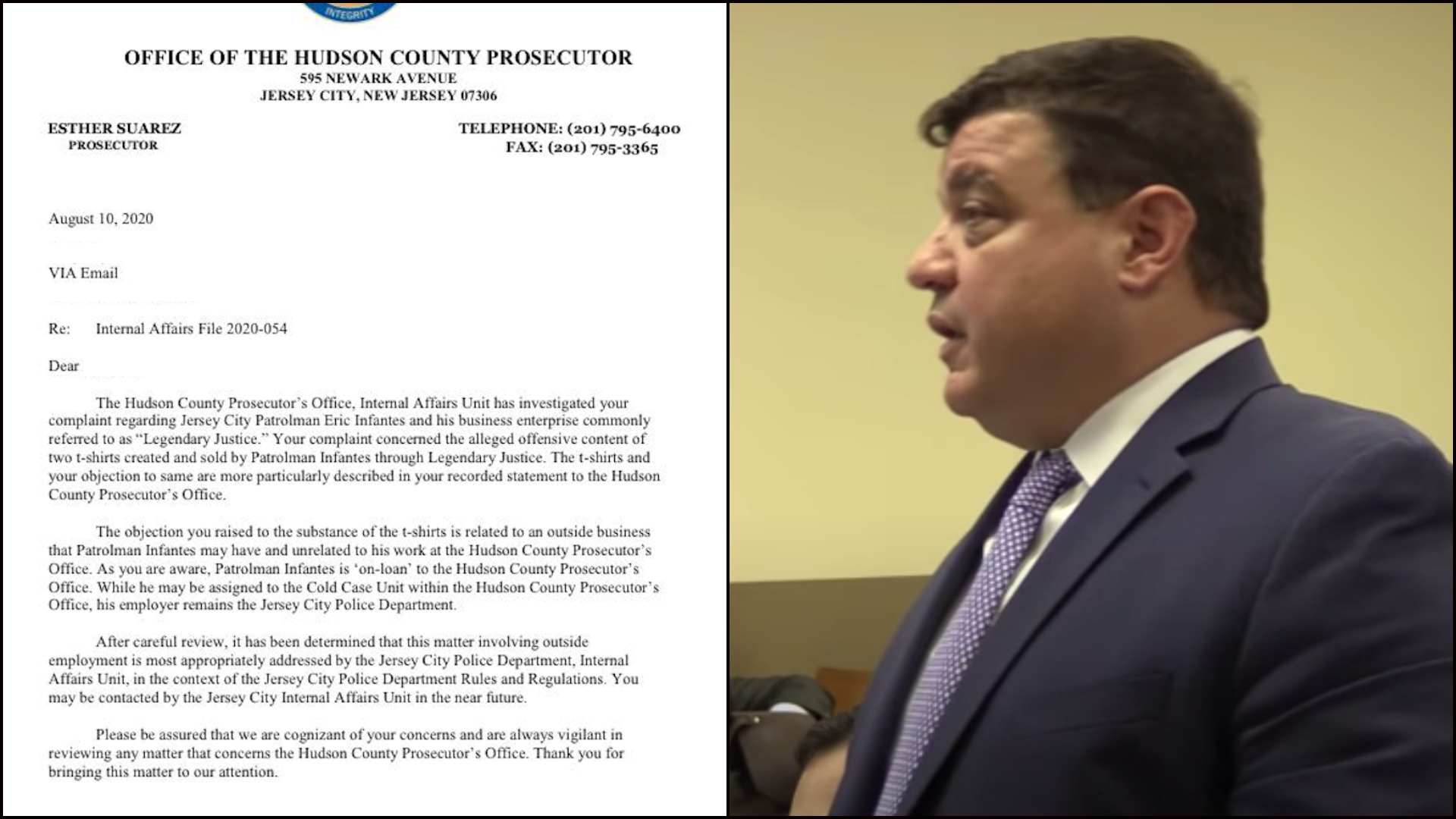 Star Ledger: Sen. Bob Menendez backs Hudson County Prosecutor Esther Suarez for U.S. Attorney
Suarez has the backing of Sen. Bob Menendez to be the next U.S. Attorney for New Jersey, according to The Star-Ledger's Tom Moran (who opposes the prosecutor's nomination). Prior to Moran's piece, Real Garden State published 5 reasons Suarez shouldn't be Biden's pick to lead the state's Department of Justice.
The existence of an external investigation related to a racist, hostile work environment under Suarez's leadership raises new questions about her candidacy. Unfortunately, those questions – especially ones related to the allegations detailed in this report – won't be answered in this story because Real Garden State is banned from sending emails to the HCPO.
UPDATE 3-23-2021: The Jersey Journal confirmed the existence of an investigation by an outside law firm at the HCPO.