When it comes to holding public officials in Hudson County accountable, the NJOAG has a credibility issue that wasn't addressed by a recent wave of corruption arrests.
State Attorney General Gurbir Grewal sent shockwaves through New Jersey's political ecosystem when his office announced that five politicos were charged with taking bribes as part of a corruption sting. Despite the glowing press coverage from establishment media, serious questions regarding the integrity of the New Jersey Office of the Attorney General (NJOAG) remain when it comes to Hudson County.
For example, 11 weeks before the hate crime which occurred on December 10, 2019, the Hudson County Prosecutor's Office (HCPO) held a hate crimes & bias incidents seminar at the Bayonne Public Library. The event was conducted by HCPO Asst. Prosecutor Angela Gingerelli and was relatively informative. Yet, like many of the attendees, I had general questions that weren't covered by Gingerelli's presentation (and I waited until everyone else had asked their questions until raising my hand).
Admittedly, my general questions were regarding a specific situation involving an anonymous Twitter account which had posted anti-LGBT comments directed at Mayor Steven Fulop and Jersey City Police Department (JCPD) Chief Michael Kelly (as well as private citizens). On top of that, the account accused a superior officer of being a rapist, accused a deputy chief of money laundering through a since-closed apparel store on MLK Drive in Jersey City, and made various complaints about internal policing strategies (plus bike lanes).
Two members of the JCPD were believed to be under internal investigation due to their alleged involvement with the account, according to numerous sources, but it's unclear what actions the department has taken. As well, according to sources, one of those officers is assigned to the HCPO. Prior to the seminar being publicized, I sent Suarez an email asking questions about the previously mentioned investigation – which went unanswered by the HCPO's spokesperson.
When I began to ask questions at the seminar, which were along the lines of what triggers an investigation by the HCPO regarding cyber harassment, hate crimes, and bias incidents (especially if comments are directed at public officials and law enforcement officers are suspected to be involved) – Suarez interjected and advised that I seek legal advice from an attorney.
Of note, during the encounter, the prosecutor took out her cell phone and began to record me. Following an Open Public Records Act (OPRA) request with the HCPO, the video below, which begins with Suarez's response, was released:
To be clear, it's intimidating when a county prosector takes out their cell phone, begins to film you, and tells you to seek legal advice for asking questions regarding bias-based cyber harassment. Even more disturbing, the prosecutor said a laughable lie when she claimed to not know me in front of Veronica Allende – the NJOAG's director of the Division of Criminal Justice (DCJ).
There's two big issues with that laughable lie:
1) It was said in her official capacity, which is why I was able to obtain the video – that Suarez filmed with her cell phone – via an OPRA request.
2) According to court records from an unrelated OPRA lawsuit, filed against the NJOAG by attorney Michael Rubas, Suarez had previously sent emails about my press inquiries to Allende. In that case, it was because I sought confirmation that Gene Rubino was removed by Allende as the HCPO's chief of detectives for not meeting "the requisite qualifications necessary to serve in the position."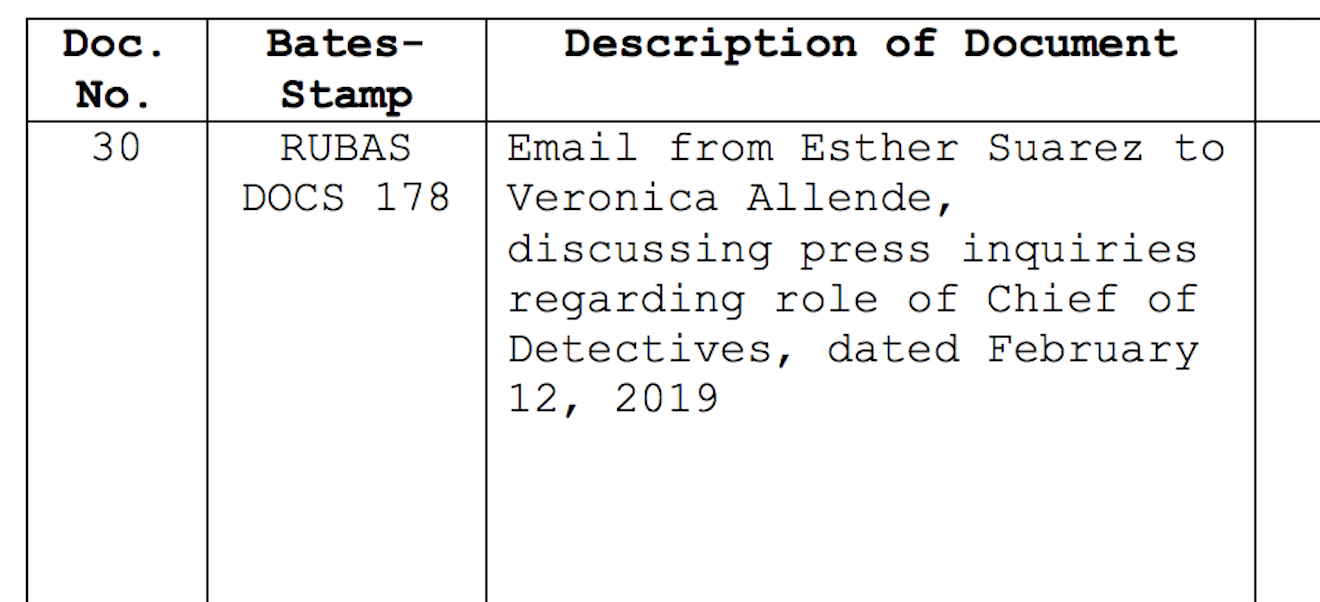 It's unknown whether Allende addressed Suarez about the prosecutor's behavior, which multiple law enforcement and legal sources have referred to as bizarre, but I was blocked from emailing the HCPO sometime after the seminar – for both press inquiries and OPRA requests.
Finally, as for Rubas' OPRA lawsuit, it will be explored as part of a series of stories covering the DCJ's failure to fulfill a specific responsibility – the general supervision of NJ's law enforcement agencies and internal affairs. Ultimately, those stories will highlight a lack of accountability from the NJOAG which let corruption & incompetence run wild in Hudson County – giving them a credibility problem despite a recent wave of arrests.