Prosecutor Esther Suarez whitewashed the investigation of JCPD cops linked to anti-LGBT tweets, including #PrayTheGayAway directed at Mayor Steven Fulop, Chief Mike Kelly, and bike lane activists, sources say.
#PrayTheGayAway? It's a cowardly thing to post from an anonymous Twitter account. However, it's much more alarming when anti-LGBT cyber harassment is linked to the highest levels of the Jersey City Police Department (JCPD).
In fact, the Twitter accounts identified in this story posted insider information related to the JCPD. The harassment detailed in this article was clearly homophobic and directed at Mayor Steven Fulop, JCPD Chief Mike Kelly, and multiple JCPD superior officers.
Indeed, the main Twitter account in question, Goldbitch201, was a play on the name of a fellow superior officer – JCPD Deputy Chief David Goldrich (retired as of 3/1/20). Three tweets featured an image of a dildo attached to a bicycle; two tweets included the hashtag #PrayTheGayAway; and one used an extremely hateful anti-LGBT slur (twice).
Though it's plausible someone else was managing the Twitter account, there's considerable evidence pointing to Capt. James Crecco being the main operator of Goldbitch201 and TheHague (all versions).
Additionally, it's almost certain that Det. Erik Infantes was operating at least one account, Alphaback201, and likely another, Mets201, which perpetuated the harassment and offered unique political perspective. The website affiliated with Infantes' printing and embroidery business, TheAlphaback.com, was taken down after a Real Garden State Instagram post alluding to this story.
Ultimately, sources say Hudson County Prosecutor Esther Suarez whitewashed the investigation of anti-LGBT tweets detailed in this report. After asking questions about this story in September 2019, this journalist was banned from emailing the Hudson County Prosecutor's Office (HCPO).
Publisher's Note: The Twitter account at the center of this report posted numerous comments which were false, malicious, and slanderous. In an effort to avoid perpetuating harassment, this article focuses on the clues, evidence, and information linking the operator(s) to the account.
Capt. James Crecco and Det. Erik Infantes
Close friends and once partners in the city's North District, Crecco and Infantes have been working for the JCPD since 1999 and 2002, respectively. Crecco has been a captain since August 2018 and was assigned to the Chief of Patrol's office when Goldbitch201 was active; Infantes was assigned to the Hudson County Prosecutor's Office (HCPO) Homicide Unit.
Of note, according to the Jersey Journal, the City of Jersey City once settled a lawsuit for $165,000 filed by a Hillside man who claimed that Crecco and Infantes used "excessive force" when they shot him six times during a 2006 traffic stop.
In 2016, Infantes received a $50,000 settlement from the Fulop administration related to alleged retaliation. In short, Infantes claimed former JCPD Chief Robert "Bubba" Cowan reassigned him to less desirable posts after Fulop was elected in 2013 because he was a political opponent.
The 201 Gang – Alphaback201, Goldbitch201, Mets201, and Hague201
Call it childish or gang-related behavior, but the Twitter accounts mentioned in this report like adding 201 to their profile names/handles. For what it's worth, veteran police sources suspect the 201 might be referencing a radio car assignment relevant to the "old" JCPD North District, which Crecco and Infantes potentially worked together, not the local area code. Regarding the context of this story, below are eight things to keep in mind when reading:
The video from the infamous Reed St. incident – an event which has haunted Chief Kelly's reputation ever since – surfaced on the same day he went on vacation in August 2019. At the time, rumors swirled around the JCPD claiming Kelly would retire with the video publicly available. At least one elected official was confident Deputy Chief Edgar Martinez would soon get the job.
Back in 2016, Crecco and JCPD Capt. Anthony Scalcione – both lieutenants at the time – fought/scuffled in the South District. Apparently there was no decisive winner.
It's believed Goldrich advised a JCPD sergeant to report Crecco for his alleged role regarding a homoerotic email from November 2018 (more on that further down).
It's believed Goldrich informed Chief Kelly on September 10, 2019, that he believed Crecco was the operator of Goldbitch201.
Infantes was working with the Jersey City Council to bring back the JCPD off-duty program when Goldbitch201 was active. At the council's September 11, 2019, meeting, Councilman Daniel Rivera gave Infantes a shoutout for his efforts.
Sources say Infantes is a diehard Mets fan and a proud supporter of Pres. Donald Trump.
Real Garden State's Twitter account was previously Real Jersey City (which might cause confusion with some screenshots).
Screenshots of Hague201 are from an archive of over 900 tweets posted by the deleted account.
Prior to addressing the homophobic tweets of Goldbitch201, the following thread analyzes relevant screenshots of Alphaback201, Mets201, and "The Hague" tweets, plus comments from Infantes' personal Facebook account:
Alphaback201 (Transparency is King) provided critical analysis of the 2019 Jersey City BOE race, posted pictures of state troopers working off-duty jobs, and complained about bike lanes on Bergen Avenue.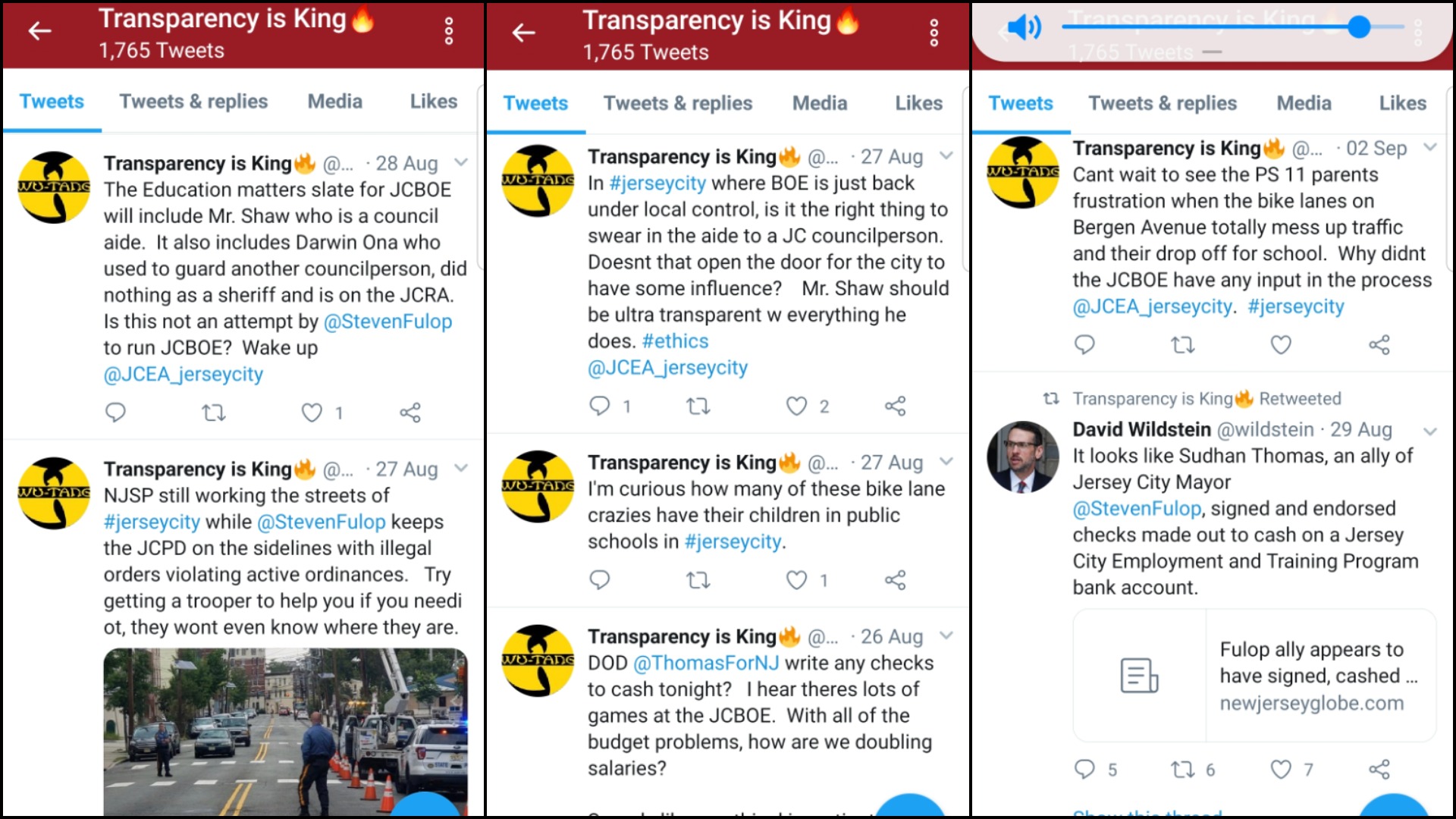 Alphaback is also the name of Infantes' printing business. The website included samples of designs for the HCPO, New Jersey Division of Criminal Justice, and the Jersey City Education Association (JCEA). A JCEA source confirmed Infantes printed shirts for a protest in Paterson.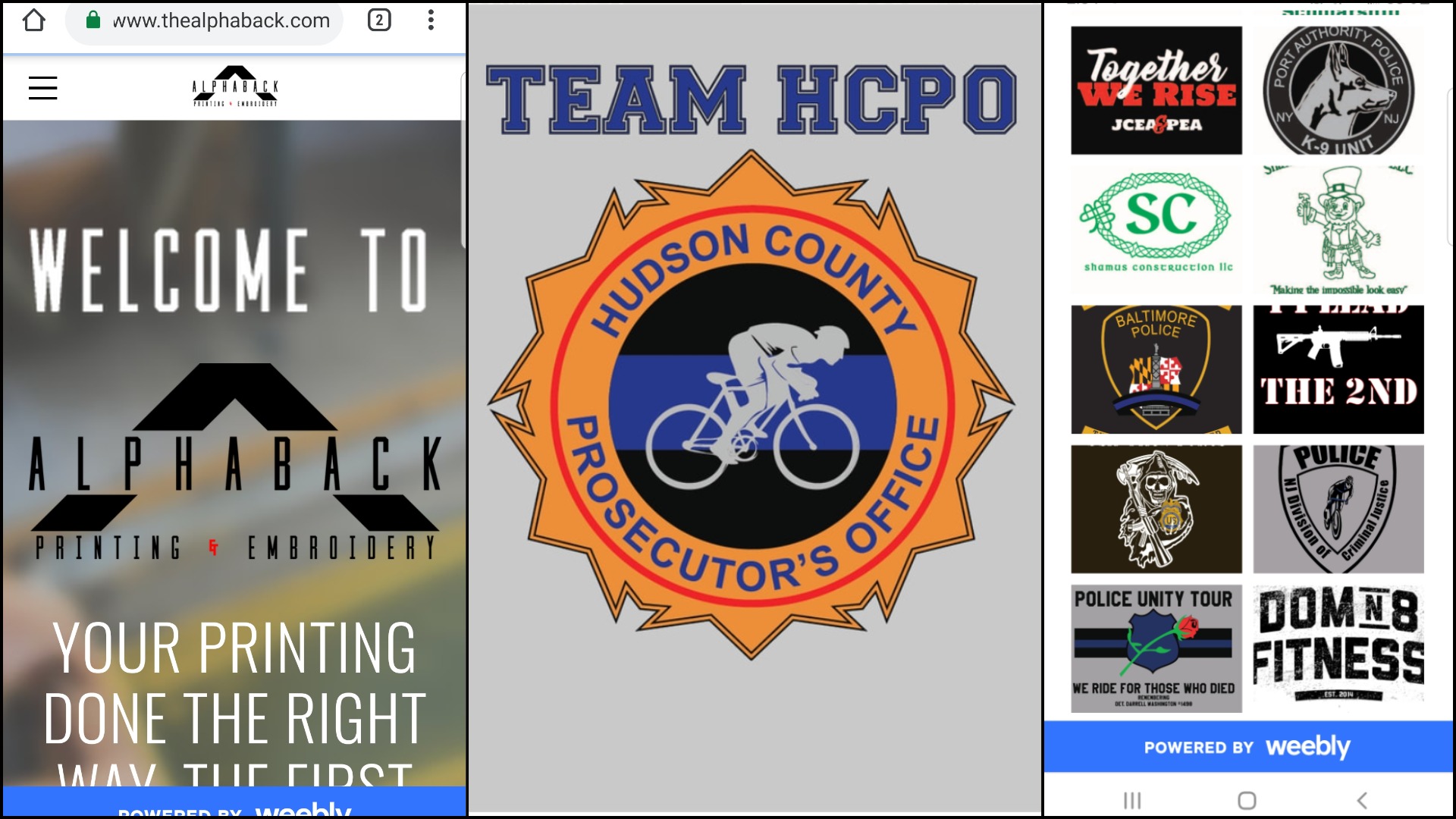 Beyond the influence of developers in Jersey City BOE politics, one common concern of Alphaback201 and Goldbitch201 was whether or not Mayor Fulop would send his child to Jersey City Public Schools. More recently, Mets201 expressed their support for reopening schools in New Jersey amid the COVID-19 pandemic.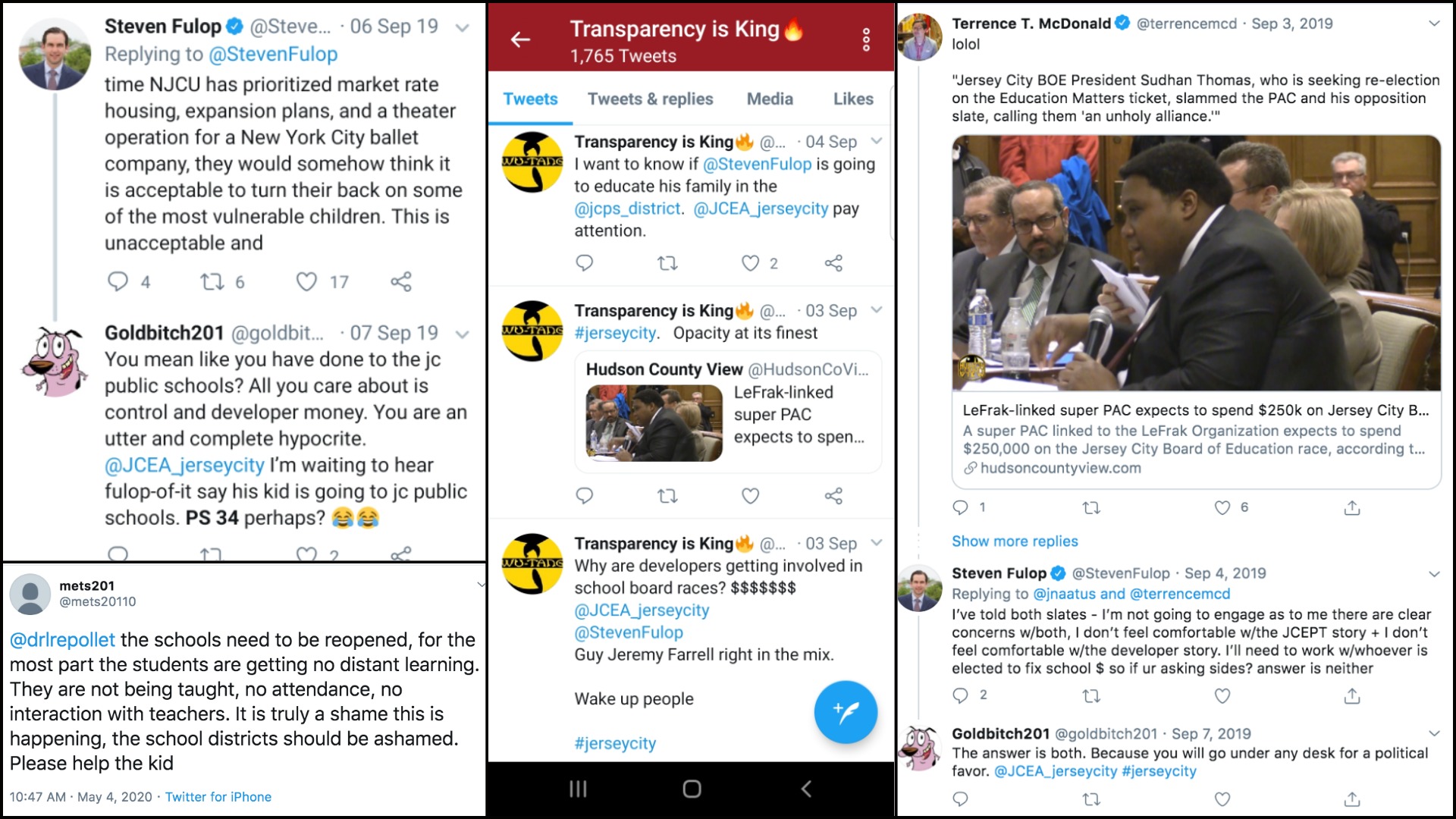 On the night of September 14, 2019, Alphaback201 was deleted. Additionally, after Real Garden State posted various Goldbitch201 tweets on Instagram, TheAlphaback.com was taken down. The Instagram post was on July 10, 2020. A cached image from Google indicates the website was still up on July 8, 2020.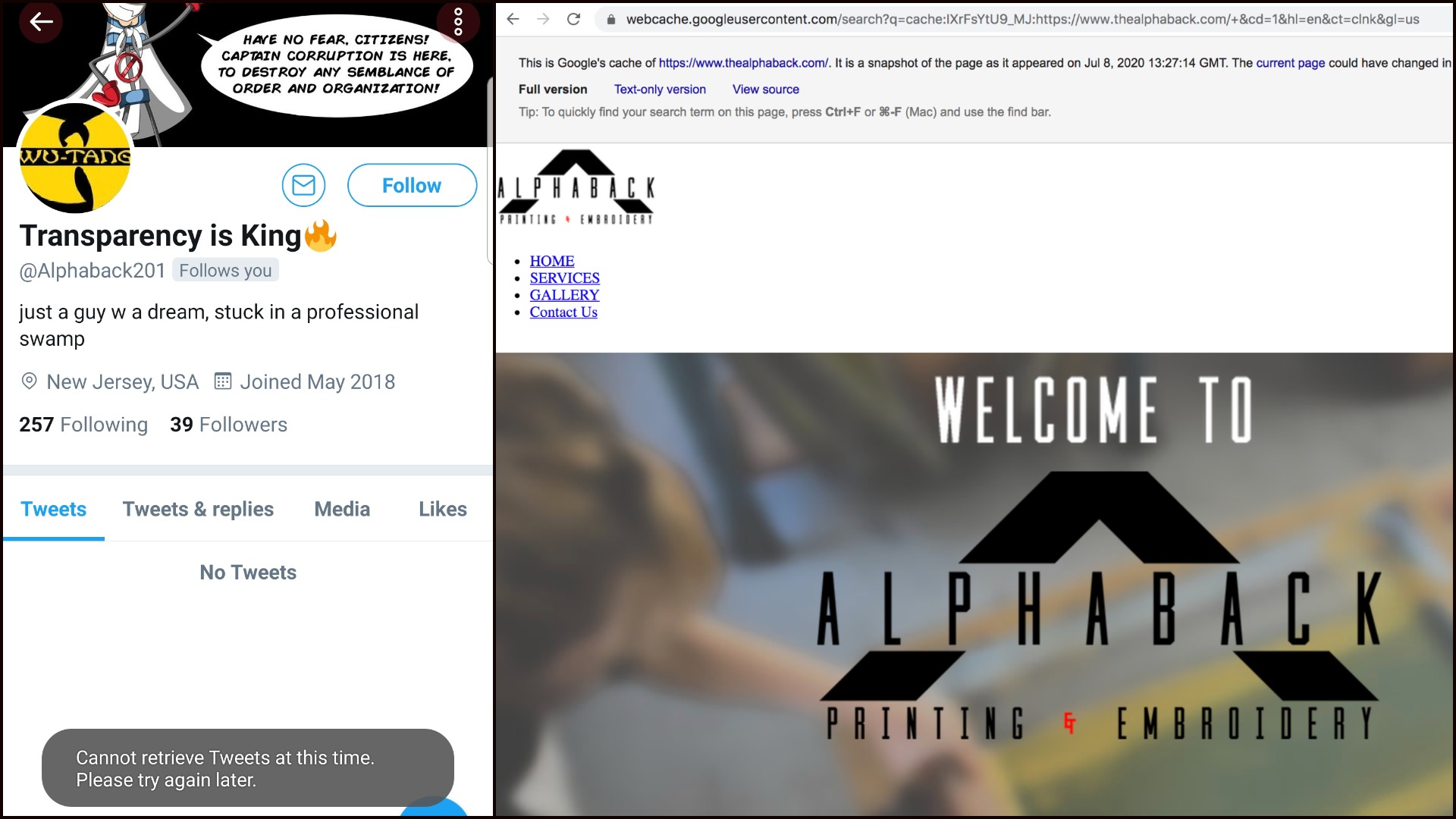 Similar to Alphaback201, Mets201 has been very critical of the Jersey City BOE – especially its handling of the COVID-19 pandemic.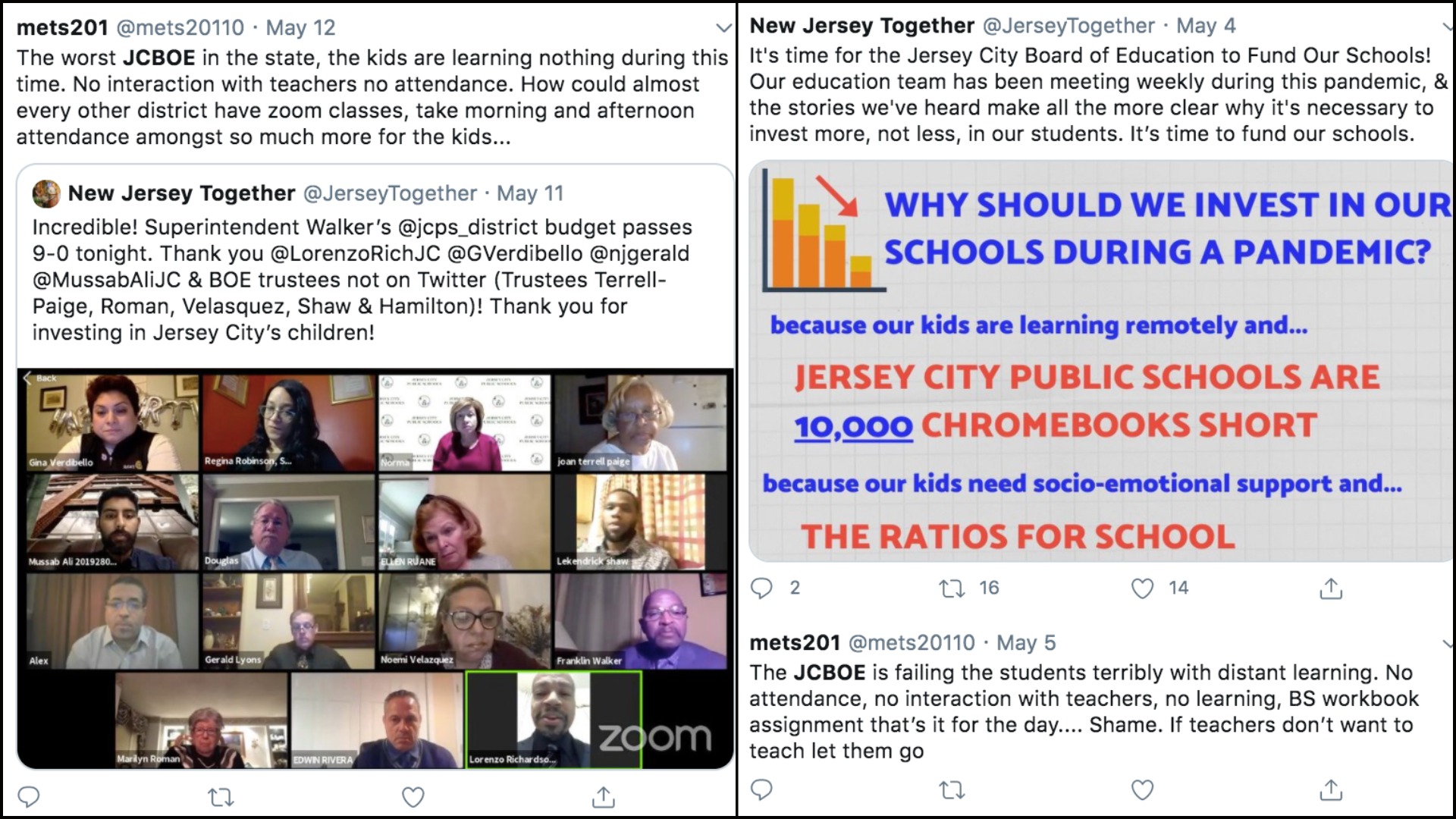 Using his personal Facebook account, Infantes posted his displeasure with the State of NJ's "poor guidance" for reopening schools amid the COVID-19 pandemic. Also, like Goldbitch201, Infantes wasn't happy with the creation of bike lanes on Bergen Avenue.
Also, like Alphaback201 (and Infantes on Facebook), Mets201 expressed a strong interest in JCPD off-duty jobs.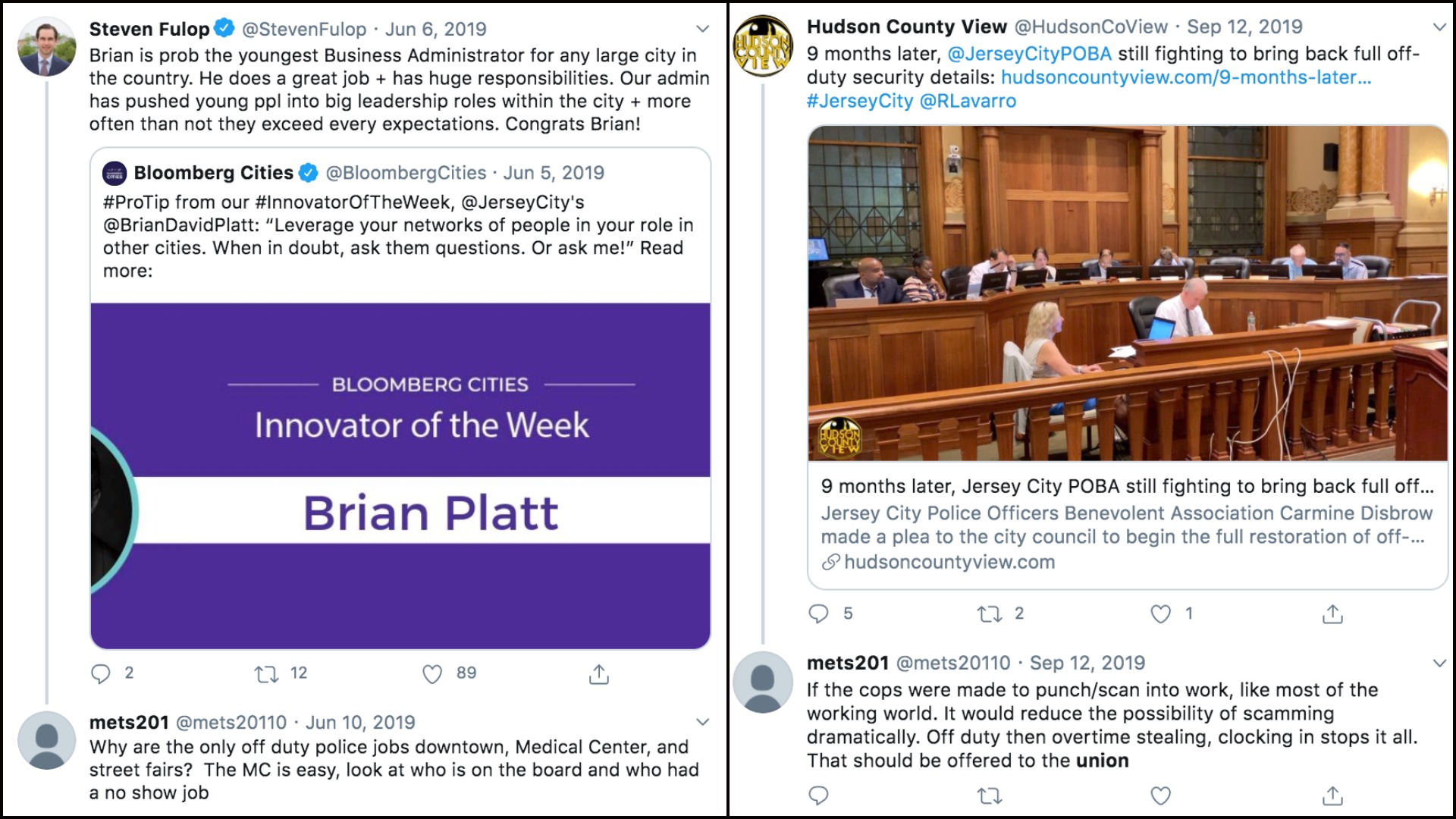 Like Goldbitch201, Mets201 talked about Chief Kelly hiding behind a van during the infamous Reed Street shooting.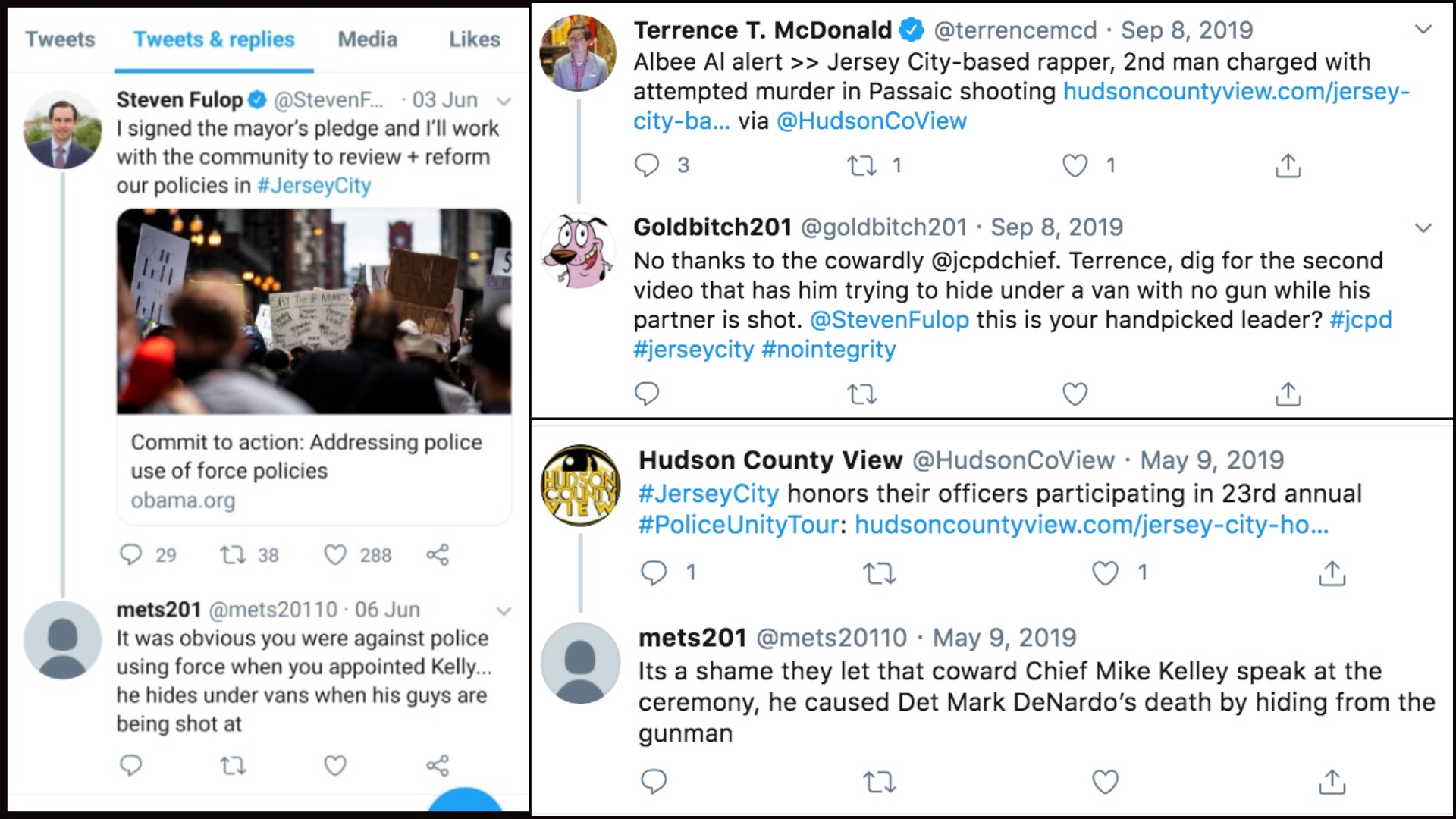 In addition, Goldbitch201 and Mets201 viciously attacked JCPD Capt. Anthony Scalcione. In an effort to defame Crecco's enemy, Mets201 alleged Scalcione was a coward and racist, while Goldbitch201 claimed he was a rapist. Of note, Scalcione is distantly related to P.O. Anthony Scalcione, the fascist JCPD cop linked to the former JerseyCity_NewJersey Instagram account, and Fulop's spokesperson, Kimberly Wallace-Scalcione, through marriage.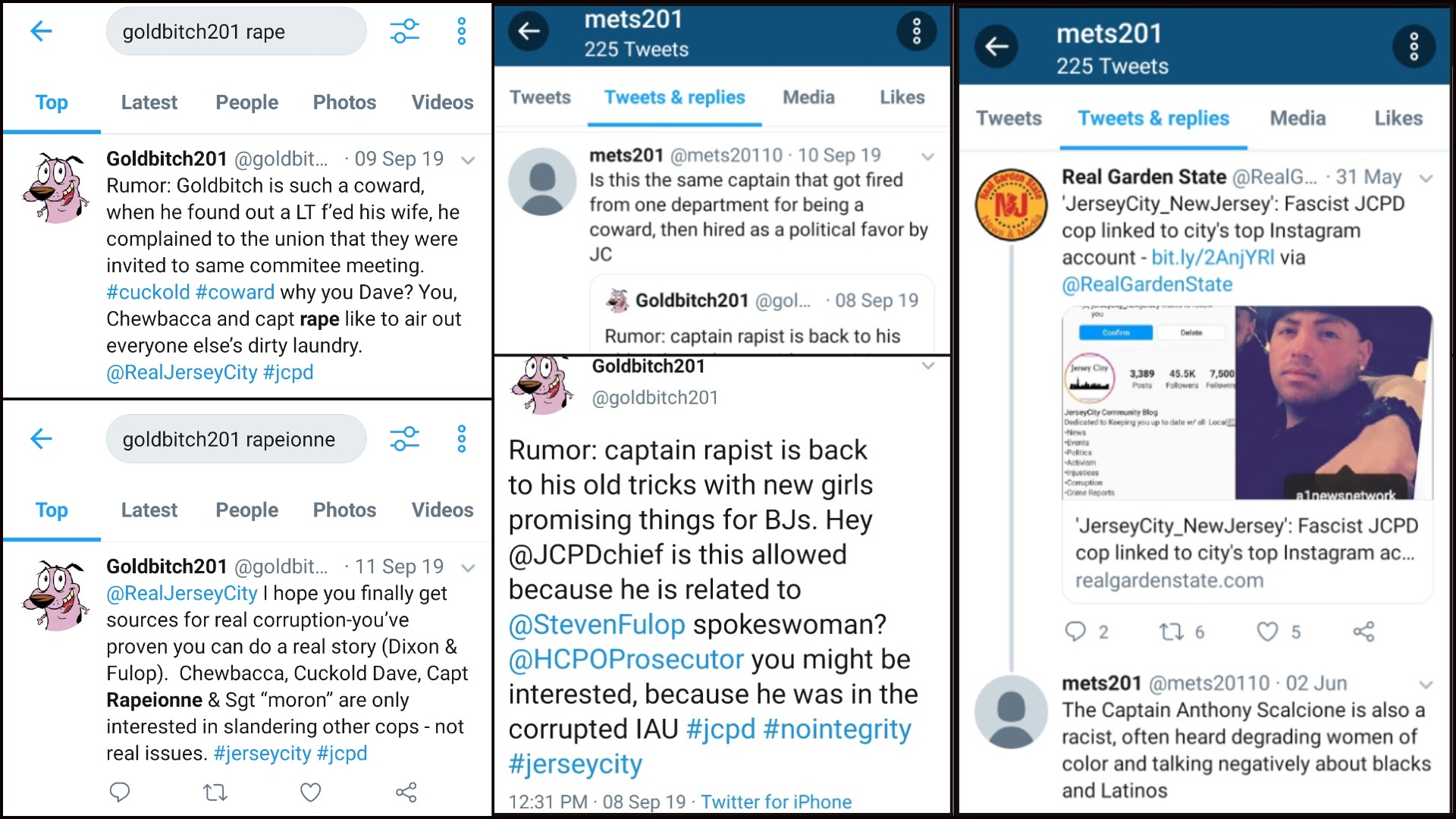 Notably, Goldbitch201 frequently brought up Fulop's relationship with Dixon Advisory USA. From a personal standpoint, the kind words of Mets201 were appreciated, however, one of Goldbitch201's homophobic comments couldn't even get the right state of Fulop's second home (Rhode Island, not New Hampshire).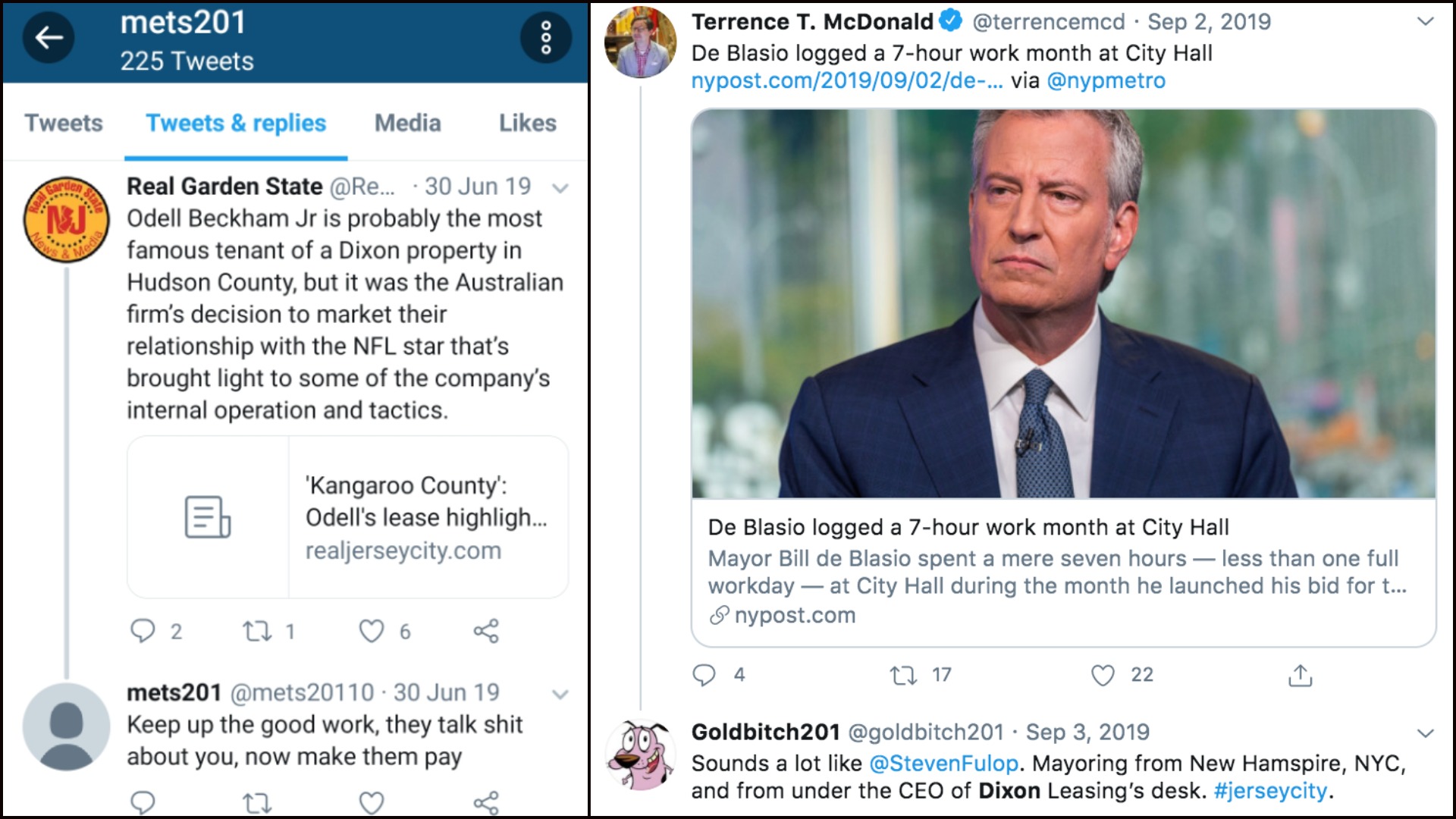 Regarding "TheHague," there's been three different versions – Hague201 (created October 2018) , 0Thehague2 (created around September 23, 2019), and Thehague2_1 (created Janaury 2020). The second version of The Hague popped up two weeks after Goldbitch201 stopped tweeting. The account's bio stated "I'm Back; They tried but failed. Now the truth will set them free;"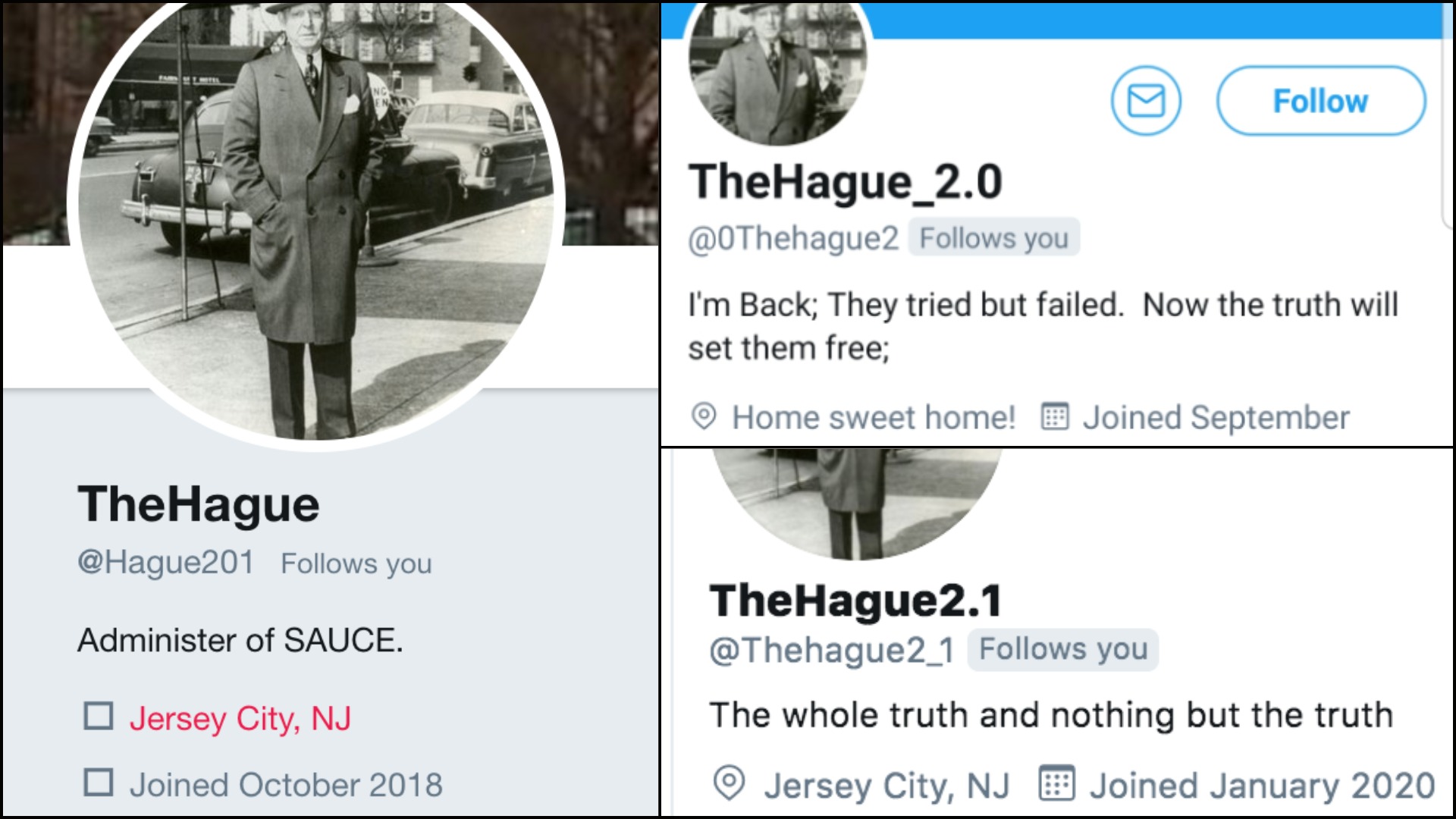 Like Goldbitch201, the first version of The Hague would talk about Chief Kelly's dog. Referencing the dog's death, Goldbitch201 tweeted at the police chief "I'll ask nicely: can you go back to Florida and stay there please? @JerseyCityPOBA even offered to buy you a new dog."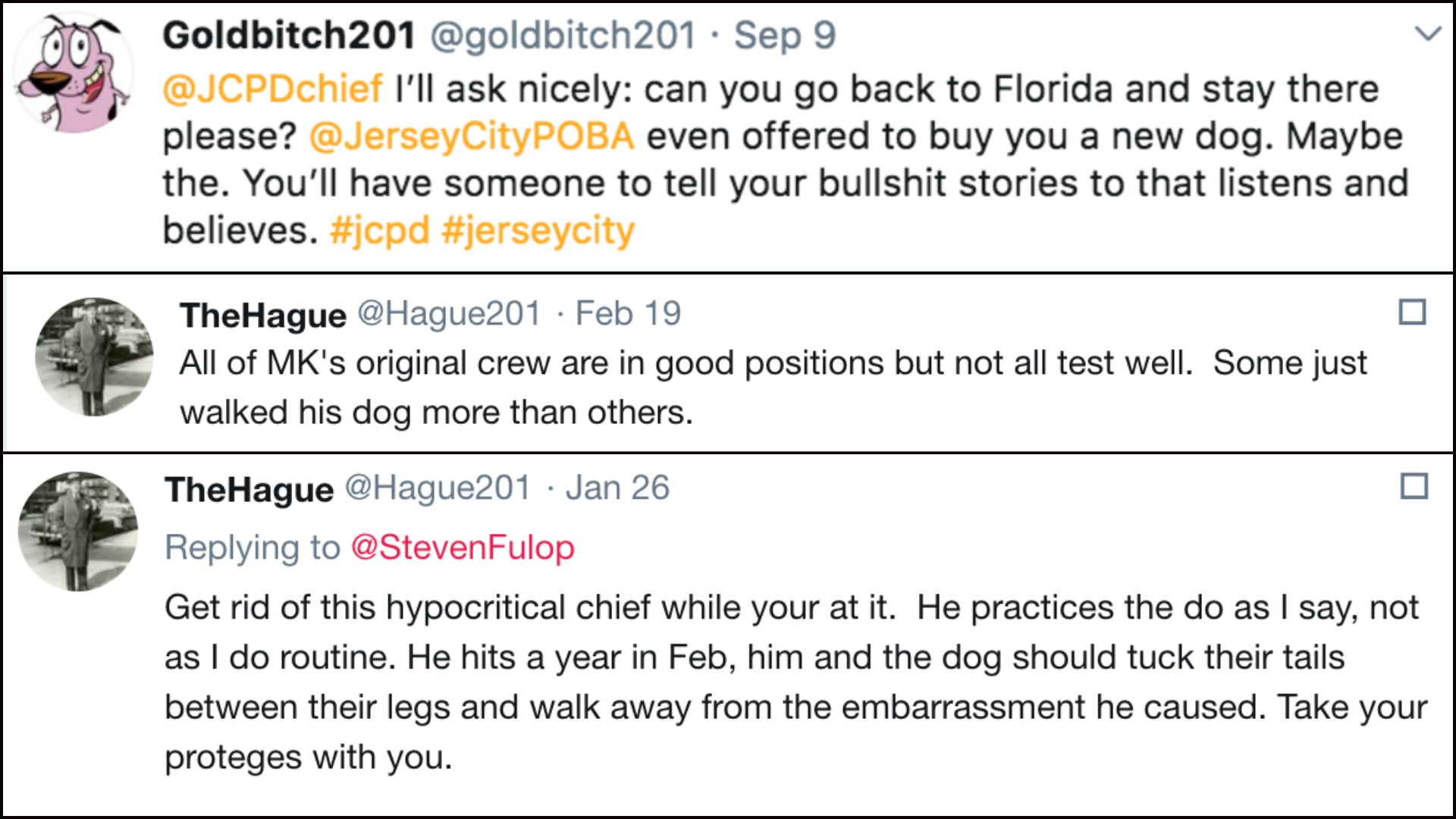 The second version of The Hague wasn't a fan of JCPD Capt. Anthony Tedesco.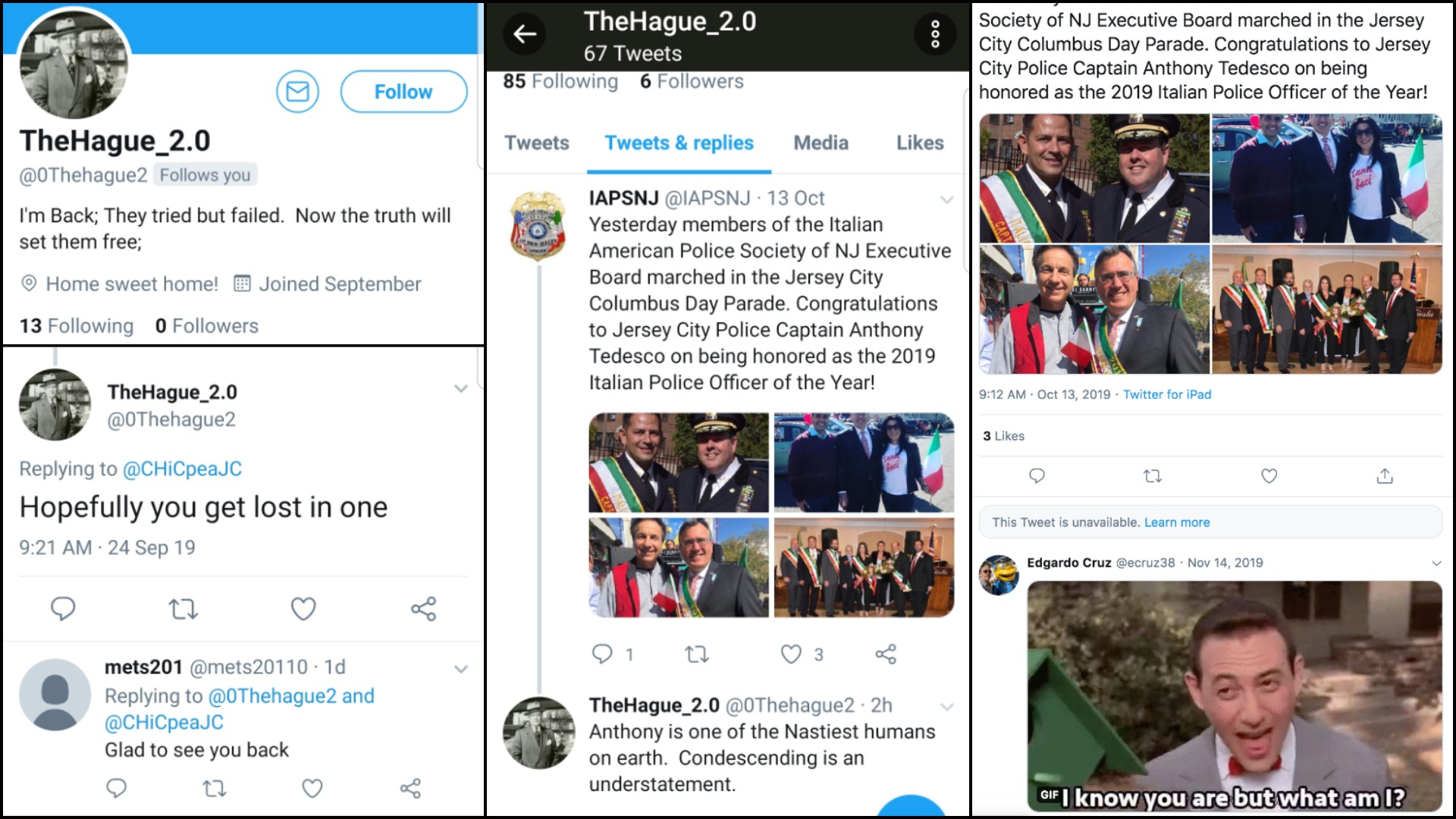 As well, The Hague wasn't a fan of the union leadership for JCPD officers and detectives.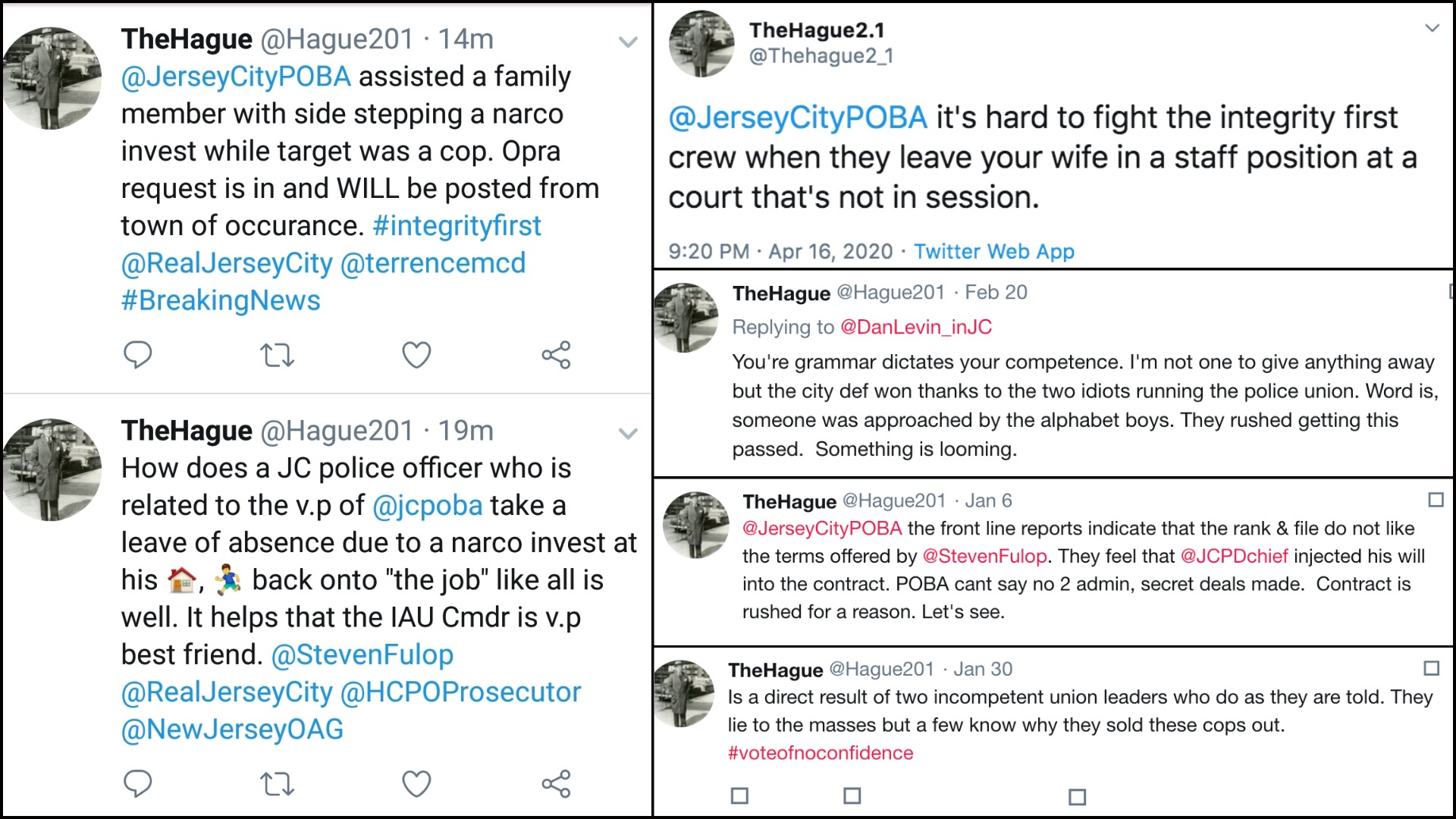 Final note on The Hague, for reasons unbeknownst, the account is not a fan of Hoboken Police Chief Ken Ferrante.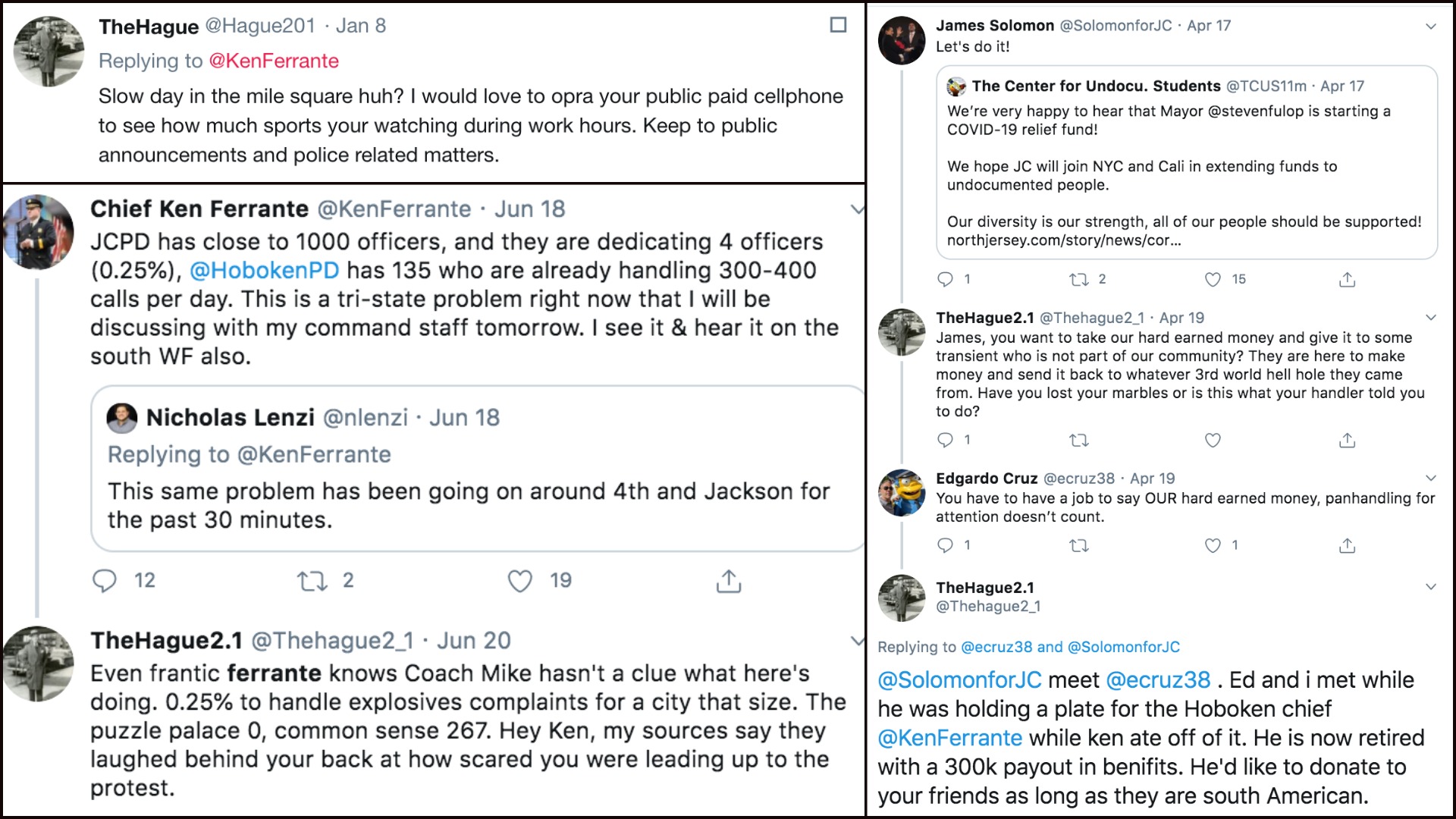 #PrayTheGayAway: Analyzing the tweets of Goldbitch201
As previously noted, at the time Goldbitch201 was active, whether or not Chief Kelly would remain in his job was actively being discussed throughout the JCPD. Ignoring the anti-LGBT tone, it seems the real agenda of the #PrayTheGayAway campaign was to shame Kelly into resigning (like the tweet about buying him a new dog to leave).
Speaking of dogs, the avatar for Goldbitch201 is the cartoon character Courage the Cowardly Dog. The following thread analyzes relevant screenshots from the Twitter account:
Two screenshots of Goldbitch201's last "Tweets & replies" indicate at least five tweets posted prior to September 11, 2019, were deleted. Also, the account tried, but failed, to accurately identify my JCPD sources.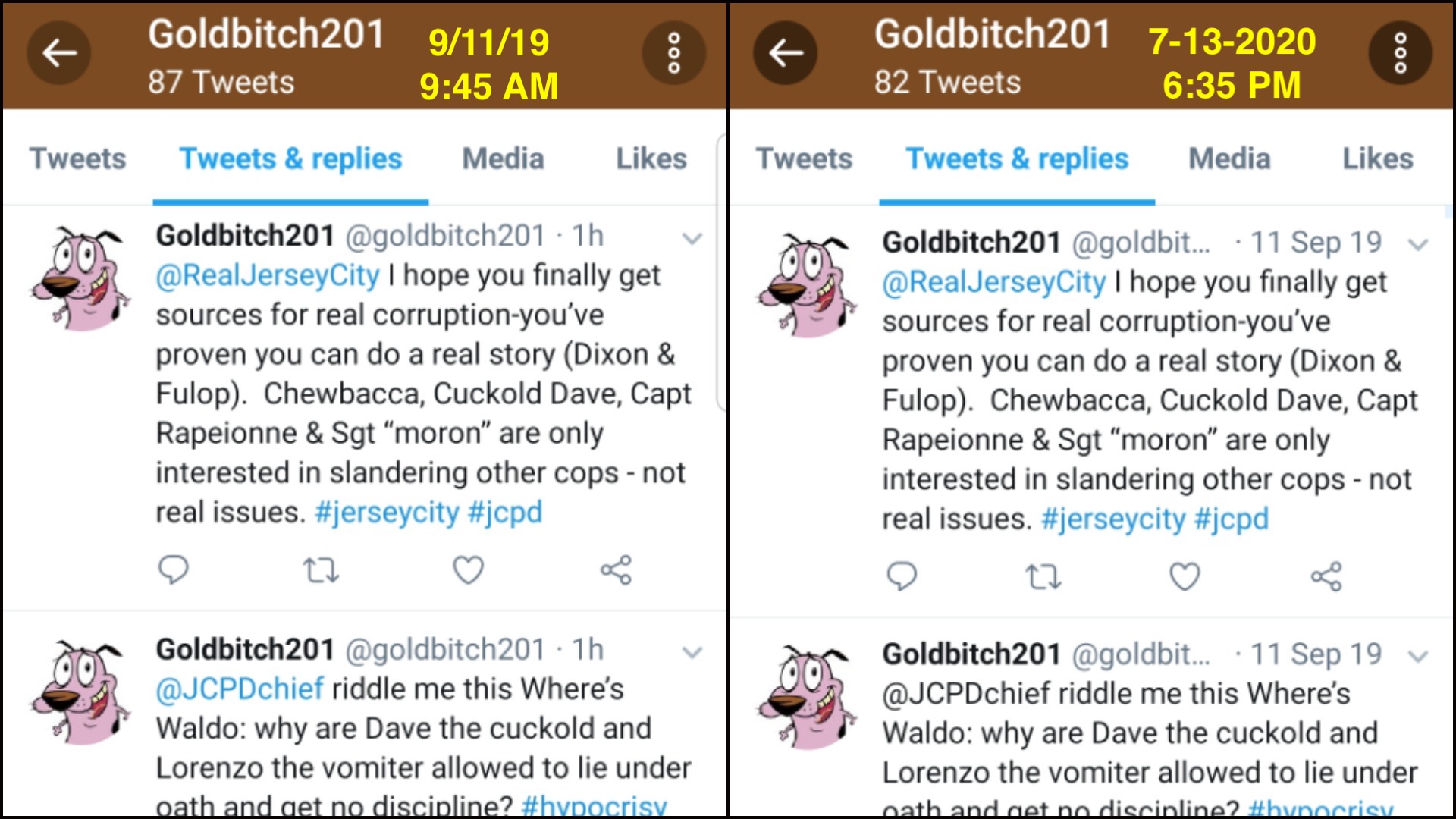 Two of the five deleted tweets included an image of a dildo attached to a bicycle seat. That photo was tweeted three times in total. The tweet which remained asked if Fulop, Kelly, or a private citizen take turns "on top" of the bike and includes #PrayTheGayAway.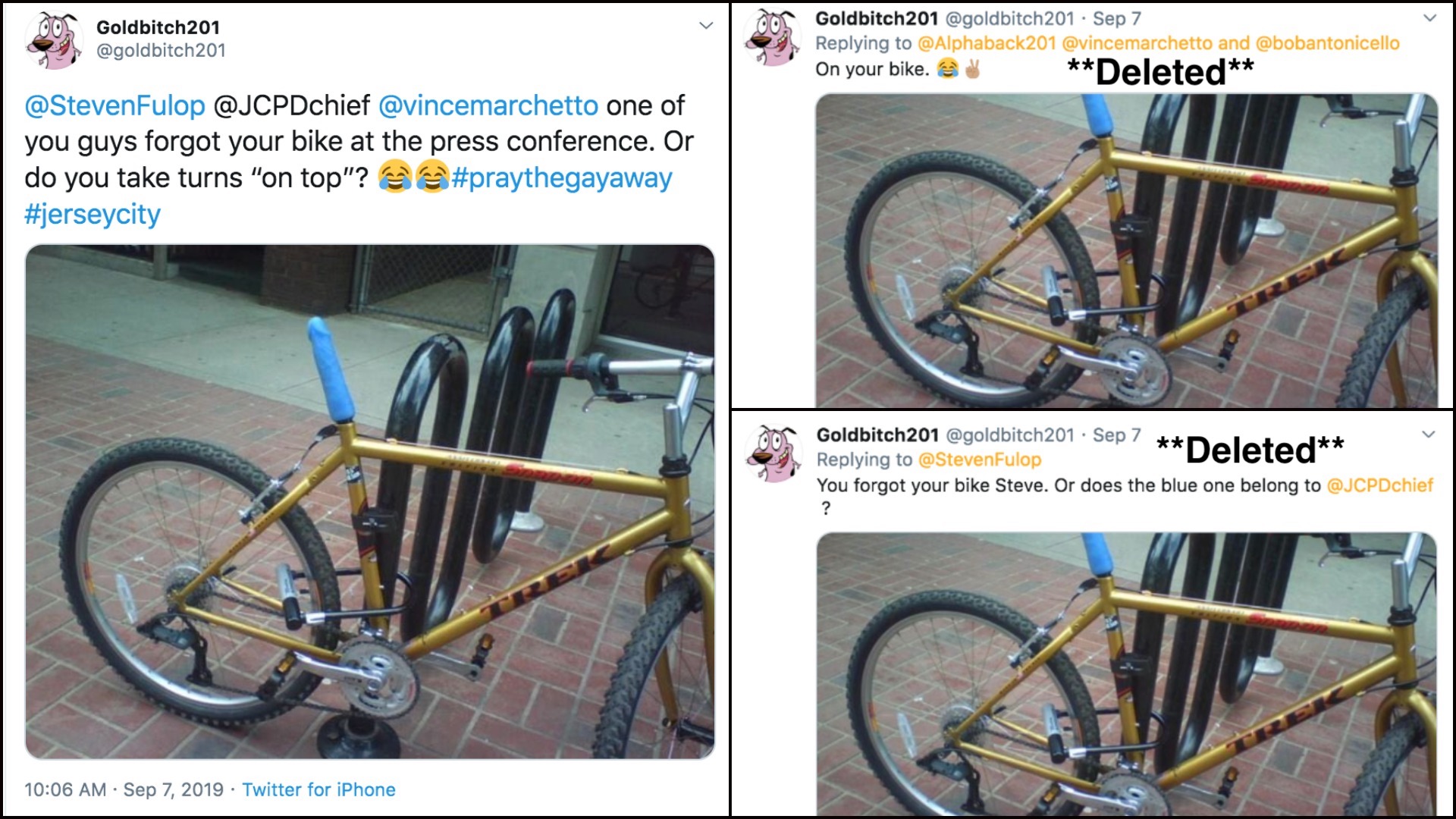 Not to sound like a broken record, but Goldbitch201's harassment of Chief Kelly was relentless, including a tweet that stated "don't go away mad, just go away."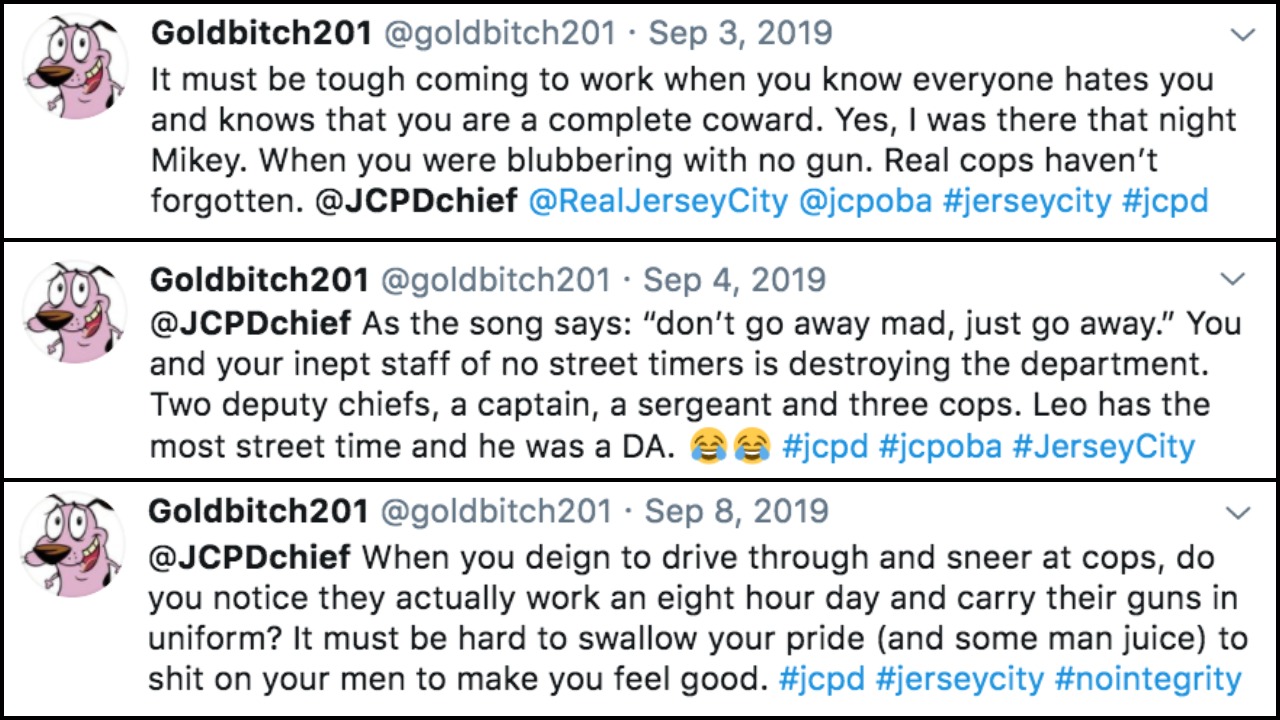 Just like The Hague, Goldbitch201 wasn't a big fan of the Jersey City POBA's leadership.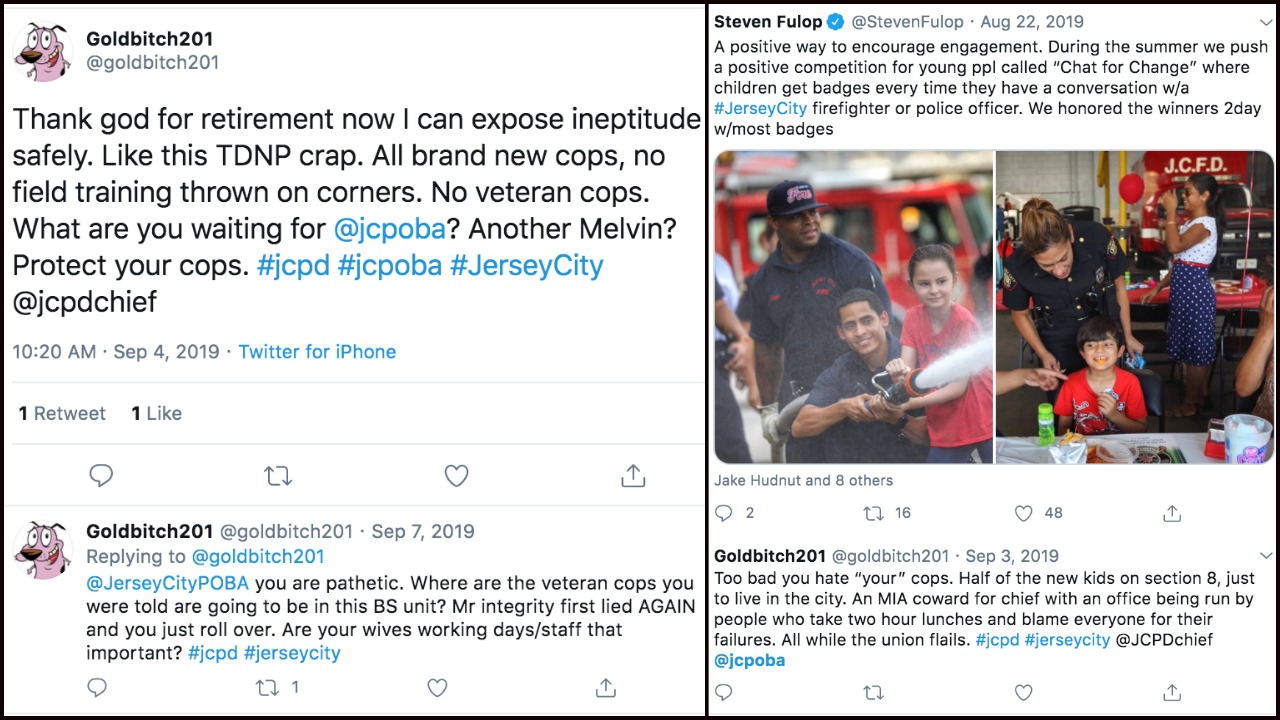 On top of #PrayTheGayAway and the dildo-on-a-bicycle, Goldbitch201 used vile language when attacking bike lane activists and Jersey City's LGBT community. Specifically, the account wrote in a deleted tweet that "working people need parking, not fags in leotards and chic coffee shops," and included the hashtag "#fagsonbikes".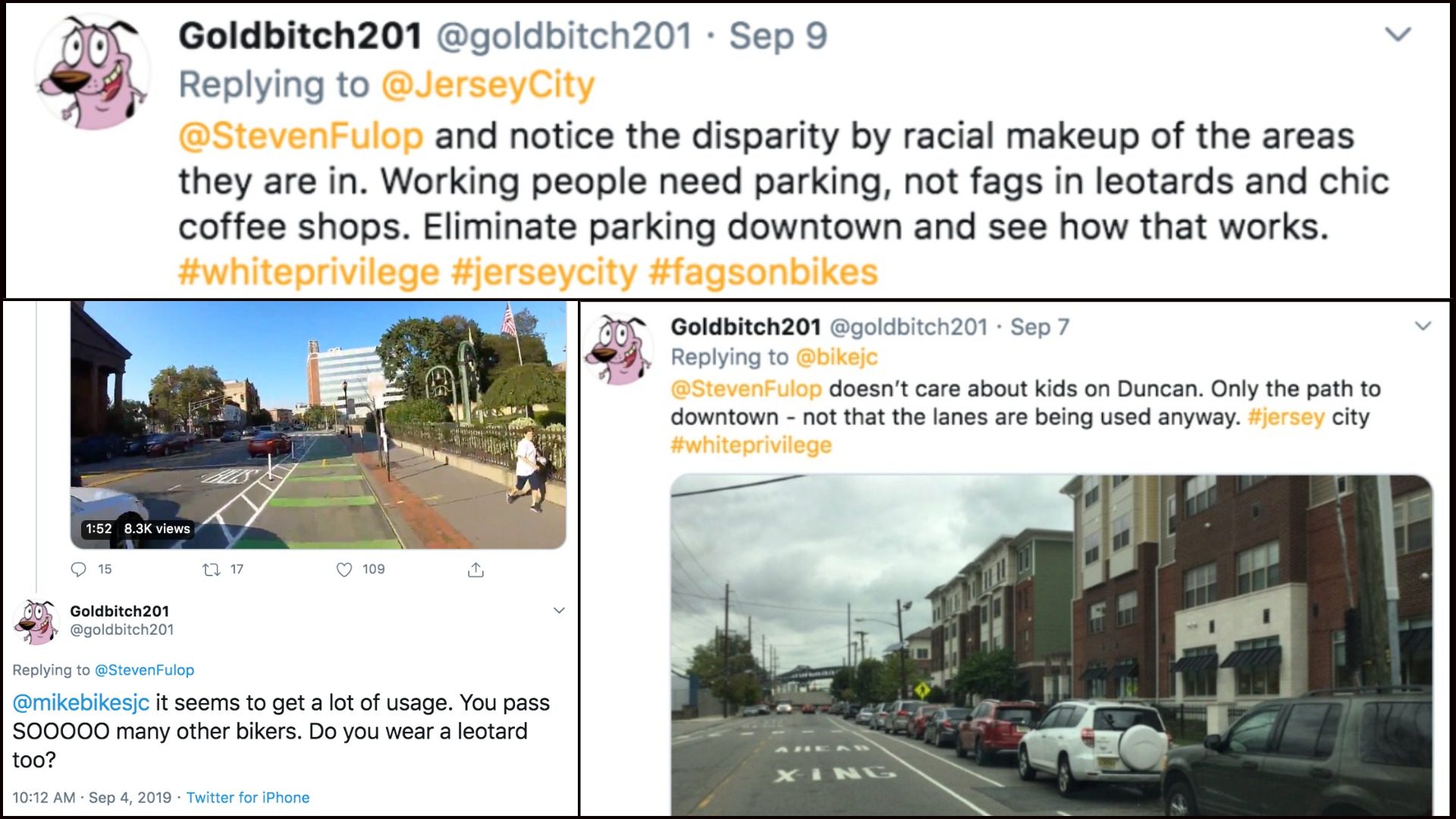 #PrayTheGayAway (and traffic caused by bike lanes on Bergen Ave.)
Call it karma, but it seems the most damaging piece of evidence connecting Crecco to Goldbitch201 is a picture of early morning traffic on Bergen Ave. in Jersey City.
According to sources, based on the inspection sticker and hood of the car, it's believed the vehicle in the picture was assigned to the Chief of Patrol's office – specifically Crecco. As well, it's believed that the white municipal vehicle in the photo, plus shadows, helped the initial JCPD investigation identify the car via CCTV cameras located in Journal Square.
Furthermore, it's been rumored that Crecco confessed he took the picture, but said he sent it to Infantes and other people, and claimed he had no role related to Goldbitch201. Notably, it's believed Deputy Chief Nicholas Scerbo was active in the investigation at the time.
False implication involving Freeholder Bill O'Dea raises suspicions
The false accusations by Goldbitch201 regarding my sources for JCPD stories was comical. However, one tweet professing that Hudson County Freeholder Bill O'Dea paid me to target his enemies was curious.
It's curious because 1) no one mentioned in the article Goldbitch201 was responding to are considered O'Dea's enemies; 2) my investigations haven't been kind to O'Dea's political allies; and 3) no JCPD sources ever heard that rumor before the tweet.
That being said, there was a time when this journalist was an active speaker at Hudson County Board of Freeholders meetings. Dating back to 2016, I've raised issues with the board regarding the HCPO's handling of police misconduct cases, Tomahawk Strategic Solutions, and various agenda items. O'Dea is usually the only freeholder willing to follow-up on issues I've raised.
One of those issues was the part-time employment of Deputy Chief Edgar Martinez. For those who don't know, Martinez serves as the spokesperson for the freeholders. Notably, according to an Open Public Records Act (OPRA) request, Martinez failed to submit timesheets for that job – an issue O'Dea asked questions about at one point.
It remains unclear if any action was taken regarding that issue. Interestingly enough, at the time Goldbitch201 was active, Crecco was Matinez's XO (executive officer) in the JCPD Chief of Patrol's office.
Nicky The Money Launderer and Tony T among tweets deleted
Once upon a time, Deputy Chief Scerbo was co-owner of KD's Kids & Womens on Martin Luther King Drive in Jersey City. It's believed one of the five deleted tweets was related to that business venture.
Specifically, the deleted Goldbitch201 tweet mentioned "Nicky the money launderer," "Tony T," and the "sneaker store." Sources say the deleted tweet was referencing Scerbo, Capt. Anthony Tedesco, and KD's, respectively. Real Garden State will analyze that tweet extensively in a future article.
Cuckold talk and Lieutenant Steve
Two Goldbitch201 tweets from September 9, 2019 – one of which was deleted around the night of 9/12/19 (no later than 9:45 AM on 9/13/19) – were directed at Goldrich and his wife (also a JCPD cop).
Combined, the malicious tweets fantasized about Lt. Steve having sex with the wife of Goldrich (who was powerless to stop the affair). Indeed, the deleted tweet contained verbiage referencing an alternative sexual lifestyle known as cuckolding.
Interestingly enough, after speaking with various JCPD sources, it seems there's only one Lt. Steve and that's Stephen Trowbridge. Ironically, Crecco's ex-girlfriend from over 15 years ago was dating Trowbridge when Goldbitch201 was active.
Perpetuating the harassment, Mets201 said the deleted tweet would lead to "ruff pillow talk," while Alphaback201 responded to the deleted tweet with a picture of Hermey The Dentist (an elf from the Christmas story Rudolph the Red-Nosed Reindeer). Notably, a long running joke in the JCPD is that Hermey is Goldrich's doppelgänger.
The homoerotic email, Pamela Johnson, and Lavon King
Originally reported on February 1, 2019, Crecco allegedly wrote and sent a homoerotic message to himself from Sgt. Matthew Kilroy's JCPD email account.
The subject line of the November 6, 2018, forged email – sent from Kilroy's account to Crecco, with Lt. Darren Sorrentino and Sgt. Wayne Zachowski copied – is titled Irresistible Attraction.
"I find that I must alert you all to an issue I am having at work on a daily basis," the email begins. "I find that when Lt. Sorrentino gives me orders, my heart melts a little more every day. His incredible masculinity when wielding his authority in uniform overwhelms me to the point where I am forced to flee the district to compose myself. THIS CAN NOT GO ON!"
The forged email goes on to request a "transfer to avoid any future contact or I fear I may attack him in an unprofessional and romantic fashion," and asks Crecco to act at the first opportunity.
Of interest to this story, on September 2, 2019, Goldbitch201 tweeted to this investigative reporter "you go after one cop for shooting lavon (justified) but cover the biggest police force abuser like he's a victim for body slamming a community activist."
The tweet was referencing Lavon King's death (which galvanized my journalism) and the arrest of political activist Pamela Johnson (made by Kilroy).
In the aftermath of Johnson's arrest, about 50 activists rallied behind her alleging Kilroy used excessive force, according to Hudson County View. Bruce Alston, who helped organize the protest, asked that the New Jersey Office of the Attorney General (NJOAG) "investigate Matthew Kilroy's excessive force allegations – all of them, not just Pam's."
Banned from emailing the HCPO for inquiring about Goldbitch201
As previously stated by Real Garden State, when it comes to holding public officials in Hudson County accountable, the NJOAG has a credibility issue. Quite frankly, the subject of this article is a perfect example.
On September 24, 2019, the HCPO hosted a hate crimes & bias incidents seminar in Bayonne. This journalist attended to ask general questions regarding bias-based cyber harassment which were related to Goldbitch201.
When I began to ask questions at the seminar, which were along the lines of what triggers an investigation by the HCPO regarding cyber harassment, hate crimes, and bias incidents (especially if comments are directed at public officials and law enforcement officers are suspected to be involved) – Suarez interjected and advised that I seek legal advice from an attorney.
Of note, during the encounter, the prosecutor took out her cell phone and began to record the interaction (after the question was asked). Following an OPRA request with the HCPO, the video below, which begins with Suarez's response, was released:
To be clear, it's intimidating when a county prosector takes out their cell phone, begins to film you, and tells you to seek legal advice for asking questions regarding bias-based cyber harassment. Even more disturbing, the prosecutor said a laughable lie when she claimed to not know me in front of Veronica Allende – the NJOAG's director of the Division of Criminal Justice (DCJ).
There's two big issues with that laughable lie:
It was said in her official capacity, which is why I was able to obtain the video – that Suarez filmed with her cell phone – via an OPRA request.
According to court records from an unrelated OPRA lawsuit, filed against the NJOAG by attorney Michael Rubas, Suarez had previously sent emails about my press inquiries to Allende. In that case, it was because I sought confirmation that Gene Rubino was removed by Allende as the HCPO's chief of detectives for not meeting "the requisite qualifications necessary to serve in the position."
It's unknown whether Allende ever addressed the prosecutor regarding her behavior. Multiple law enforcement and legal sources have referred to the incident as bizarre. Sometime after the seminar, Real Garden State was banned from emailing the HCPO – for both press inquiries and OPRA requests.
#PrayTheGayAway Investigation Whitewashed
Even worse, according to a source that spoke with Edgar Martinez about the Goldbitch201 tweets, the deputy chief supposedly said Suarez told him "there's nothing there" (as in there's no case). It's unknown whether there was no case due to a lack of evidence or the prosecutor felt no crime was committed.
Nevertheless, it's not surprising outcome given the Matinez-Crecco relationship and Infantes being assigned to HCPO.
Furthermore, sources say the JCPD's Internal Affairs Unit (IAU) is disinterested in the case. Despite the evidence pointing to Crecco and Infantes' engaging in bias-based cyber harassment, Capt. George Rotondo, IAU's commander, has multiple political considerations to weigh regarding the case (especially the Johnson-Kilroy incident).
Though it's plausible someone else was involved with The 201 Gang of Twitter accounts, the evidence/information presented in this report points to Crecco and Infante's involvement with the social media campaign. Unlike Real Garden State, law enforcement agencies like the JCPD, HCPO, and DCJ have much greater tools at their disposal for conducting a comprehensive investigation.
Finally, a spokesperson for the NJOAG told Real Garden State that the agency was unable to identify any purchases from Infantes' printing business. That means if there's any chance for accountability regarding the #PrayTheGayAway/anti-LGBT tweeting, it will be up to Allende and DCJ to conduct an independent investigation.
Unfortunately, there's little hope that will happen given the NJOAG's credibility issue when it comes to holding public officials accountable in Hudson County.