Whether or not Prosecutor Esther Suarez is reappointed by Gov. Phil Murphy, her leadership over the past five years represents the optical illusion of diversity in Hudson County.
The power structure might be complex, but the basic idea is simple to understand. Diversity in Hudson County has empowered the white Democratic establishment and failed to address concerns raised by the black community.
Back in June 2015, Gov. Chris Christie's (R) nomination of Esther Suarez to be Hudson County's top law enforcement official was hailed as a progressive victory. She would become the first woman and first person of Hispanic heritage to serve in the position. A native of Bayonne and the daughter of immigrants from Spain, Suarez said she wanted to make the Hudson County Prosecutor's Office (HCPO) "the model office for the State of New Jersey."
When her nomination was announced, North Bergen Mayor/state Sen. Nicholas Sacco (D-32) said Suarez had "an impeccable record and unimpeachable integrity," and that Suarez would "ably represent the diversity that makes Hudson County great." At her swearing-in ceremony, Union City Mayor/state Sen. Brian Stack (D-33) said "Esther is a person that's her own person, and I liked that about her since the day I met her."
Five years later and the evidence indicates Suarez's integrity is impeachable. Despite all the photo-ops with black political activists, her record of failure regarding issues raised by the Black Lives Matter movement is extensive. Worst of all, "the diversity that makes Hudson County great" has served the interests of powerful white men to the detriment of blacks & browns.
Esther Suarez's hypocrisy related to diversity
On June 29, 2020, Suarez offered some interesting comments during a panel discussion addressing racial disparities in law enforcement hosted by B.L.E.S.C. (Blacks in Law Enforcement Serving the Community). VIDEO BELOW:
Among other statements, the prosecutor expressed concern that licensing police officers, a major initiative promoted by the Asbury Park Press, would hurt efforts to diversify law enforcement organizations. Notably, Suarez blasted New Jersey's Police Training Commission (PTC) for lacking diversity – which is interesting given the recent history.
In short, Gene Rubino is a white man that's considered a political crony for Sacco in the HCPO. Back in 2016, he was unable to pass the PTC's Basic Course for Investigations. Because he lacked a PTC certification, Rubino was unqualified to serve as Suarez's Chief of Detectives.
Nevertheless, Rubino served in that position until the New Jersey Attorney General's Division of Criminal Justice expressly stated he "does not meet the requisite qualifications necessary to serve in the position of Chief of Detectives" in a 2019 letter to Suarez.
During all the years Suarez took care of Rubino because of Democratic politics, there was a qualified black man that could've filled the job. In fact, Keith Stith eventually got the job in January 2020; however, HCPO sources tell Real Garden State that Rubino is still running the show.
Of note, on January 29, 2020, Hudson County View reported that Rubino now holds the title of Chief of Investigations.
Diversity in Hudson County doesn't separate blacks from browns, Suarez says
The most interesting moment of the B.L.E.S.C. panel was when one of the moderators, Rasheed Chambers, directly asked how many black people were employed by the HCPO. Suarez responded "I don't count blacks separate from browns," and essentially simplified the issue of diversity to white or not white.
Furthermore, Suarez claimed 37% of investigators or assistant prosecutors were minorities (with the other category being 30%). Given the panel's focus on racial disparities in law enforcement, it's interesting the prosecutor wasn't prepared to answer the question.
The other moderator, John Robinson, told Real Garden State that he felt Suarez didn't seem concerned about "ending disparities facing the black community," especially regarding hiring practices.
"The reason I say that is because this discussion and questions were asked in the context of a specific group of citizens that have faced oppression through various means for the last 400 years," Robinson said.
Robinson added that "George Floyd was not "brown," he was black. He was ADOS (American Descendant of Slavery) and this group is the one dealing with disparities in hiring practices, arrests, jail sentencing, police brutality, marijuana arrests, etc."
Many black HCPO employees are likely sympathetic to Robinson's analysis of Suarez, too. Specifically, strong exception was taken to the prosecutor's comment that she wasn't getting resumes of black candidates. As one source said, the issue isn't a lack of black candidates – it's Suarez's leadership and values.
For example, an email sent by her during the immediate aftermath of Floyd's death was seen as particularly tone-deaf and unprofessional. Specifically, the prosecutor stated:
These are hard and very troubled times we are living. I am thinking of us, all law enforcement and our community. I am praying for all of us and for peace. I miss our "normal" life. At times, those days seemed difficult. And yet it was nothing like this….
Esther Suarez's hypocrisy related to women
When Chambers first brought up the issue of black representation in law enforcement, Suarez made it a point that more women were also needed. That must've been a general comment about law enforcement because the HCPO isn't lacking female representation.
According to the HCPO's twitter page – 50% of assistant prosecutors, 33% of detectives, and 30% of superior officers are women (double the national average for detectives and superior officers).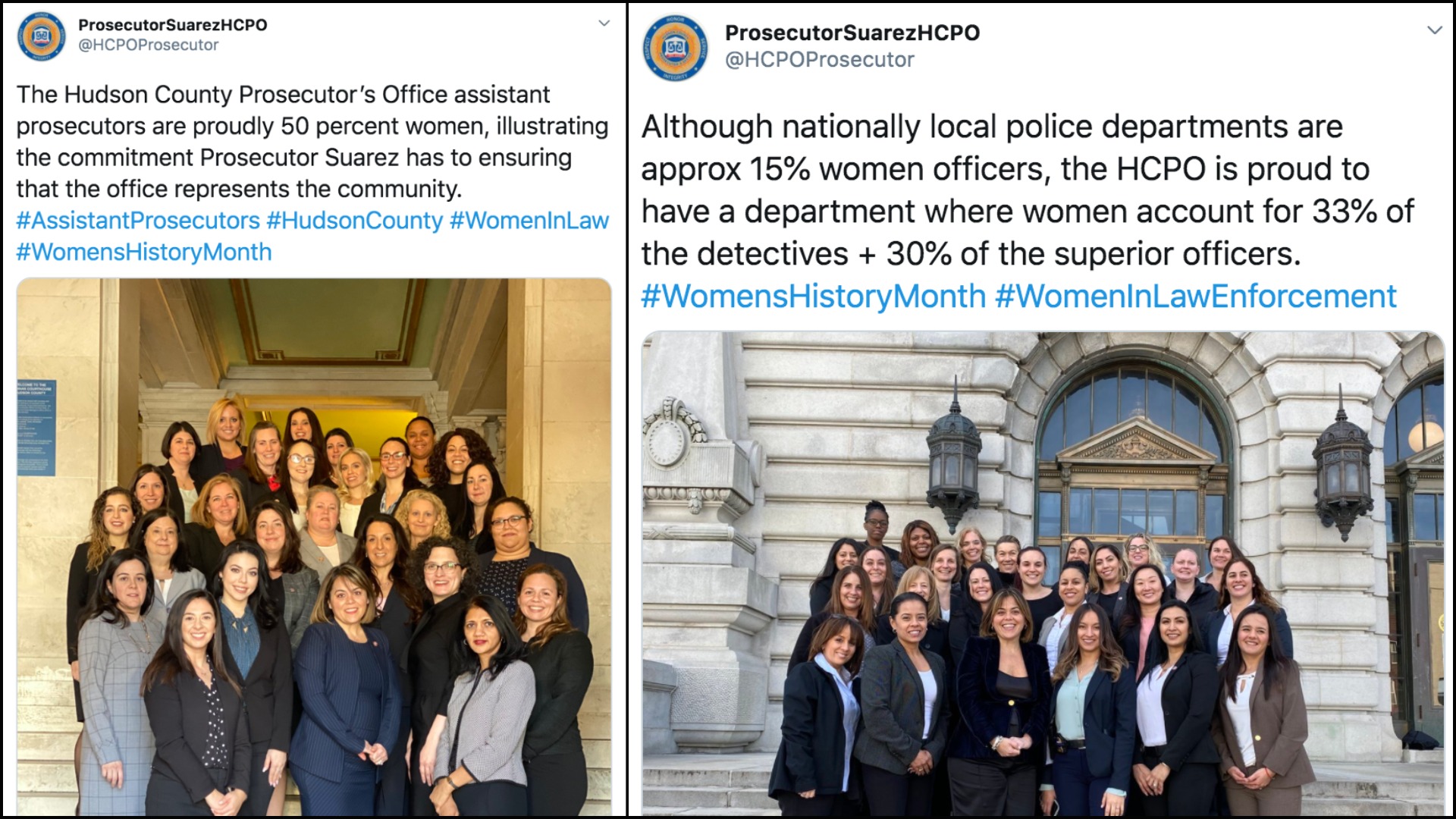 Be that as it may, just like the Stith situation, gender diversity doesn't necessarily mean inclusion in leadership. Based on an analysis of HCPO law enforcement promotions since Suarez took over in 2015, just 4 of the 28 promotions were given to women.
Also, let's not forget the HCPO is being sued by former Det. Erin Rubas for allegedly losing out on promotional opportunities after she became a mother. While Rubas was denied a promotion, some of the white men promoted by Suarez include:
Patrick DeCarlo, Captain of Detectives: For years DeCarlo was being paid for a master's degree in criminal justice from Almeda University, a non-accredited institution known as a "diploma mill" that has ceased operations. The issue has been dismissed as a collective bargaining issue by Hudson County officials.
Matthew Gasiorowski, Public Integrity: Gasiorowski was the lead investigator for the HCPO's inquiry into ex-Jersey City Police Department (JCPD) Chief Philip Zacche's no-show, off-duty security job in the Jersey City Housing Authority (JCHA).
Sgt. Justin Kealy: The HCPO maliciously prosecuted whistleblowers (exposing racism) in the JCPD for alleged off-duty fraud, which failed. Nevertheless, it's perfectly fine for one of their sergeants to fraternize with James Cardinali – one of the major players from the federal off-duty corruption bust?
Things aren't much better on the prosecutors side of the HCPO, where the first assistant prosecutor (Wayne Mello) and first deputy assistant prosecutor (Peter Stoma) are both white men. Stoma oversees internal affairs and is the person who decides which cops get prosecuted, a constant source of disappointment to the black community.
Additionally, Suarez's chief of staff, Carol Lamparello, is the wife of attorney Ralph Lamparello from the firm Chasan Lamparello Mallon & Cappuzzo, PC. – arguably the most powerful man in the Hudson County legal system.
Little hope for change in Hudson County
Whether or not Gov. Phil Murphy reappoints Suarez, there's little hope for meaningful change – even if Murphy truly wanted to nominate a person with unimpeachable integrity.
That's because of a legislative privilege known as senatorial courtesy, which gives Sacco, Stack, and state Sen. Sandra Cunningham (D-31) the power to block any nominee. Unfortunately, those three are not going to support an independent Hudson County prosecutor that wouldn't hesitate to investigate their political associates for corruption and misconduct.
Until that dynamic changes, diversity in Hudson County will continue to be nothing more than an optical illusion and smokescreen for corruption.