Former Jersey City Police Chief Robert "Bubba" Cowan alleges that Mayor Steven Fulop attempted to cover-up for a JCPD superior officer involved in an alleged DUI with their service weapon, among other explosive allegations, in a major lawsuit against the City of Jersey City, Fulop, and Public Safety Director James Shea.
While New Jersey Governor Chris Christie has a cloud of controversy surrounding him regarding "Bridgegate," Jersey City Mayor Steven Fulop has his own alleged traffic issues, among other explosive allegations, to deal with now.
According to a lawsuit filed in New Jersey Superior Court by former Police Chief Robert "Bubba" Cowan, Fulop supposedly participated in an attempted cover-up concerning an alleged DUI involving a Jersey City Police Department (JCPD) superior officer with their service weapon, as well as orchestrating traffic around the Holland Tunnel as a form of retaliation against the Port Authority.
Additionally, the suit states that Fulop's ex-Chief of Staff Muhammed Akil allegedly asked Cowan to intervene in a DUI he was cited for in Lima, Ohio, in which Akil eventually pleaded guilty to lesser charges. Other major claims in the lawsuit surround two Jersey City councilmen supposedly requesting that Cowan intervene into police matters on their behalf.
In general, the scope of the lawsuit alleges that Fulop, Public Safety Director James Shea, and others tried to usurp his authority for personal and political reasons.
Commenting on the lawsuit, Cowan's lawyer, Adam J. Kleinfeldt of Deutsch Atkins, P.C., said "it's illegal for an employer to railroad an employee because that employee objects to activities, or refuses to carry out instructions, that the employee reasonably feels to be unlawful."
Kleinfeldt added that "we intend to prove the allegations in the complaint."
BACKGROUND
Cowan, who was sworn into the JCPD in December of 1979, was appointed as chief of police by Fulop on October 1, 2013.
Cowan states that he was statutorily responsible for running the day-to-day operations of the JCPD – including making assignments, determining transfers, and making staffing decisions.
It was widely known that Cowan was a political ally of Fulop for years, and sources say he was an advisor on police related matters in addition to providing security during his campaign for mayor.
Although, according to the lawsuit, almost immediately after his appointment members of the Fulop Administration attempted to control the day-to-day operations of the JCPD. The suit claims the efforts by Fulop and his administration were to abuse authority and control the JCPD for political and personal means.
HOLLAND TUNNEL TRAFFIC
Cowan claims that around November 4, 2013 he was summoned to a meeting in Fulop's conference room with Shea, Akil, Corporate Counsel Jeremy Farrell, Deputy Chief Joe Connors, Public Safety employee Robert McHugh (Public Information Officer), and Brooke Hansson (Akil's assistant).
Of note, Hansson is infamous for a viral video of her on an expletive-filled rant directed at Bostwick Ave. residents.
During the aforementioned meeting, Akil allegedly issued an unlawful order to Cowan, instructing him to establish a traffic stop with the intent of shutting down traffic outside the Holland Tunnel – supposedly at the instruction of Fulop.
Cowan claims the instruction was designed to obtain leverage against the Port Authority regarding a legal dispute between the city and bi-state agency. Cowan also claims he objected to the alleged instructions, as he reasonably believed they might be unlawful, in addition to public safety concerns he had.
Around November 14, 2013, Cowan was supposedly summoned to Fulop's office, with Akil, Farrell, and Shea present. With an alleged map on his desk, Fulop supposedly discussed running traffic safety stops and checking trucks coming out of the Port Jersey Global Container Terminal – which Cowan claims he expressed concern about.
In response to his concerns, Fulop allegedly told Cowan "this is not a negotiation, I am telling you to do this." In addition, Cowan claims Farrell said Fulop's alleged instruction was lawful.
On that same day, which the lawsuit finds notable, Fulop penned an op-ed in The Star-Ledger where he wrote that the "Port Authority has acted like King George III, with New Jersey and New York in the role of colonies."
According to the lawsuit, on November 18, 2013 and November 19, 2013, the JCPD allegedly conducted truck stops at Global Container Terminal. Cowan claims he expressed concern because the backup generated created a public safety hazard and amounted to an improper use of police resources.
Cowan states that he shut down the alleged traffic stop on the 19th, in defiance of Fulop's aforementioned demands, which supposedly angered the mayor. Later that day, according to the lawsuit, in Atlantic City, NJ – likely at the annual New Jersey State League of Municipalities Conference – Cowan says him and Fulop encountered each other.
During the alleged encounter, regarding the professed traffic stops, Fulop supposedly told Cowan that "you serve at my pleasure," implying that he could remove him as chief if he desired.
According to the lawsuit, Cowan did not budge from his position regarding the stops, and from that moment on Fulop and Shea drastically changed their attitude and mannerisms toward Cowan – including attempting to publicly usurp his authority as police chief.
JERSEY CITY COUNCILMEN SUPPOSEDLY LOOKING FOR FAVORS ON BEHALF OF FRIENDS
Around November 27, 2013, according to details from the suit, Shea allegedly, in an unlawful manner, interfered with an internal affairs investigation after Jersey City Council President Rolando Lavarro had complained to him about traffic tickets issued to an associate of his.
Cowan claims that when Shea forwarded Lavarro's complaint to him, he immediately assigned internal affairs to investigate the matter. Shortly thereafter, as stated in the lawsuit, Shea allegedly expressed to Cowan and Lavarro that he would intimidate the JCPD officers by appearing at municipal court concerning the traffic tickets.
Furthermore, according to the lawsuit, Shea allegedly instructed Cowan to transfer the JCPD officers responsible as political punishment for the issuing of tickets to Lavarro's friend.
Cowan claims that it's his belief, according to New Jersey law, that transfers are the right and responsibility of the chief – in addition to the transfers being retaliatory and political.
In addition, around January of 2014, Shea allegedly instructed Cowan to reassign an officer as a political favor for an unidentified Jersey City councilman. Cowan claims he objected because reassignments were typically based on seniority, and the proposed reassignment would not be consistent with this practice.
According to details from the suit, Shea angrily informed Cowan he had to learn to "play ball."
Shortly after the alleged instructions, the city's assistant corporation counsel supposedly proposed that Cowan cede any transfers to a "review board" headed by Shea. The lawsuit states Cowan responded via email that New Jersey law vested the responsibilities of transfers in the police department.
TICKETING OF O'ABBEY'S CORNER GRILL & PUB ON FISK STREET
According to the lawsuit, around January 17, 2014, Fulop allegedly attempted to interfere with an enforcement operation Cowan was conducting into unlawful activities at a local tavern.
(Writer's Note: I interviewed Abbey Tarei, owner of Abbey's Pub & Grill in Downtown Jersey City, with Hudson County View. During the interview, although not in the final video, Tarei expressed his frustration with Cowan ticketing his bar at an early morning hour.)
Details from the suit allege that Fulop attempted to interfere and shut down the enforcement operation because his allies, including District 2 Freeholder Bill O'Dea, Ward B Councilman Khemraj "Chico" Ramchal, and Lavarro, frequented the bar. Fulop supposedly instructed Cowan to stop the enforcement operation, which he refused.
Sources have previously confirmed that Lavarro and Ramchal have patronized the bar in the past.
Of note, Ramchal was recently charged with assault by auto stemming from a drunken driving arrest on March 14, according to the Jersey Journal.
ALLEGED DUI IN ROBBINSVILLE, NJ INVOLVING JCPD OFFICER WITH GUN
According to the lawsuit, around January 30, 2014, a superior officer of the JCPD – supposedly an active member of the Jersey City Police Superior Officers Association (JCPSOA), a police union Cowan claims Fulop is courting for a potential gubernatorial campaign – was involved in an alleged DUI incident in Robbinsville, NJ.
Details from the suit state that the allegedly intoxicated officer improperly and unsafely possessed his service weapon, and supposedly resisted arrest when Robbinsville Police Department (RPD) officers attempted to take him into custody.
Around that same day, a phone call was allegedly placed by the RPD to the JCPD regarding the detained officer. According to the suit, the captain on duty was supposedly told that as a "professional courtesy" there would be no charges if someone from the JCPD came to pick up the officer.
Cowan claims that the officer on duty failed to notify internal affairs, as required by JCPD rules and regulations, but instead allegedly ordered two other off-duty officers – supposedly active in the JCPSOA – to travel to Robbinsville to pick up the officer and retrieve his weapon.
The lawsuit claims a dash camera on a RPD vehicle captured the supposed arrest of the allegedly intoxicated officer. In addition, the suit states that officers of the RPD completed three police reports of the alleged incident.
Cowan claims that the officer had notably been involved with other job-related incidents where they were intoxicated.
Furthermore, on January 31, 2014, the officer's service weapon, supposedly contained in a Dunkin Donuts bag, was allegedly turned over to JCPD Internal Affairs along with "intentionally ambiguous reports concealing the true nature of the occurrence."
Cowan claims that he directed an internal affairs investigation on that day, and that it be turned over to the Hudson County Prosecutor's Office (HCPO) since the matter involved potentially criminal conduct.
Around February 2, 2014, Cowan was supposedly preparing to inform Shea of the matter, and his potential obligation to report the matter to the HCPO. According to the suit, right before Cowan emailed Shea, Shea allegedly called Cowan and instructed Cowan to stop preparing his email and not send it to prevent a "paper trail," as well as allegedly demanding Cowan keep the matter internal and not turn it over to the HCPO.
Cowan, who claims Shea attempted to stop him for political reasons, states that he refused Shea's supposedly unlawful action in the suit.
Around February 5, 2014, Cowan claims he emailed Shea to let him know how serious the issue was, in light of additional materials obtained from the RPD, and that he was required to report the matter to the HCPO – although the lawsuit states it was ultimately reported to the Mercer County Prosecutor's Office (MCPO).
Details from the suit state that around February 24, 2014, Cowan was informed that the MCPO was referring the matter back to the JCPD for administrative investigation and action.
Cowan claims he met with Farrell, Fulop, Shea, Akil, and the assistant corporation counsel around March 12, 2014 regarding proceeding with an internal affairs investigation.
According to the suit, Cowan claims that he explained that the "45 Day Rule" was approaching – that charges had to be filed, and that a decision had to be made if the charges should be investigated by the JCPD or an outside agency due to a conflict of interest.
During the aforementioned meeting, Cowan claims Fulop suggested he stall or delay the process so that 45 days would elapse, and that the captain could not be charged in connection with the Robbinsville incident. He supposedly refused because it put the city at risk for significant civil liability given the accused officer's alleged prior trouble with alcohol, prompting Shea to tell Fulop – "Boss, you should not stay here for this."
Fulop then supposedly left the room, and Shea allegedly instructed Cowan to not proceed with charges and investigations against the officers involved with the Robbinsville incident – which Cowan claims he objected to.
Details in the suit state that around April 16, 2014, the officers involved with the incident were notified of internal charges. At or around that same time, attorneys from the city's legal department allegedly attempted to convince Cowan to cede all transfers and reassignments to Shea, and relinquish powers he had as chief – supposedly to give Fulop more control over the day-to-day operations of the JCPD.
MUHAMMED AKIL DUI TRAFFIC VIOLATION IN LIMA, OHIO
According to the lawsuit, around May 10, 2014, at approximately 3:16 AM, Cowan claims he received a call from then-Public Works Director Mike Razzolli allegedly informing him that it was urgent he call Akil.
Cowan states that he promptly called Akil, who supposedly informed him that he was under arrest for DUI in Lima, Ohio. Details in the suit claim that Akil supposedly asked Cowan to intervene and speak to the arresting officer, which Cowan refused because the request was unlawful.
Akil allegedly called Cowan at a later point, and became angry when Cowan didn't agree that he should've intervened for him. Around May 11, 2014, Cowan claims he informed Shea about the incident, who was also irate that Cowan didn't interfere.
Real Jersey City has obtained a Disposition of Sentence (DOS) from the Lima Municipal Court showing that Akil was cited on the charge of (operating a vehicle under the influence) which is the same as a DUI (driving under the influence) in other states.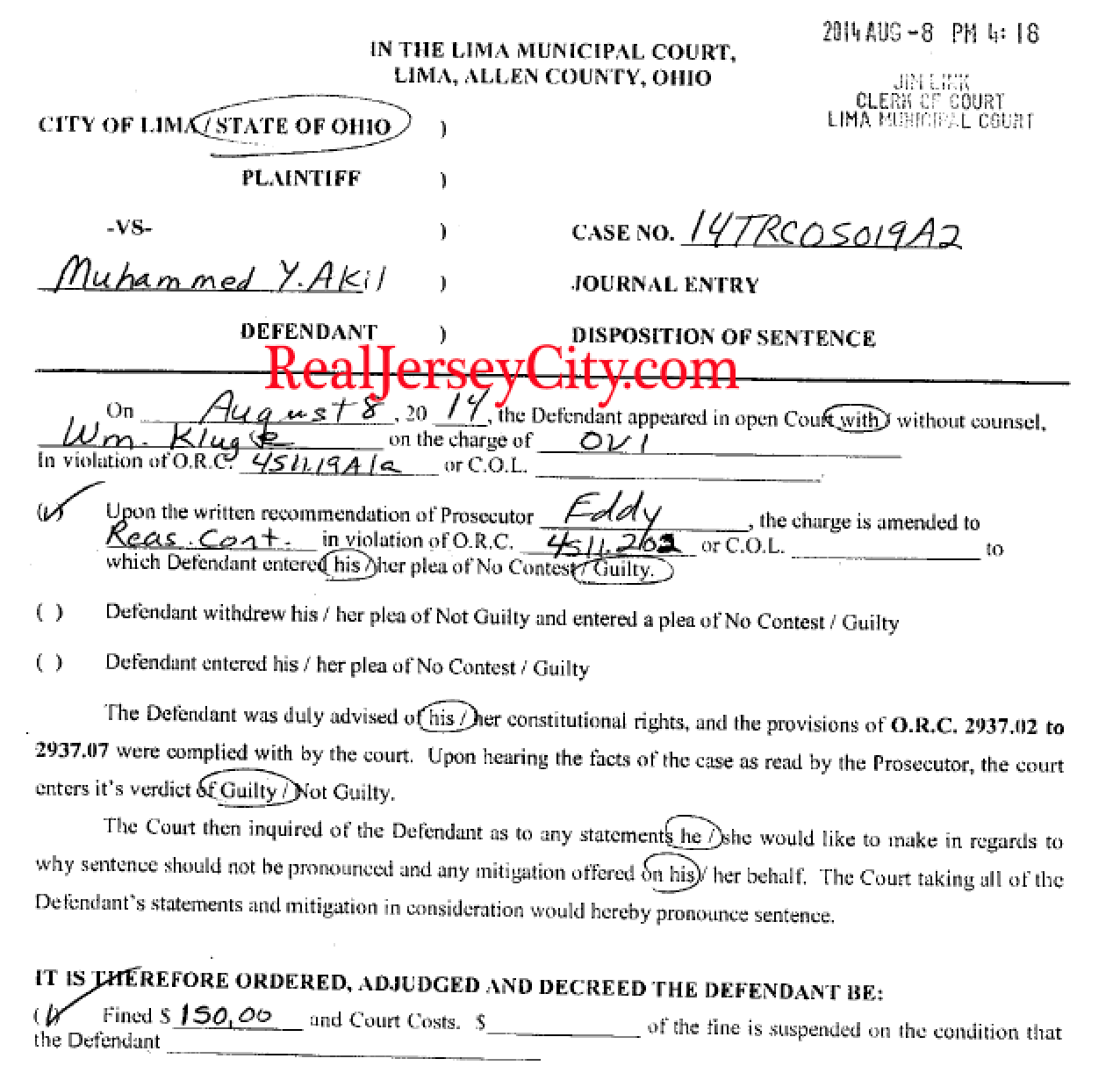 As stated in the DOS, and reported by The Delaware Gazette, Akil pleaded guilty to reasonable control – a $150 violation with two points.
Of note, Akil is now infamous for his 1990's era hate speech that came to light in October of 2014 – which resulted in him resigning as Fulop's chief of staff. As well, his business enterprise, which dates back to his radical days, and a non-profit of his with a revoked 501(c)(3) status, raise serious questions that remain unanswered.
COWAN'S LAST DAYS AS CHIEF AND REMOVAL
Details from the suit state that around June 16, 2014, Fulop supposedly summoned Cowan to a meeting at a sports bar. Again, as Cowan claims, Fulop allegedly asked him to "get rid" of the disciplinary charges against the officers and captain involved with the Robbinsville incident – which Cowan states he once again refused.
From that point on, Cowan claims Fulop and Shea intentionally retaliated against him for refusing to permit them to use the JCPD for improper and political reasons, and circumvented his authority as chief.
An example Cowan cites is that around June 20, 2014, Shea allegedly instructed Cowan to transfer an officer and allegedly instructed Cowan that the transfer was "approved" – which Cowan claims usurped Shea's permissible roles as public safety director.
Furthermore, around June 23, 2014, Fulop allegedly instructed Cowan to place the JCPD Internal Affairs Unit under the direction of Shea – which Cowan objected to under New Jersey law (N.J.S.A. 49A:14-118) and the New Jersey Attorney General Guidelines on Internal Affairs.
Additionally, on June 23, 2014, Fulop supposedly directed Cowan that Shea would be responsible for determining all transfers and assignments in the JCPD. Cowan claims he objected to that in an email at 5:46 PM of that day, included in the lawsuit:
I have objected to several practices that I believe violate various state laws and at least in one situation might have violated federal law. The most recent issue to which I have objected is your directive and efforts to interfere with my fulfillment of the obligations of the Chief of Police under N.J.S.A. 40A:14-118. By law it is the chief, not the director and not the mayor that is the head of the police force and directly responsible for the day to day operations of the department. As long as you as mayor and the director establish policy but do not interfere with the duties specified in the statute I have no objection acting consistent with policy, but it is the Chief of Police that has the responsibility of the discipline of the force and the prescribing of duties and assignments of all subordinates.
Around the evening of June 25, 2014 – the day Cowan was removed as chief – a modified Table of Organization was presented to the City Council that placed the JCPD Internal Affairs Unit directly under Shea. Details from the suit state that Fulop and Shea introduced a revision to the city's public safety ordinance to permit the public safety director to appoint a designated Internal Affairs Supervisor.
Aforementioned Table of Organization – Ord. 14.084 – ON TABLED AGENDA – 06-24-14
According to Cowan, the effort was in direct response to his refusal to get rid of internal affairs charges against politically connected officers and give Fulop the ability to utilize the JCPD for his own political agenda.
A June 25, 2014 letter from Fulop to Cowan stated that his decision to demote Cowan was because he opposed "structural" changes in the JCPD.
Cowan also claims that following his removal Fulop and Jersey City Spokesperson Jennifer Morrill made false and disparaging comments in the media about him as a form of retaliation.
As well, the suit goes on to state numerous incidents of alleged retaliation against Cowan regarding his roles, responsibilities, and assigned office space after his removal as chief.
For example, Cowan claims he was assigned the responsibility of investigating ISIS threats in Jersey City, yet was allegedly omitted from important conversations on the topic despite him supposedly possessing critical information on the subject. As well, Cowan says he wasn't informed about an alleged September 26, 2014 incident regarding purported ISIS graffiti in Jersey City.
In light of the alleged retaliatory harassment Cowan faced, he was constructively discharged around September 30, 2014 – according to details form the suit.
FULOP ADMINISTRATION AND COUNCIL PRESIDENT LAVARRO DECLINE RESPONSE TO LAWSUIT
Jersey City Spokesperson Jennifer Morrill, as well as Council President Lavarro, did not respond to messages from Real Jersey City seeking comment on the allegations detailed in this story.
UPDATE – Morrill told the Hudson Reporter:
"Cowan was a fired police chief as a result of his poor performance who previously never brought any accusations whatsoever until after he was terminated. I think this speaks for itself as to the validity of his lawsuit. This is nothing more than a disgruntled former employee who was terminated for poor performance trying to make up stories to try and take advantage of the taxpayers one last time."
This is the second lawsuit involving Shea that Real Jersey City has reported on, the first involved Jersey City Police Lieutenant Kelly Chesler claiming that Shea and Police Chief Philip Zacche retaliated against her for reporting alleged sexual harassment by other JCPD officers, according to a federal lawsuit.
Of note, Cowan was fired the day after unarmed twenty-year-old Lavon King was shot and killed by a JCPD officer. According to Hudson County Assistant Prosecutor Gene Rubino, there is no update on the investigation nearly a year after King's death.
Cowan is suing in New Jersey Superior Court under the Conscientious Employee Protection Act.