Whether or not JCPD Sgt. Matthew Kilroy was right to arrest Pamela Johnson and used appropriate force, the aftermath has been guided by an internal affairs unit which has failed to address ticket-fixing scandals and anti-LGBT cyber harassment.
It's another plot tailor-made for Netflix – a perfect storm of controversy erupts after a white male cop arrests a black female activist for suspicion of drunk driving. Police reports and excessive force allegations make headlines in the immediate aftermath, but the behind-the-scenes politics is guided by… an internal affairs unit that failed to properly address homophobic behavior.
In this intersectional flick, the white male cop is Sgt. Matthew Kilroy of the Jersey City Police Department (JCPD); the black female activist is Pamela Johnson of the JC Anti-Violence Coalition Movement; and the politics are guided by a common occurrence in New Jersey – police officers filing embarrassing lawsuits against their own departments.
In reality, this story is $pare ₵hange relative to what's coming down the pike for Jersey City taxpayers. More importantly, with the state legislature considering bills that would make IA records accessible via the Open Public Records Act (OPRA), it's a sneak peak of what's lurking behind the curtain for the JCPD's Internal Affairs Unit (IAU).
The Encounter & Immediate Aftermath
Perhaps it was fate that Pamela Johnson and Matthew Kilroy crossed paths on May 7, 2019, but this story isn't about what happened that infamous night. There's nothing new to report so I'll stick to what's already been published by other media sources. For those who aren't aware, The Jersey Journal/NJ.com reported:
A well-known Jersey City community activist was charged with driving while intoxicated Tuesday night and threatened to have her friend — the police chief — discipline the officer arresting her, authorities said…

According to a police report, the officer had Johnson, the director of the Jersey City Anti-Violence Coalition Movement, get out of her vehicle and detected the odor of alcohol on her breath and said her speech was slurred. Johnson began using her cellphone and refused to stop when the officer told her she could not, the report says.

The officer said that throughout the incident, Johnson stated multiple times that she was a community activist and a friend of Jersey City Mayor Steve Fulop and Jersey City Police Chief Michael Kelly, the report states.
Additionally, the Journal reported that Johnson was charged with resisting arrest and making threats or other improper influence — both criminal offenses. Alternatively, Johnson has her own story of what occurred that night, but is still waiting for her day in court and has been advised not to speak publicly at this time.
In the aftermath of Johnson's arrest, about 50 activists rallied behind her alleging Kilroy used excessive force, per Hudson County View. Overwhelmed by emotion, at one point Johnson told the crowd "I just want to say that a lot happened that night and some things should not have happened."
The article quotes the city spokeswoman praising Johnson, describing the activist as "a long time community advocate helping the city on the anti-violence front, and she has helped us achieve the violent crime reductions we have seen over the last year."
Of note, Bruce Alston, who helped organize the protest, asked that the New Jersey Office of the Attorney General (NJOAG) "investigate Matthew Kilroy's excessive force allegations – all of them, not just Pam's."
That never happened, but the JCPD IAU did investigate Johnson's excessive force complaint against Kilroy and approximately 16 months later it was not sustained. Nearly 18 months after being charged, the criminal case against Johnson remains unresolved in Essex County Superior Court.
Finally, video footage capturing parts of Johnson's arrest – which might add context to the incident – have not been released to the public. Regardless, this story isn't about what happened on the night of May 7, 2019 – this story is about the behind-the-scenes politics of the JCPD IAU which guided the outcome.
The Homoerotic Email, Fulop Letter, and Ticket-Fixing Scandal
Long before the perfect storm encounter with Pamela Johnson, Sgt. Matthew Kilroy had been dealing with his own internal affairs issues beyond excessive force allegations.
Originally reported on February 1, 2019, JCPD Capt. James Crecco allegedly wrote and sent a homoerotic message to himself from Kilroy's JCPD email account. The subject line of the November 6, 2018, forged email – sent from Kilroy's account to Crecco, with Lt. Darren Sorrentino and Sgt. Wayne Zachowski copied – is titled Irresistible Attraction.
"I find that I must alert you all to an issue I am having at work on a daily basis," the email begins. "I find that when Lt. Sorrentino gives me orders, my heart melts a little more every day. His incredible masculinity when wielding his authority in uniform overwhelms me to the point where I am forced to flee the district to compose myself. THIS CAN NOT GO ON!"
The forged email goes on to request a "transfer to avoid any future contact or I fear I may attack him in an unprofessional and romantic fashion," and asks Crecco to act at the first opportunity.
On February 4, 2019, Kilroy's attorney, Wolodymyr Tyshchenko, filed a notice of claim against the City of Jersey City & JCPD which includes a letter directly addressing Mayor Steven Fulop. Obtained via an Open Public Records Act (OPRA) request, the letter states:
I bring this matter directly to your attention because you have been a zealous advocate for the LGBT community and have fought against discrimination in all its ugly forms wherever you have found it to exist. It is because of your unique commitment to the LGBT community and your extraordinary efforts to fight against discriminatory practices, structural racism, and the pernicious effects of corruption that I believe this matter should be of great concern and dismay to you…

…this claim details a tragedy of epic proportions as the actions described have caused grave and irreparable harm to claimant, Sgt. Kilroy's reputation and have placed his life in peril. In addition, the actions of those in your employ threaten to undermine your legacy as a tireless activist for marginalized members of society who have suffered as a result of systemic corruption within the City and pervasive and long-standing discriminatory practices which reflect the backward, antediluvian mindset of some of the highest-ranking members of the Jersey City Police Department.
Additionally, the letter to Fulop describes the homoerotic email as "patently offensive, defamatory, discriminatory and sick," but says Kilroy's superior officers characterized the matter "as nothing more than a harmless joke." Specifically, Tyshchenko wrote that Capt. George Rotondo, commander of the JCPD IAU, expressed that the email was "merely an inappropriate joke, which he now was required to investigate" because of Kilroy.
The tort notice also indicates that there's video evidence depicting Crecco sending the homoerotic email, but that's not the most shocking element of the tort notice – which claims a pattern of retaliatory conduct against Kilroy since 2015.
Per details from the notice, Kilroy says he's been subjected to a hostile work environment for "his reporting of a pattern of misconduct and criminal actions by superior and command rank officers including, but not limited to, Chief Michael Kelly and Retired Chief Philip Zacche's corrupt attempts to force lower ranking officers to engage in ticket-fixing as favors to politically connected individuals, family and/or friends."
Attached to the tort notice provided via OPRA is a memorandum dated 11/23/16, from Kilroy to then-Deputy Chief Mark Hussey, which is completely redacted. According to the city:
9 pages of a 9 page internal memo by Officer Kilroy were withheld pursuant to N.J.S.A. 47:1A-10 which states that "the personnel or pension records of any individual in the possession of a public agency, including but not limited to records relating to any grievance filed by or against an individual, shall not be considered a government record and shall not be made available for public access.
Three other interesting notes – 1) The tort notice estimates that Kilroy's estimated damages are at least $15,000,000; 2) Following his retirement, ex-Chief Zacche was convicted of fraud charges related to investigative reports published by yours truly; and 3) Allegations of ticket-fixing against Chief Kelly have been reported on in the past:
Goldbitch201 homophobic tweets spur lawsuit, excessive force complaint not sustained by JCPD IAU
On July 16, 2020, Real Garden State published an investigative report linking Crecco, the homoerotic email author, to anti-LGBT cyber harassment tweeted by the account @Goldbitch201 – a play on the name of JCPD Deputy Chief David Goldrich (retired as of 3/1/20).
Of interest to this story, on September 2, 2019, Goldbitch201 tweeted to this investigative reporter "you go after one cop for shooting lavon (justified) but cover the biggest police force abuser like he's a victim for body slamming a community activist." The tweet was referencing Lavon King's death (which galvanized my journalism) and the arrest of Pamela Johnson by Sgt. Matthew Kilroy – who filed the complaint against Crecco.
That tweet wasn't the only time Goldbitch201 went after Kilroy, but the harassment of Goldrich was enough for the retired JCPD deputy chief to file a lawsuit in Hudson County Superior Court on August 31, 2020.
Goldrich's amended complaint – which names the City of Jersey City, Crecco, Kelly, and Public Safety Director James Shea as defendants – includes his wife, retired JCPD P.O. Toni Wilczewski, as a co-plaintiff. Their 5-count complaint alleges violations of New Jersey's Conscientious Employer Protection Act, New Jersey's Law Against Discrimination, and New Jersey Civil Rights Act.
This piece won't go through all the details of Goldrich's lawsuit, but there's one big revelation  – Kilroy assisted Goldrich in confirming that a photograph tweeted by Goldbitch201 was taken from a JCPD vehicle assigned to Crecco.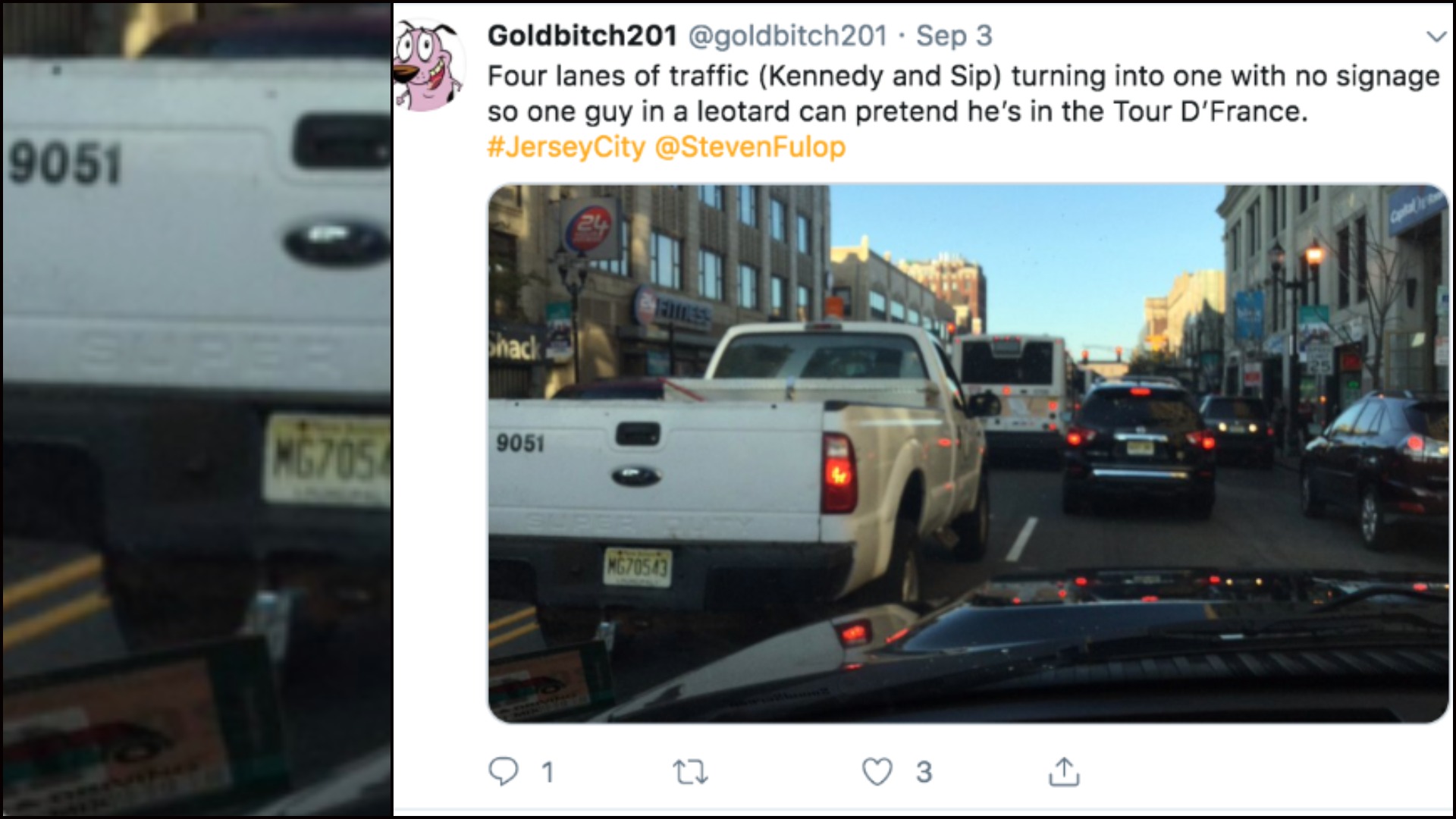 According to various sources, shortly after Goldrich's lawsuit was filed, on or around September 14, 2020, JCPD IAU notified Pamela Johnson and Matthew Kilroy that the activist's excessive force complaint was not sustained.
A shocking turn of events because sources with knowledge of the case say internal affairs had planned to bring departmental charges against Kilroy due to Johnson's complaint. The reason the sergeant hadn't been charged prior to that date was due to JCPD IAU waiting on the activist's criminal matter to be adjudicated.
Goldrich's lawsuit changed the calculus for JCPD IAU late in the game, which was running a political investigation from the start. Whether or not Kilroy's estimate of $15,000,000 in damages is legitimate, sustaining Johnson's complaint would be a major liability for Jersey City taxpayers based on the preponderance of evidence standard used in civil trials.
Simply put, Kilroy – who is supposedly proficient at documenting grievances & misconduct – would have a compelling case to present to an unbiased jury. Below are three reasons why:
Based on at least one 9-page memo, Kilroy has fought back against ticket-fixing (a practice wildly unpopular with people who aren't politically connected). Alleged ticket-fixers identified in the memo include an ex-police chief that's a convicted criminal (Zacche) and the current police chief (Kelly) – whose name Johnson allegedly invoked in a threatening manner against Kilroy during the infamous arrest.
Speaking of the current police chief, sources say at least one of Kilroy's ticket-fixing grievances stems from a ticket issued to security at Port Liberte – a gated community where Kelly lives. Ironically, another Twitter account linked to Crecco, @TheHague201, had once mentioned the scandal:

Despite being caught on camera sending the homoerotic email, JCPD IAU was apparently disinterested with taking action against Crecco. That disinterest could easily be framed as a precursor to the cyber harassment by Goldbitch201.
In short, there's a case of retaliation for whistleblowing on ticket-fixing (which includes two police chiefs). There's a hostile, homophobic work environment essentially condoned by internal affairs. If JCPD IAU sustained the excessive force complaint filed by Johnson, but none of the other complaints against Kilroy, it wouldn't look good for the city.
For example, Rodney Jones, an active member of the Marion Gardens public housing complex, had a similar complaint against Kilroy from an incident the night before Johnson's arrest that was not sustained (video of Jones speaking below). Some jurors may feel like Kilroy is an aggressive cop; however, those same jurors may also feel sympathetic towards a cop fighting corruption and the appearance of politics deciding outcomes of excessive force complaints (if Johnson's complaint was sustained).
Pamela Johnson waits for her day in court
"I have never received a court date for any of the offenses I was charged with. It's been 14 months and counting," Johnson wrote on the Facebook post of Jones' speech at a Black Lives Matter protest about four months ago. The situation remains the same since.
Notably, the case is being handled by the Essex County County Prosecutor's Office (ECPO) because Johnson's close relationship with Hudson County Prosecutor Esther Suarez created a conflict of interest.
Nevertheless, despite the change of venue, the appearance of politics hasn't completely gone away. That's because the ECPO assistant prosecutor assigned to Johnson's case, Dorian Belfiore, had previously worked as an extern in the Fulop administration's law department.
It's unknown what Belfiore is doing with the case, but sources say the Fulop admin wanted the charges against Johnson dismissed, though, that sentiment might have changed as Johnson aligns herself with some of the mayor's political adversaries.
Regardless of the outcome, it's clear politics has poisoned this case from the beginning and continues to do so. Ironically, if Prosecutor Suarez hadn't whitewashed the investigation of JCPD cops linked to Goldbitch201's tweets – including #PrayTheGayAway directed at Fulop, Kelly, and bike lane activists –  Johnson's complaint against Kilroy would've probably been sustained.
In the end, maybe Bruce Alston was right that the NJOAG should've been investigating complaints against Kilroy. Even though they've got their own credibility issues, a state review of Johnson's case and excessive force allegations against Kilroy would have slightly more integrity than anything done by the JCPD IAU & Hudson County Prosecutor's Office.
Now, depending on the outcome of Goldrich's lawsuit and a potential lawsuit by Kilroy, Jersey City taxpayers have to worry about how much $pare ₵hange will be wasted on shenanigans and litigation.