Jersey City residents have reported Hector Vargas to federal authorities after he filmed himself taking part in the U.S. Capitol siege.
Hector Vargas, who is infamous in Jersey City for accusations that he stole donations intended for the homeless, filmed himself with fellow members of Pres. Donald Trump's cult during the U.S. Capitol siege yesterday.
"We took over this motherf***er, bro," Vargas states as he turns the camera to himself in a video posted to his Facebook account. "We took over this f***ing capitol, tell them."
View this post on Instagram
While many Trump supporters and right-wing media personalities have baselessly claimed members of Antifa orchestrated the siege, it's clear from Vargas' social media posts that he is, indeed, a die-hard follower of Trump.
Real Garden State took screenshots of recent posts by Vargas lighting a face mask on fire and announcing "I WILL NOT BECOME A SHEEP." On another post Vargas states "if we have a doubt that they stole the President's election, God knows how many state governors and elected senators and mayors have been cheating their color in their states/cities for years" and expresses other grievances with New Jersey & New York Democrats.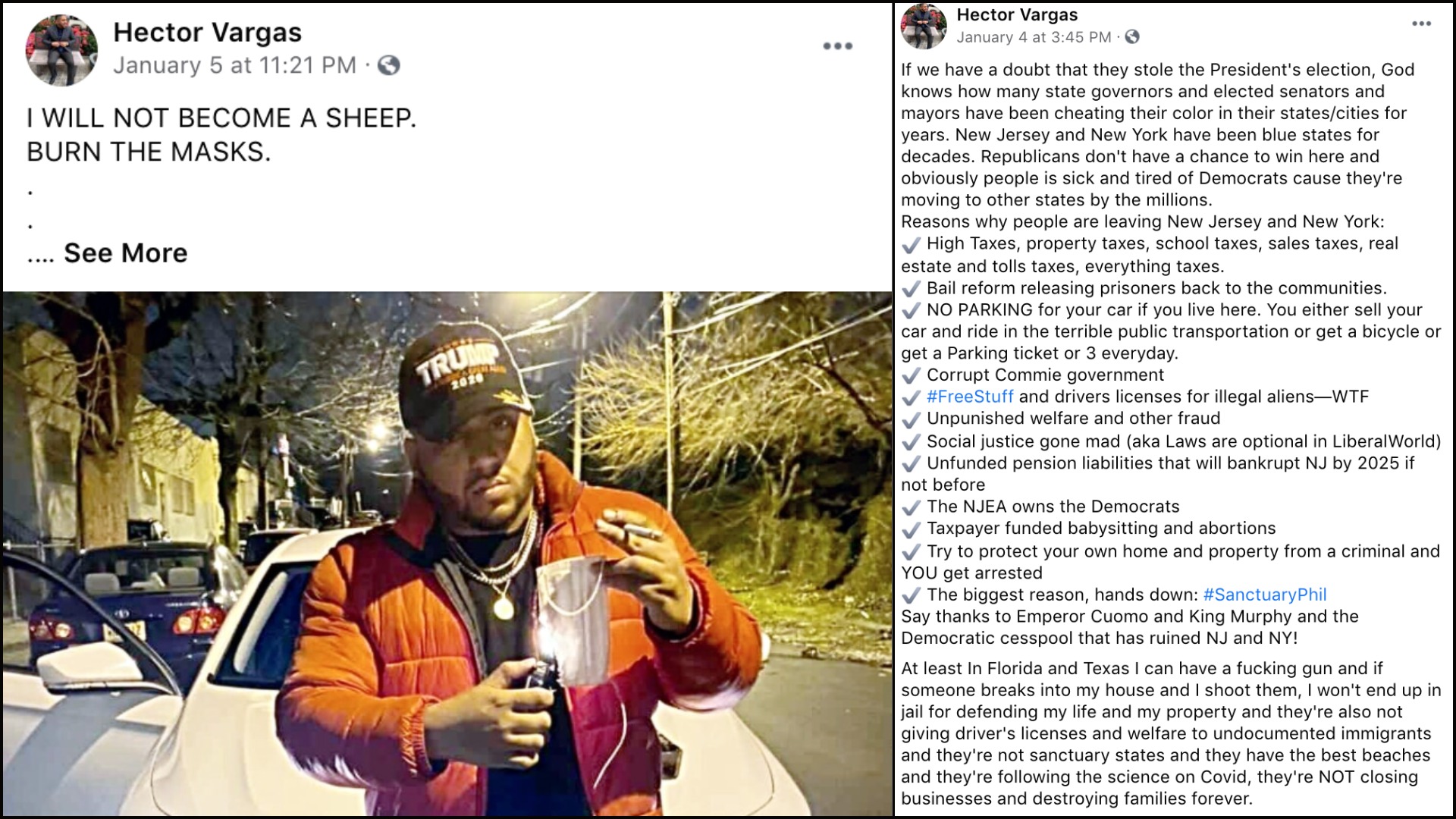 This past summer, Real Garden State reported Vargas was charged by the Jersey City Police Department (JCPD) with harassment, terroristic threats, and marijuana charges. According to municipal court records, the harassment and terroristic threats charges are still active.
Ironically, his legal troubles at the time stemmed from accusations he stole donations meant to feed the homeless – not the only controversy that made Vargas infamous in Jersey City. Also, on Instagram, Gary Daigneault, a journalist based in California, wrote "this guy was run out of town from Twentynine Palms California for doing the same sketchy stuff."
After a screenshot of Vargas at the Capitol siege went viral, Jersey City residents have been reporting Vargas to federal authorities. Real Garden State has obtained an email reporting him to the U.S. Secret Service.
Federal Bureau of Investigation (FBI) Director Christopher Wray has announced that members of the public can help with the Capitol siege investigation by providing tips, information, and videos of illegal activity at http://fbi.gov/USCapitol.
Wray has declared the FBI is "determined to find those responsible and ensure justice is served."
UPDATE: Vargas has been charged by federal prosecutors with Knowingly Entering or Remaining in any Restricted Building or Ground Without Lawful Authority and Violent Entry and Disorderly Conduct on Capitol Grounds.