The Instagram page JerseyCity_NewJersey has nearly twice as many followers as Mayor Steven Fulop, yet its connections to a fascist JCPD cop and white nationalists have gone under the radar.
With over 45,000 followers on Instagram, JerseyCity_NewJersey is arguably the most influential social media account in the city it purports to represent, yet the page owner's identity has remained a mystery.
Given that Jersey City bills itself as New Jersey's most progressive & diverse city, it might be shocking for some to learn the account is closely associated with a fascist cop & white nationalists.
Specifically, the fascist cop is Jersey City Police Department (JCPD) Officer Anthony Scalcione and the white nationalists are connected through a separate Instagram page known as European Lives Matter. Though it's plausible someone else is involved with managing JerseyCity_NewJersey, there's considerable evidence pointing to Scalcione being the main operator.
Background on JerseyCity_NewJersey
With nearly twice as many followers as Mayor Steven Fulop, JerseyCity_NewJersey has a relatively humble beginning – it started with an indiscriminate "follow-for-follow" campaign involving thousands of local accounts. As well, the name of the page has changed multiple times since its inception in 2018 (evidenced by the picture above).
Over time, the page gained its massive following from posting violent altercations, racially-charged incidents, and anything controversial involving police in Jersey City – with the infamous Kosher Market and Newport Mall shootings boosting its following. Beyond that, the account routinely posts local news & crime stories, conservative/pro-Trump content, and conspiracy theories trending among right-wing media sources.
Of note, many of the shock videos posted by JerseyCity_NewJersey are not from Jersey City, though, some falsely claim to be. Most of the content is posted without authorization or attribution, including videos/stories published by Real Garden State. As well, the page is known to delete content when the comment sections become aggressive and encourage people to report posts to Instagram.
Furthermore, the comment sections are known to be active and combative. That's not surprising because the content is controversial and the captions often ask for people's thoughts without providing any context.
Anthony Scalcione and A1NewsNetwork
Long before JerseyCity_NewJersey, JCPD Officer Anthony Scalcione was posting a mix of right-wing, pro-Trump, and racially-charged content on a personal Instagram page known as A1NewsNetwork. That account has been inactive since June 2017, but in the tagged section of that page there's five photos of Scalcione posted from February 2015 to March 2016 – one of which includes a friend mentioning "@anthony.scalcione" in the comments.
Of note, city payroll records indicate Scalcione has been a police officer since July 2013. As well, NJ-dot-com's Use of Force database seems unreliable because there are two Anthony Scalcione's working for the JCPD (one is a captain).
The following is a 5-point presentation linking Scalcione to A1NewsNetwork and fascist ideology, while highlighting behavioral patterns and similarities between A1NewsNetwork & JerseyCity_NewJersey:
1) A1NewsNetwork welcomed Yadbir Singh, who is Sikh, not Muslim, to the JCPD by commenting "Allahu Akbar" and "Takbir" on a City of Jersey City post highlighting diversity among its police recruits. Weeks after that comment, a friend of Scalcione's wrote "@anthony.scalcione they takin ova hope everybody happy lol."
2) In a similar fashion to JerseyCity_NewJersey, the A1NewsNetwork page posted crime stories from Jersey City and Hudson County.
3) In December 2016, the A1NewsNetwork page posted a meme glorifying fascism. When challenged by a commenter, the account replies "study it and get back to me."
4) Scalcione's personal Facebook and Instagram bios include a quote referencing the Italian fascist Julius Evola. According to the New York Times, the Greek neo-Nazi party Golden Dawn includes Evola's works on its suggested reading list, and the leader of Jobbik, the Hungarian nationalist party, admires Evola.
5) Finally, like JerseyCity_NewJersey and A1NewsNetwork, Scalcione's changed the name of his current personal Instagram page multiple times.
European Lives Matter and JerseyCity_NewJersey
Whether or not Scalcione runs Jersey City's most influential social media account, the white nationalist behind European Lives Matter was tagging the cop's personal account and JerseyCity_NewJersey in numerous posts.
For example, Jersey City has been referred to as America's Golden Door, so seeing its name in posts promoting ethnic cleansing and anti-migrant militias should shock many in the progressive city. Even worse, European Lives Matter has encouraged its followers to share their "thoughts and opinions" on JerseyCity_NewJersey posts – which results in a lot of racist comments on the page.
NOTE: The various pages of European Lives Matter, which includes a clothing line, are difficult to follow as evidenced by the photo below.
Ultimately, because of all the connections uncovered, it seems like the agenda of JerseyCity_NewJersey is dedicated to a little bit more than "keeping you up to date" with local news/politics/injustices. When contacted months ago by Real Garden State regarding a potential fascist/white nationalist member of the department, the JCPD's Internal Affairs Unit refused to accept information regarding the matter.
Ultimately, it's unclear whether the JCPD Internal Affairs shares the same opinion as TAPinto journalist Al Sullivan regarding New Jersey Attorney General Gurbir Grewal raising the threat level for white supremacists.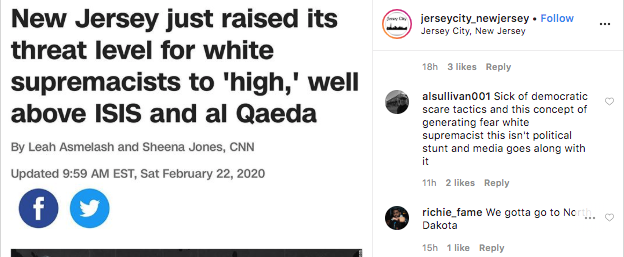 Of note, the Fulop administration refuses to answer questions and/or provide information to Real Garden State, but this article will be updated if/when they decide to comment. The Hudson County Prosecutor's Office (HCPO) has blocked Real Garden State from emailing them press inquiries shortly after a bizarre incident involving Hudson County Prosecutor Esther Suarez.
UPDATE: By 7:00 PM, on May 31, 2020, all of the Instagram pages mentioned in this story, except JerseyCity_NewJersey, have been deleted.
UPDATE 2: By 3:00 PM, on June 1, 2020, multiple European Lives Matter pages are back up. There won't be further updates of this article regarding page activity.