Long before Patrick Mahomes II was an NFL & Super Bowl MVP, Willie Banks, a former MLB pitcher and Jersey City local legend, predicted he would play quarterback.
Arguably the greatest quarterback matchup in NFL history is set for next Sunday, February 7, 2021, when Tom Brady and the Tampa Bay Buccaneers face off against Patrick Mahomes II and the Kansas City Chiefs in Super Bowl LV.
To keep it real, there's a lot of Giants and Jets fans that read this website. They probably don't need a new reason to root against Brady. However, if anyone from New Jersey is looking for a Real Garden State reason to root for Mahomes and the defending champions, they need not look further than Jersey City local legend Willie Banks.
Quite frankly, local legend might be an understatement for Banks – who was the #3 pick by the Minnesota Twins in the 1987 MLB draft out of St. Anthony's High School. For perspective, Ken Griffey Jr. was the #1 pick that year.
Even though St. Anthony's is remembered as a basketball powerhouse, producing several NCAA stars and future NBA draft picks under Hall of Fame coach Bob Hurley, it's been said Willie's star shined brighter than any other sports prospect in the school & city's history.
Terry Dehere, who played basketball at St. Anthony's and was the 13th pick in the 1993 NBA Draft, told Real Garden State that "Willie was an inspiration to every young man from Jersey City. He gave us hope. We used to attend Willie's baseball games to watch all the major league scouts armed with their radar guns. It was simply amazing."
Dehere added that Banks was also a great basketball player and lockdown defender that could've played NCAA Division 1 if it weren't for baseball.
Twins pitchers Willie Banks & Pat Mahomes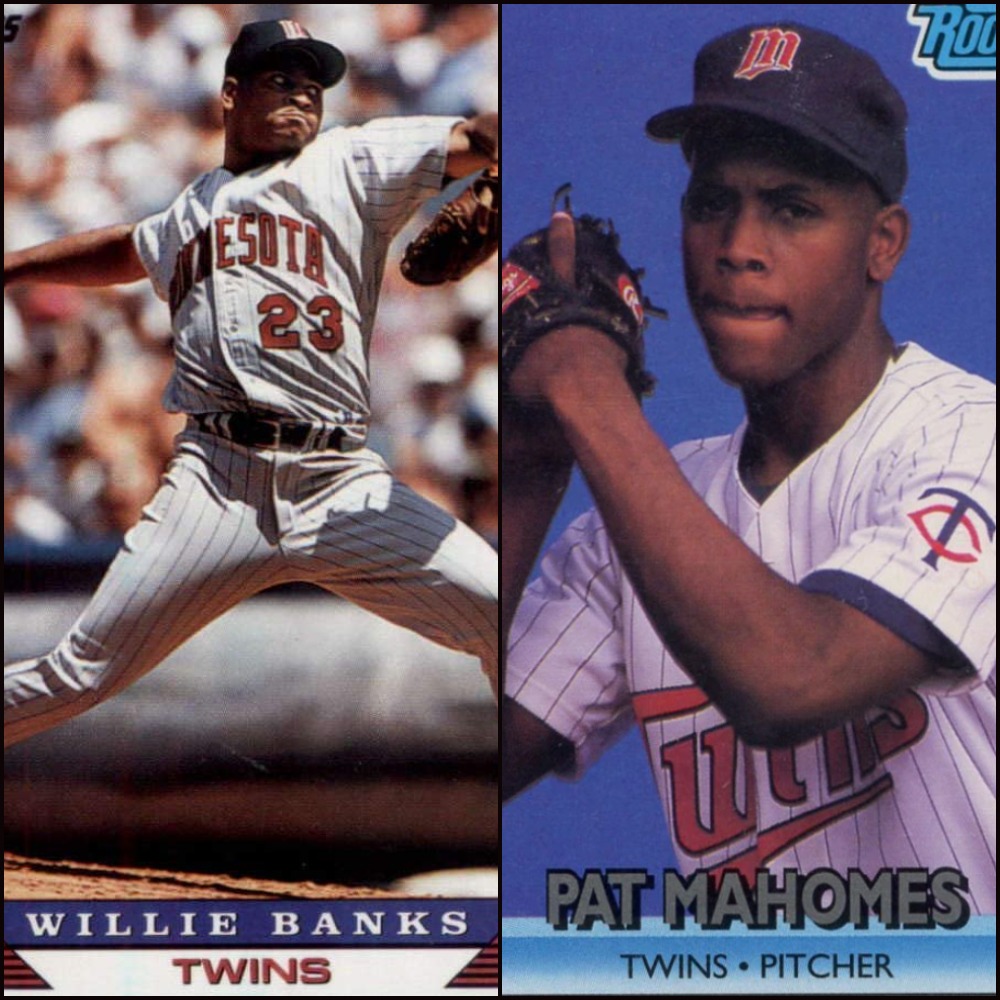 During the 1992 & 1993 seasons, Banks pitched for the Twins with Mahomes' father – Pat Mahomes Sr. (dad is Pat, son is Patrick, per QB's mom). Not only were they teammates, the two became friends, and according to Pat, Banks saw Patrick's quarterback potential at a young age.
"A friend of mine named Willie Banks, he was playing catch with Patrick with the football," Pat Mahomes told NBC Sports in 2018.
"Willie told me then… this boy's gonna be a quarterback, and I was like no, he's gonna be a baseball player. If he's not gonna be a baseball player, he's gonna be a basketball player… evidently, I was wrong."
Watch Pat Mahomes talks Willie Banks and Patrick Mahomes below:
In 2016, New Jersey Advance Media published a story about Banks reclaiming his life after falling on hard times following his 9-year MLB career. As of today, Banks & Mahomes Sr. own and operate B&M Baseball – a select baseball organization based in Tyler, Texas.
Most importantly, Willie Banks looks great wearing Chiefs gear – especially that Patrick Mahomes jersey!
Other Kansas City Chiefs-New Jersey connections
OK. The Willie Banks and Patrick Mahomes connection wasn't enough to root for the Kansas City Chiefs in Super Bowl LV?  Here's some other notable Chiefs connections to the Garden State:
Finally, could another Jersey City local legend be catching passes from Patrick Mahomes in the near future? With multiple Chiefs wide receivers set for free agency, Frank Darby, the Lincoln Lion and Arizona State star, could be on the team's radar for the 2021 NFL Draft because of his big-play ability.