Evidence collected by Real Garden State points to fascist JCPD P.O. Anthony Scalcione inciting gang violence via the since-deleted Instagram page JerseyCity_NewJersey.

Was a Jersey City Police Department (JCPD) officer inciting gang violence in the city he was sworn to serve & protect? There's considerable evidence suggesting the answer to that question is Yes.
Although no single person is responsible for the cycle of violence, based on a collection of screenshots, talking with various sources, and other research – signs point to JCPD P.O. Anthony Scalcione instigating violence amongst alleged gang members via the Instagram (IG) page @JerseyCity_NewJersey.
This report investigates an Instagram (IG) post from November 2018 (when shootings were surging in Jersey City). Specifically, the post in question included a witness statement from a 2010 shooting, labels the person who gave the statement a "rat," and is sent from a "spoof account" purporting to be a local gang member.
About JerseyCity_NewJersey and JCPD P.O. Anthony Scalcione
With over 45,000 followers on Instagram, JerseyCity_NewJersey was arguably the most influential social media account in Jersey City history; however, it was deleted approximately two weeks after a Real Garden State investigation connected the page to JCPD P.O. Anthony Scalcione and white nationalists.
Some key details to keep in mind from the original investigative report are:
Scalcione glorified fascism on his personal social media accounts.
Both Scalcione's personal IG and the JerseyCity_NewJersey account changed its profile name multiple times.
The comment sections of JerseyCity_NewJersey's posts were active & combative.
Sources who've worked with Scalcione tell Real Garden State that he's knowledgeable about gangs and a devoted follower of Pres. Donald Trump.
Prior to joining the JCPD in July 2013, Scalcione started his law enforcement career as a corrections officer with New Jersey State Prisons in January 2012. For a brief time in 2018, he was assigned to the newly-formed JCPD Public Housing Unit.
JerseyCity_NewJersey posts Keeshawn Browning witness statement from 2010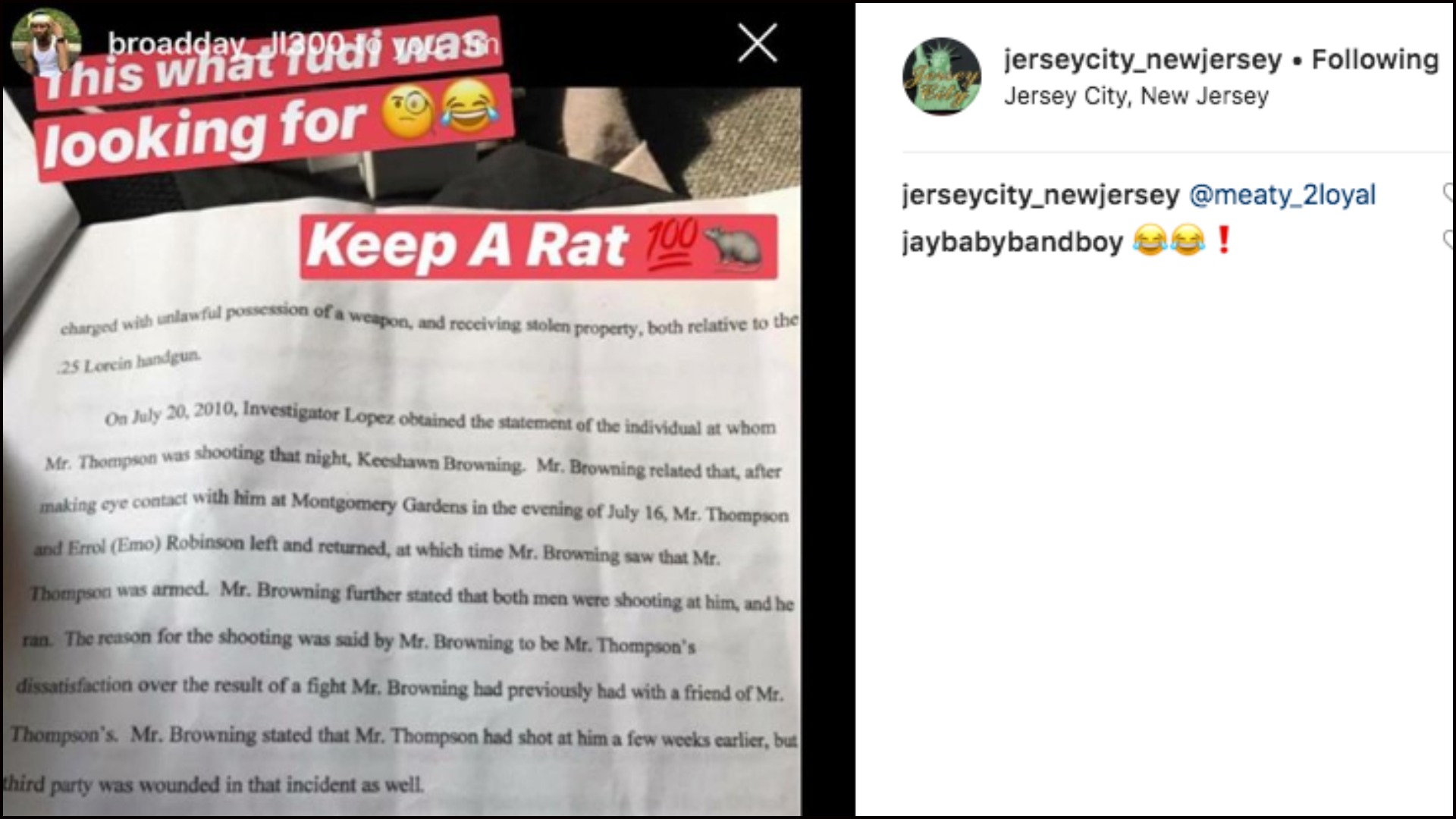 As previously mentioned, this report stems from an IG post on November 12, 2018, by JerseyCity_NewJersey, which was subsequently deleted. Included in that post was two images.
One image was a picture of a witness statement given to police by Keeshawn Browning in 2010. The statement was tied to a shooting outside the Montgomery Gardens housing complex which resulted in a 5-year-old girl being struck by a bullet.
Browning identifies Errol "Emo" Robinson and Demitrius Thompson – aka "Meaty" – as the shooters, according to the statement. Additionally, Browning said Robinson and Thompson were targeting him during the shooting, and that Thompson had shot at him weeks earlier. Written across the top of the image was "This what fudi was looking for" and "Keep A Rat."
Of note, after reaching out to multiple law enforcement and community sources, it remains unclear who or what "fudi" is.
The other image was a screenshot of a private message from a spoof account which sent the witness statement. That account instructs JerseyCity_NewJersey "Ayo post this shit on ya page," referencing the witness statement, followed by "And tag a couple my n***as in it."
Furthermore, the spoof account doesn't identify anyone to tag in the private message, yet JerseyCity_NewJersey apparently tags Thompson's IG account in the post's caption (while others are tagged in the witness statement photo).
Spoof account posing as Jalil Holmes tipped JerseyCity_NewJersey, changed aliases routinely
If the name Jalil Holmes sounds familiar, it might be because he was targeted in the Newport Mall shooting. He's also the person being impersonated by the spoof account which sent the witness statement to JerseyCity_NewJersey.
Upon inspection, the spoof account uses the handle broadday__II300, but Holmes' real account is broadday_II300. The difference between the real vs spoof is an extra underscore.
In fact, the real account is tagged in the witness statement photo. As well, a 2020 federal indictment of Holmes – for his role related to the June 30, 2018, shooting of five people – identifies his social media as broadday_II300.
From June 30, 2018, to the Newport Mall shooting on January 11, 2019, Holmes was accused of being involved in other shootings.
Specifically, on January 9, 2019, Holmes allegedly committed a retaliatory shooting on behalf of Judane Holmes – identified as a fellow member of the "Marion Gardens Enterprise" gang – who died after the third attempt on his life during the month of December 2018, according to a 2019 federal indictment. Also accused of being involved with that shooting was Jakeem Gibson-Madison (aka "Beanz") – another person apparently tagged in the witness statement photo.
Simply put, the date JerseyCity_NewJersey posted the witness statement was an especially dangerous time considering some of those tagged in the post were actively shooting rival gang members, according to state & federal authorities.
As for the spoof account, similar to Scalcione and JerseyCity_NewJersey – it changed its profile name frequently. Additionally, the account consistently wrote comments on JerseyCity_NewJersey posts that were in line with the fascist cop's politics.
Keeshawn Browning was found not guilty of murdering Hikeem Neals, raising possible motive
In 2016, a Hudson County jury found Browning not guilty of the May 12, 2013, murder of Hikeem Neals. If there's a motive for the JerseyCity_NewJersey IG post at the heart of this story, the acquittal of Browning for the Neals homicide might be it.
According to MaxPreps.com, in 2005 and 2006, Anthony Scalcione played on the Hudson Catholic football team and his teammate both seasons was Neals. Notably, one of the names used by the spoof account which sent the witness statement was hakeemneils201.
JCPD IAU investigation status unclear; lawyer probes retired cop's link to Scalcione and JerseyCity_NewJersey during deposition
As mentioned in the original JerseyCity_NewJersey report, the JCPD's Internal Affairs Unit (IAU) refused to accept information regarding a potential fascist/white nationalist member of their department. After the story was published on May 31, 2020, Capt. George Rotondo launched an IAU investigation of Scalcione.
On June 3, 2020, Rotondo was provided a screenshot capturing multiple elements of the November 2018 post; explained the difference between the real Holmes account vs spoof Holmes account; and notified of the Hudson Catholic connection between Scalcione and Neals.
Seven months later, whether or not JCPD IAU actually investigated that tip is unknown. A city spokesperson did not respond to an email seeking comment on the JerseyCity_NewJersey investigation.
Police sources have confirmed JCPD IAU is taking the investigation seriously, but it seems Scalcione's fate is tied to the politics surrounding a similar investigation of anti-LGBT tweets directed at Mayor Steven Fulop, Police Chief Mike Kelly, and others. Real Garden State previously reported that a political activist's brutality complaint was unsustained after a lawsuit was filed against the City of Jersey City due to the tweets.
Finally, during a deposition stemming from an "anti-white" racial bias lawsuit filed against the city, an attorney hired by the Fulop admin questioned a retired cop about JerseyCity_NewJersey.
For reasons unbeknownst to this journalist, attorney Jason F. Orlando asked retired JCPD Lt. Patrick Fay about:
Fay's social media activity (which is essentially non-existent)
Familiarity with JerseyCity_NewJersey (which Fay claimed to have none)
Fay's relationship with Scalcione (he knows retired Capt. Anthony Scalcione, not the officer featured in this article)
Whether he knows the author of this investigative report (Fay knows of me, but never met or spoke with me)