Real Garden State's Michael Shurin explains why ending mandatory minimums for Official Misconduct should be included into sentencing reform legislation being proposed in Trenton.
In New Jersey, the crime of Official Misconduct occurs when a public servant improperly uses their power to obtain a benefit for themselves or deprive someone of a benefit. Despite the broad nature of the law, it's barely prosecuted and has failed to address systemic corruption throughout the state – especially in Hudson County.
Currently, sentencing reform legislation proposed in Trenton would eliminate or reduce mandatory minimums for many non-violent crimes; however, final passage is now in jeopardy after Official Misconduct was included at the 11th hour. Unsurprisingly, the politician behind the late amendment is from Hudson County – North Bergen Mayor/state Senator Nicholas Sacco – and is the boss of one of the most powerful Democratic political machines in the Garden State.
Whether Sacco's intent is altruistic or not, mandatory minimums for Official Misconduct are unjust, ripe for political abuse, and contribute to systemic racism. They should be eliminated as part of any sentencing reform bill that makes it to Gov. Phil Murphy's desk.
My perspective on the issue is shaped by years of uncovering corruption at the highest levels of the Jersey City Police Department (JCPD) and Hudson County Prosecutor's Office (HCPO), only to watch those who are powerful & political never face consequences.
In reality, it's mostly low-level public employees, political targets, and cops that are prosecuted on that charge. If convicted, many face mandatory minimum sentences of five years for petty offenses -some based on extremely weak cases – which force defendants into pre-trial agreements rather than face substantial prison time.
To analyze Official Misconduct & Mandatory Minimums in more practical terms, the rest of this piece focuses on the New Jersey Globe's David Wildstein & JCPD Deputy Chief Edgar Martinez in a context everyone from New Jersey can understand – TRAFFIC PROBLEMS!
Bridgegate
First things first, Bridgegate was an overhyped political scandal that resulted in a massive waste of public resources. The perfect storm of federal prosecutors, legislative leaders, and mainstream media reporters more concerned with political theater (destroying Republican Gov. Chris Christie's presidential aspirations) than systemic corruption.
An egregious abuse of power? Sure, which is why federal prosecutors were able to secure criminal convictions for the GOP operatives involved – Wildstein, Bridget Kelly, and Bill Baroni. Nevertheless, it was a case that should've never been prosecuted at the federal level. From the SCOTUS blog:
In a unanimous decision by Justice Elena Kagan, the [U.S. Supreme Court] ruled that although the officials' actions were an "abuse of power," they did not violate the federal fraud laws because the "scheme here did not aim to obtain money or property."
Simply put, the U.S. Supreme Court made the right decision and the case should've been prosecuted at the state or county level. Unfortunately, it's been my experience that the New Jersey Office of the Attorney General (NJOAG) investigates Official Misconduct through the lens of "prosecuting people, not crimes" and tacitly supports county prosecutors that do the same.
Whether the crimes committed by Christie's cronies were worthy of 18-24 months in prison (what Kelly & Baroni were sentenced to, respectively) is debatable. As someone that's generally anti-incarceration, it seems like heavy fines, hundreds of community service hours, and being barred from elected office & government employment/contracting is severe enough (on top of the public humiliation they already endured).
More importantly, those sentences were decided by a federal judge that's privy to all of the case's facts and sentencing guidelines. That's not what happens in New Jersey, where mandatory minimums for Official Misconduct essentially guarantee one thing – unequal crimes resulting in equal punishments that perpetuate injustice.
Anyhow, Wildstein is now accepted as a credible source of information by the same mainstream media & legislative leaders that condemned him as corrupt and wanted to #LockHimUp. A perfect example – Gov. Phil Murphy labeled Bridgegate a "stain" on New Jersey's history, but does interviews with Wildstein.
Now, if you believe Murphy, federal prosecutors, state legislative leaders, or mainstream media reporters care about public officials intentionally causing traffic for personal benefit, I've got a story to tell about a corrupt cop and off-duty jobs that'll never be picked up by The Jersey Journal/NJ.com (Journal).
Edgar Martinez – Media Mogul & Traffic King
The Journal will pick up on Wildstein's politics, but always looks the other way regarding corruption (especially related to the JCPD) that impacts Jersey City. Could one of those reasons be loyalty to Edgar Martinez?
Martinez is not only Jersey City's 2nd most powerful cop (JCPD Chief of Patrol), he's also a local media mogul. He's served as the police department's spokesperson in the past and he's still the "long-time, part-time" spokesperson of the all-Democrat Hudson County Board of Commissioners – which is essentially controlled by the Sacco political machine.
Interestingly enough, that part-time job comes with its own set of questions related to Official Misconduct. Specifically, why wasn't Martinez filling out timesheets? Maybe he didn't want to get caught low-showing or double-dipping between his JCPD duties and board spokesperson gig?
The controversy surrounding Martinez's timesheets was once raised by this journalist at a board meeting. Hudson County Commissioner Bill O'Dea shared some concern, but the issue was never discussed again and remains a mystery… A mystery that, if it was legitimately investigated by the NJOAG, could result in Theft of Services/Official Misconduct charges.
Beyond questions of Theft of Services/Official Misconduct, there's also a question of how competent Martinez is as spokesperson. Responding to an August 19, 2020, email sent to county commissioners and members of the media, which had multiple press releases attached, O'Dea wrote:
So most of these have very little information- the ones on training do not even list who a person interested in the program can apply- nor does it include eligibility information. Who actually publishes these when you send them? Do you keep a log of how many actually get into a newspaper or on line periodical? How do you even determine which items you do releases on? If you are on the ZOOM meeting you know that some of the discussion on Summer Youth Employment Program was more interesting and that we are looking for youth to participate in paid internships.
Martinez removed this journalist from the board's press list after asking the spokesperson if he had any response to O'Dea's email.
Of note, a Real Garden State investigation published on July 16, 2020, identified Martinez's executive officer in the JCPD Chief of Patrol's Office, Capt. James Crecco, as the likely operator of a Twitter account posting false, malicious, and slanderous anti-LGBT content – including one tweet directed at yours truly and O'Dea: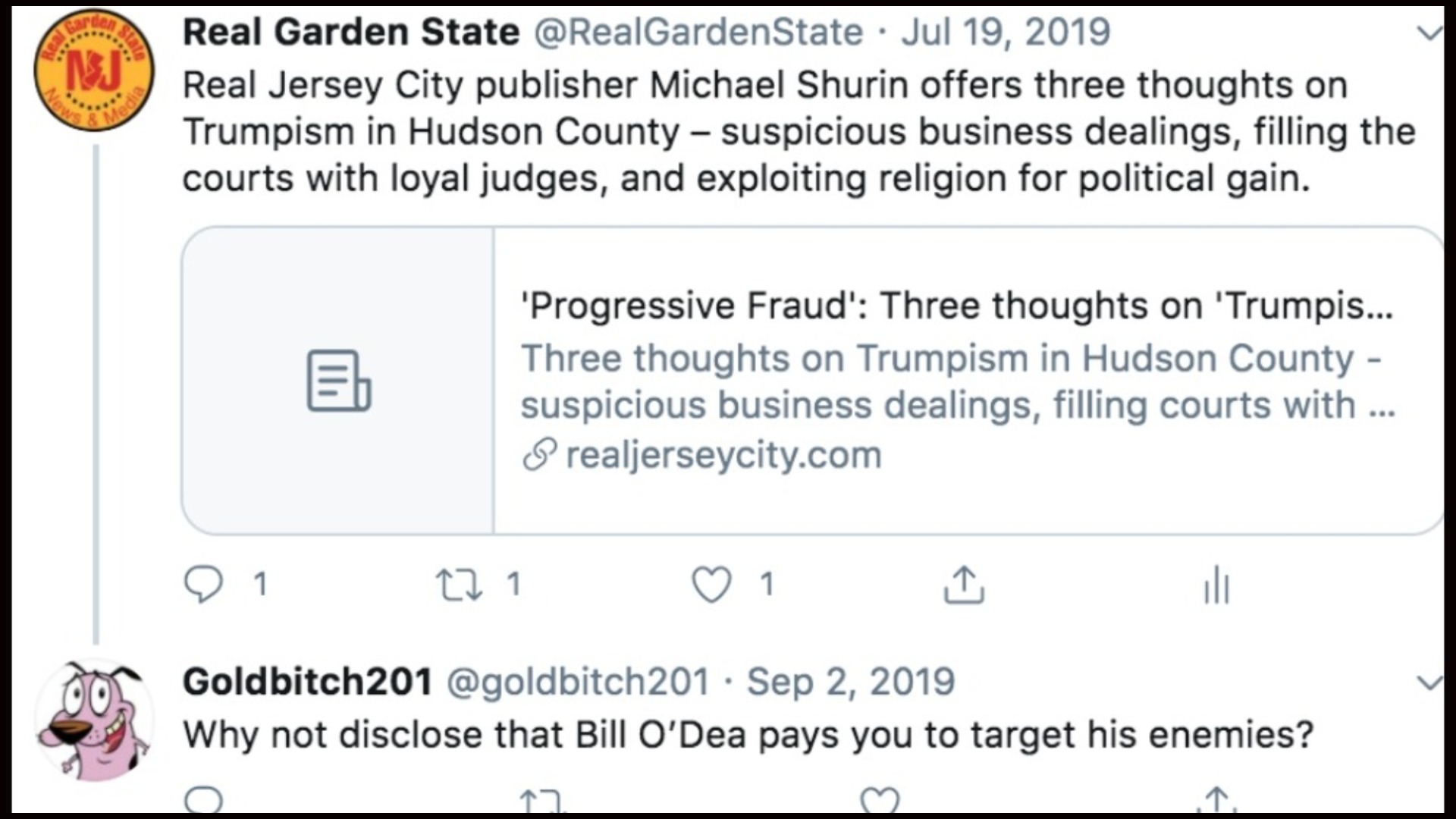 Clearly Martinez isn't the media mogul that Wildstein is, but there's one thing they share in common – understanding the value of traffic problems.
Although it might have not been written in an email, two separate audio recordings obtained by Real Garden State capture Martinez – the commander of the JCPD North District at the time – discussing traffic problems and off-duty jobs (listen to audio below):
The recordings are from September 2016 and purportedly reveal then-Capt. Martinez ordering a major intersection in Jersey City (139 & Baldwin Ave.) remain closed as part of a "soft closing" related to the NJDOT's Skyway Project – overruling a supervisor on the street that wanted to relieve traffic in Journal Square & The Heights.
Though the street was closed as part of a "soft closing," the decision to keep it closed was apparently designed to generate citizen demand for more NJDOT off-duty posts in the JCPD North District. Most importantly, more off-duty jobs meant more "low-show" work opportunities for supervisors like Martinez and his executive officer, then-Lt. Kenneth French (who was the other person recorded in the conversation).
Of note, those off-duty supervisor gigs were quite lucrative. For example, in 2017, Martinez and French made, respectively, $24,845 and $16,685 off those jobs at $60/HR ($120/HR on the occasional Sunday shift), according to records obtained via the Open Public Records Act (OPRA).
Unlike the GOP operatives involved with Bridgegate, Martinez apparently aimed to obtain money with his traffic shutdown (versus political retribution). In spite of the recordings, he likely won't be investigated for that or any other potential crimes – including his role related to billing the George Floyd protests as COVID-19 OT – because federal prosecutors, state legislative leaders, and mainstream media reporters don't care about public officials intentionally causing traffic for personal benefit.
Sadly, the Journal will continue to turn a blind eye to all of Martinez's wrongdoings while writing multiple stories about… Jersey City gangster rapper Obreez.
Notably, the JCPD deputy chief is also a publicist/hype man for the rapper. Given his unique mix of media mogul and Hudson County Democrat, it should surprise no one that Martinez got Obreez featured in the Journal giving out turkeys on Thanksgiving last year (article 1 + 2):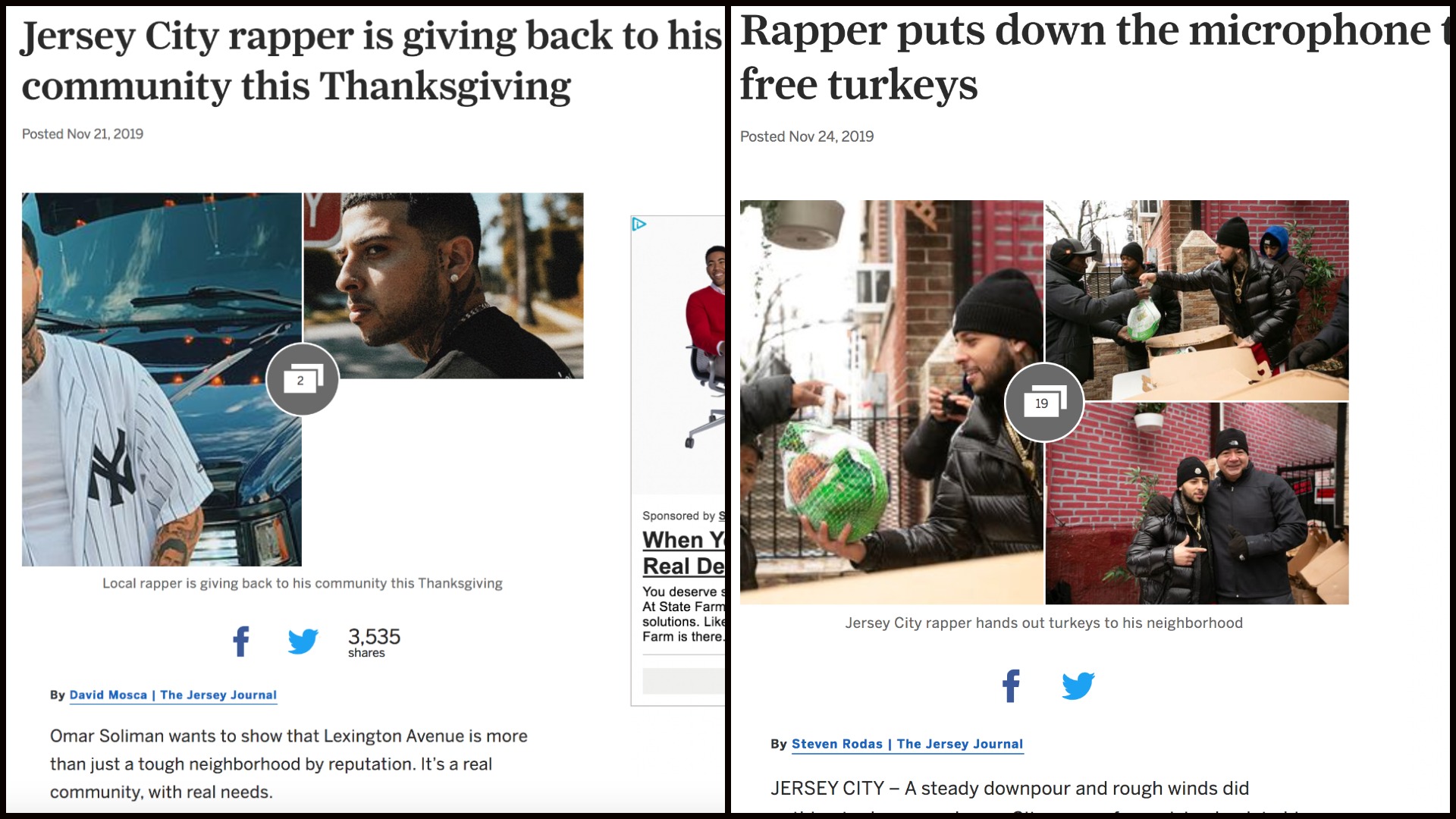 Sacco County
As previously stated, it's mostly low-level public employees, political targets, and cops that are prosecuted for Official Misconduct. Given his political connections, Martinez, like many others, knows he lives above the law in Hudson County – where Sacco holds enormous influence over who becomes the county prosecutor or a superior court judge through senatorial courtesy.
That's why it's no surprise Sacco stated in a guest column for The Star Ledger the he supported "removing mandatory minimum sentences for official misconduct offenses and giving sentencing discretion to judges." In reality, Sacco is saying he wants his friends to decide punishments on the rare occasion the NJOAG decides to prosecute & convict his other friends.
Nonetheless, Sacco provides an excellent example of the harsh inequities of mandatory minimums in his column. Specifically, the mayor/state senator wrote:
If I were to tell you that two people convicted in the following crimes received the same sentence, what would you think?

In the first scenario, a sheriff's officer makes a terrible lapse in judgment and steals $70 from a crime scene and is later caught. In the second, an NJ TRANSIT supervisor hatches an elaborate scheme to steal $2.1 million in taxpayer funds using a web of fake companies over several years, before his fraud is finally discovered.

Both are convicted. The officer gets 3 years in prison; the transit supervisor is sentenced to 5 years. Is that equitable, or is it evidence of a fundamentally flawed and broken system?
Admittedly, Sacco and I reached the same conclusion that mandatory minimums for Official Misconduct are fundamentally flawed. Unfortunately, the system is broken because of politicians like Sacco and ending mandatory minimums for Official Misconduct won't end systemic corruption.
Ultimately, it's my hope that ending mandatory minimums will stop unequal crimes from resulting in equal punishments that perpetuate injustice. That's why they should be eliminated as part of any sentencing reform bill that makes it to Gov. Phil Murphy's desk, regardless of Sacco's intentions.