Was Chief Mike Kelly forced out or did he decide to retire on his own? Real Garden State breaks down the complex backstory that led to a civilian police director assuming the JCPD chief's responsibilities.

This is part 1 of a two-part story related to Tawana Moody assuming the responsibilities of Jersey City's police chief, despite having no law enforcement background.
Specifically, this article examines the complex backstory of Jersey City Police Department (JCPD) Internal Affairs Unit (IAU) politics, Public Safety Director James Shea's liability in a whistleblower lawsuit, and former Chief Mike Kelly's retirement.
Reed St. video surfaces amid speculation over job status of Chief Mike Kelly in 2019
Simply put, Mayor Steven Fulop & Public Safety Director James Shea have wanted Kelly gone since at least Summer 2019, but the former chief had leverage and refused to back down. Although it's important to read the full article from August 16, 2019, here's what you need to know from that report:
Kelly and Shea were "butting heads" over multiple issues at the time, especially departmental charges against Lt. Kelly Chesler & P.O. Michael O'Neill. Those charges stemmed from unsubstantiated allegations of off-duty fraud related to the NJDOT's Pulaski Skyway and Route 139 rehabilitation projects – which were the basis of a 107-count indictment by the Hudson County Prosecutor's Office (HCPO) back in June 2016.
The criminal case was ultimately dismissed by HCPO First Deputy Assistant Prosecutor Peter Stoma in October 2018 after Hudson County Superior Court Judge Mirtha Ospina acquitted O'Neill and ended the "paper oriented" aspect of the "circumstantial case."
After the criminal case ended, Shea was looking for protection from Chesler & retired Capt. Joseph Ascolese's whistleblower/sexual harassment lawsuit which names him as a defendant. He supposedly wanted JCPD IAU to sustain all charges against Chesler & O'Neill, then terminate Chesler, but members of the unit were scared of their own legal liability.
For example, former IAU Lt. Robert Sjosward – who led the investigation which framed Ascolese, Chesler, and O'Neill – retired from the JCPD as Chesler & Ascolese were fighting to add him to the lawsuit. Kelly wanted no part of the litigation, but if he were to override an IAU decision and sustain the charges for Shea, he would've been named as a defendant.
Shea & Fulop probably realized it's not worth it for Kelly to go after Chesler & O'Neill, yet firing the police chief might've been another legal disaster – given that it might've spurred Kelly to file his own lawsuit (or at the least motivate him to provide favorable testimony for Chesler & Ascolese).
The best case scenario for Shea & Fulop was for Kelly to retire and then promote someone to police chief that's willing to do their dirty work. That's why CCTV footage from the infamous Reed St. incident surfacing as Kelly went on vacation was rather peculiar.
Of note, it seems like there was at least two covert campaigns to shame Kelly into retirement.
The first was the Reed St. CCTV video, which has haunted the former chief's reputation, being leaked. The second was a #PrayTheGayAway Twitter campaign, which launched after Kelly returned from vacation and made it clear he wasn't going anywhere.
Kelly and Shea fight over Chesler's IAU discipline
As for Chesler & O'Neill, on October 7, 2019, Kelly sent Shea a letter stating "after multiple meetings and extensive discussions with Deputy Chief Mark Miller and Internal Affairs Captain George Rotondo regarding IAU Case  # 2014-080 (the DOT matter), I concurred with the recommended findings of the administrative investigation conducted by the Internal Affairs Unit."
Specifically, JCPD IAU did not sustain criminal allegations that Chesler & O'Neill engaged in conduct "to defraud the DOT detail," but did sustain minor departmental charges of "Failure to Perform Duties." As well, the letter stated that "the initial recommendation provided by Lt. Robert Sjosward the primary investigator for this case in relation to Lt. Chesler's overall conduct was NOT SUSTAINED." Read the October 7, 2019, letter regarding IAU's investigation of Kelly Chesler & Michael O'Neill below: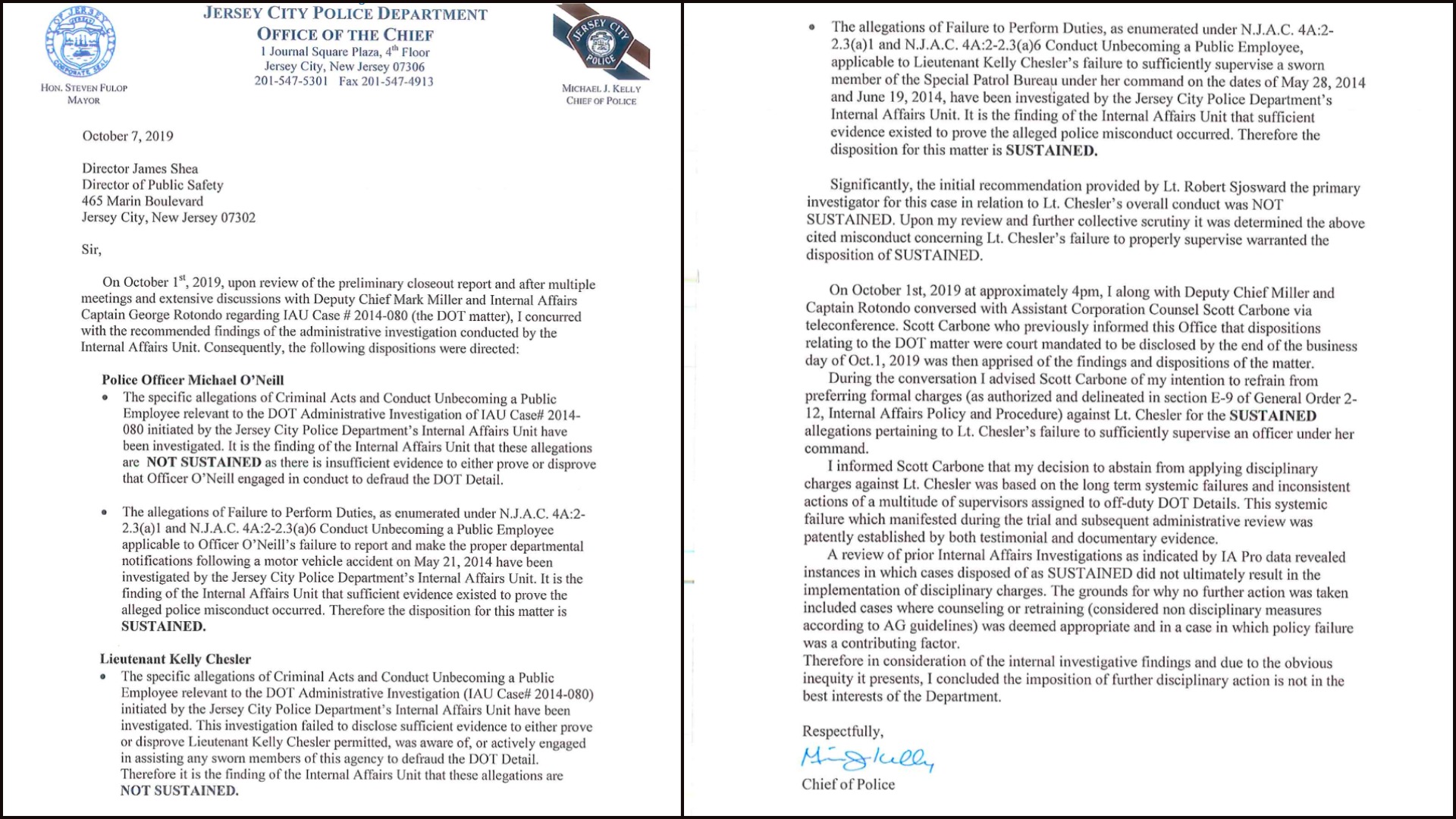 Most importantly, Kelly wrote that during an October 1, 2019, conversation with city attorney Scott Carbone, he advised Carbone of his intention to refrain from applying disciplinary charges against Chesler because of the "long term systemic failures and inconsistent actions of a multitude of supervisors assigned to off-duty DOT Details. This systemic failure which manifested during the trial and subsequent administrative review was patently established by both testimonial and documentary evidence."
In a letter dated October 10, 2019, Shea ultimately agreed with JCPD IAU regarding the charges that were sustained and not sustained. However, he wrote that he didn't concur with "sustaining allegations against Lieutenant Chesler and refraining from serving disciplinary charges." Read the October 10, 2019, letter from Shea below: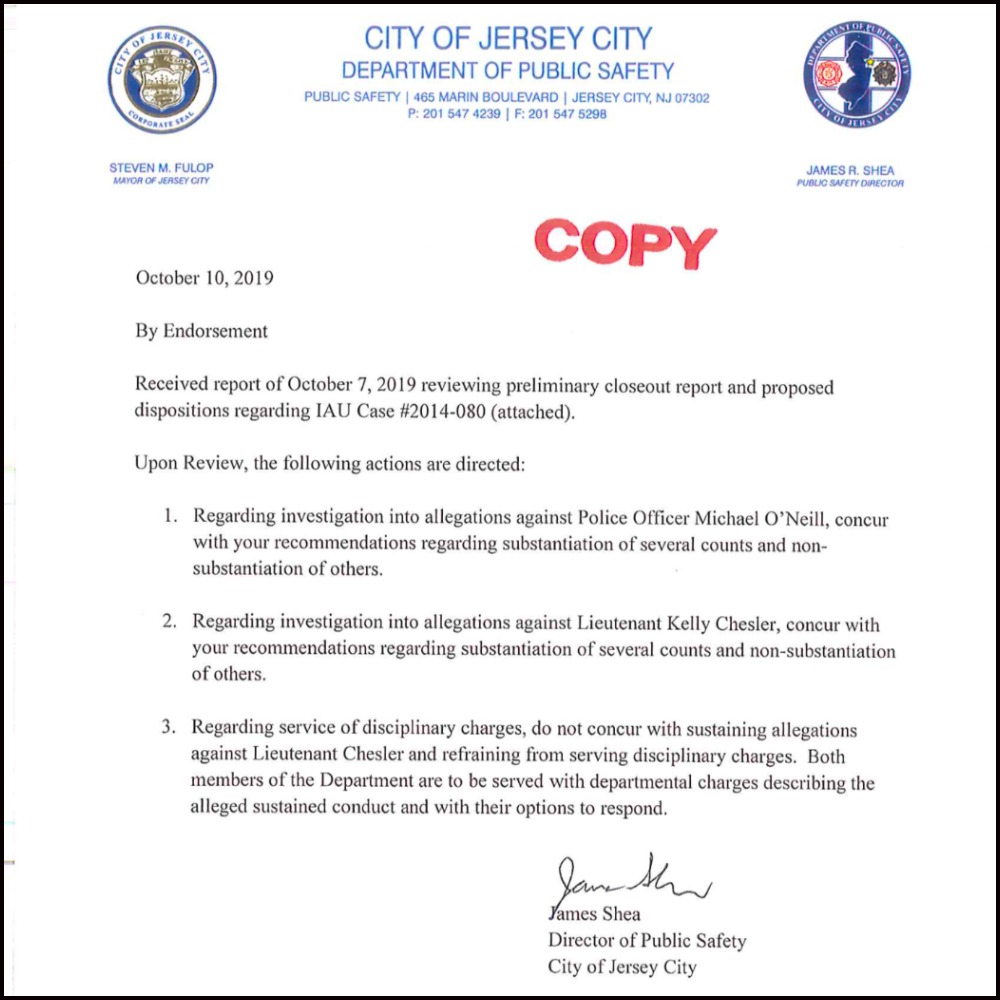 Ultimately, based on Chesler's promotion to captain on November 24, 2020, it's clear that Shea wasn't able to impose major discipline and the case has been closed (because you can't get promoted while under IAU investigation). As well, Sjosward was added as a defendant to the whistleblower lawsuit and city taxpayers are currently paying for his legal representation.
Was JCPD Chief Mike Kelly forced to retire after alleged hit-and-run?
From October 2019 to October 2020, sources say Kelly was subjected to various "micro aggressions" by Fulop & Shea, but refused to step down. However, the political calculus changed after Kelly allegedly was involved in a hit-and-run with the city vehicle assigned to him.
According to sources, Kelly responded to a late-night shooting back in October 2020 and was belligerent, yelling at supervisors and cops processing the crime scene, and was possibly intoxicated. When leaving the scene, the chief allegedly struck another JCPD vehicle with the car he was operating and did not stop to survey the damage.
Photo of vehicle allegedly struck by JCPD Chief Mike Kelly with his "Integrity First" motto taped near damage.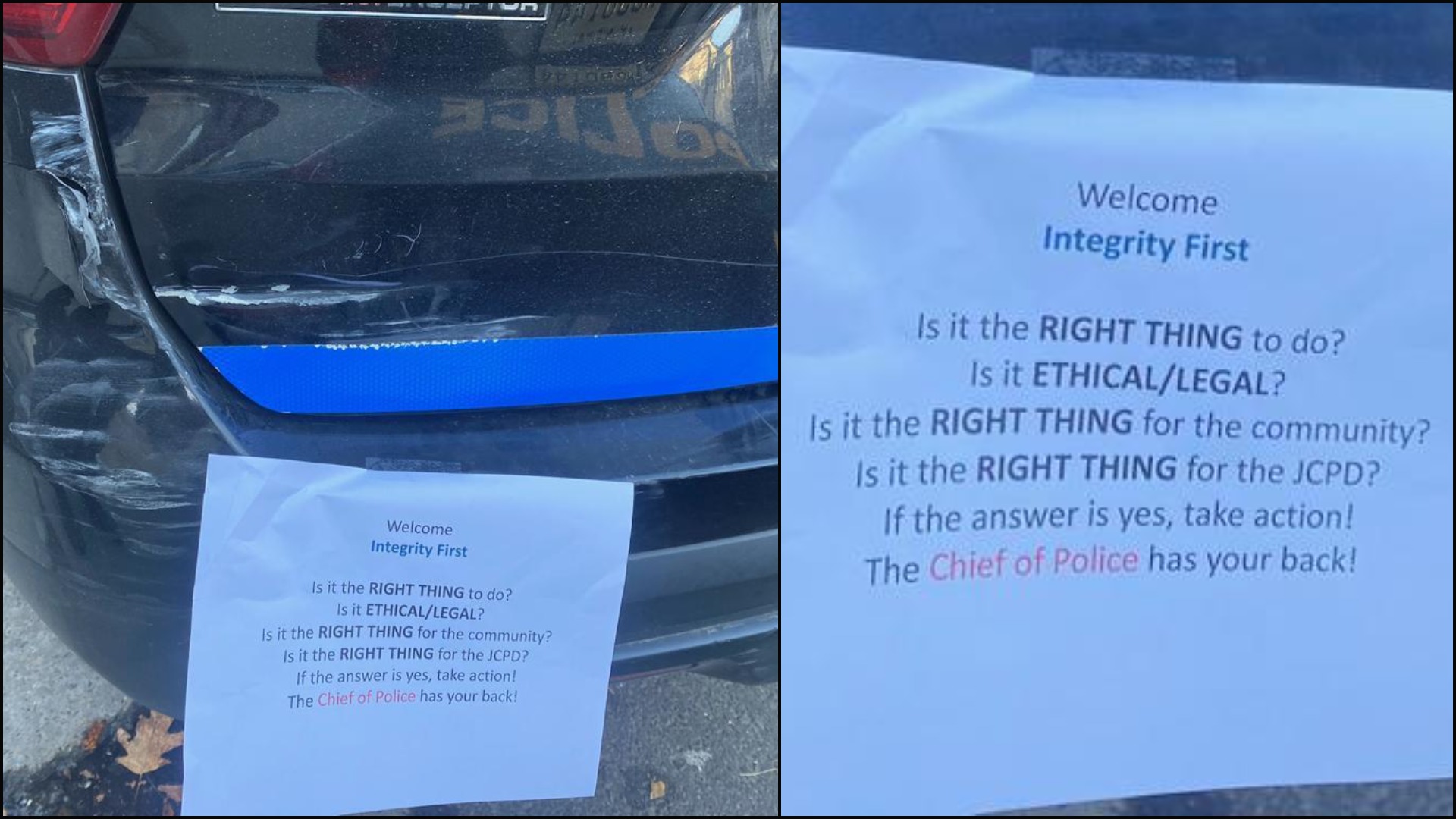 TimeOnTheJob_NJ, an Instagram page that ridiculed Chief Mike Kelly and other JCPD officials, mocked the alleged hit-and-run before the account was deleted.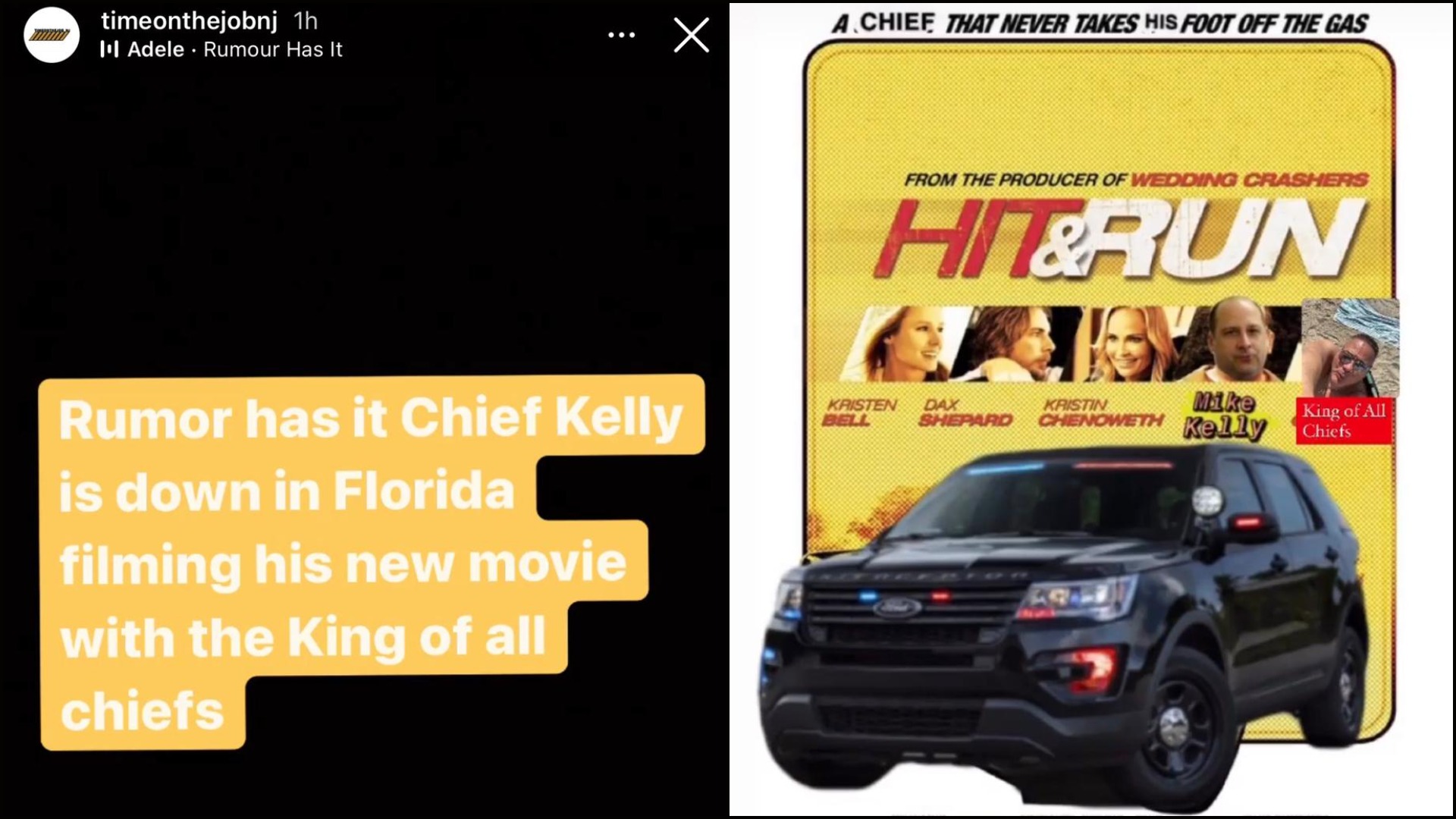 Furthermore, sources say a deputy chief at the scene called JCPD IAU to investigate the matter, but Capt. George Rotondo allegedly denied the request. In the days following the alleged hit-and-run, sources say Shea had Kelly provide him with a report about his recollection of the incident. Less than three months later, Kelly's retirement was announced.
So was Chief Mike Kelly forced out or did he decide to retire on his own? There's obviously room for speculation regarding that matter. However, there's no arguing that 1) JCPD IAU is now officially under the control of Fulop & Shea and 2) if they had that power in October 2019 it would've been used to fire Chesler.
Stay tuned for Part 2, which analyzes the practical implications of Tawana Moody assuming the responsibilities of JCPD chief and explores the politics surrounding Fulop & Shea's decision.